Here's when to play Part 2 of the Call of Duty: Warzone nuke event
When will we get the 1980s version of Verdansk?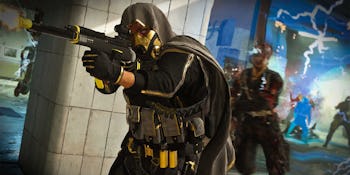 As part of the transition into Call of Duty Season 3, Activision finally decided to nuke Verdansk in Call of Duty: Warzone. This event has been rumored for quite a long time, as the game has slowly built up to it with the opening of bunkers across Warzone, the launch of Black Ops Cold War, and the introduction of zombies.
Now, following "The Destruction of Verdansk Part 1," the fictional location is overrun by zombies and it has been nuked. This is just the first part of this event that kicks off Season 3 though. This is what you need to know if you want to tune into or play the second event that will introduce a new, 1980's version of Verdansk.
When is the Call of Duty: Warzone nuke event start time?
Currently, you'll see a timer counting down when you log onto Call of Duty: Warzone. This countdown will run until 3 p.m. Eastern on April 22, 2021. Until then, you can only play Rebirth Rebirth Resurgence Quads, Rebirth Resurgence Duos, and Rebirth King Slayer on a nighttime version of that smaller map.
The official Call of Duty Twitter account is also teasing that at that time players will return to Rebirth and get updated instructions. As such, that's when players should expect the next part of this nuke event to drop, which will likely be called "The Destruction of Verdansk Part 2."
As with the first part, you can expect plenty of streamers to cover the game. If you can't get into the game due to server errors, you'll be able to watch someone play it on also tune in on Twitch or YouTube
How can I access the Call of Duty: Warzone nuke event?
Accessing the event should be a fairly simple process. First, make sure your game is fully updated so you can get online and have access to the correct Operation. The event will show up once the countdown ends, so look out for that mode in the game's menus. Log on, play, and stay in the game's menus before 3 p.m. Eastern if you don't want to get caught in a long server queue.
Why did Verdansk get nuked?
During the last season of Call of Duty: Warzone, a cargo tanker ran into Verdansk, unleashing zombies onto the map. Their presence has slowly grown over time, and "The Destruction of Verdansk Part 1" finally saw the zombie completely overtake the map in a mode where players could infinitely respawn as zombies after dying.
As you can see in the cinematic below, TK decided to nuke Verdansk as it could not be saved. The first part of the event ends on that cliffhanger, so we don't know what will happen next. Our questions about Verdansk's tragic end will likely be answered in today's event as a new version of the map is introduced.
What to expect from Call of Duty: Warzone in Season 3?
Call of Duty: Warzone received an update at 12 a.m. on April 22, 2021. This update is 25.6 GB on PS4 and PS5, 25.9 GB on Xbox consoles, and 25.2 GB on PC. Once it's installed, Warzone is all set to enter Season 3. As Verdansk has been nuked, a new version of the map will be introduced.
While it isn't supposed to be playable just yet, some players like Bartonologist were able to get into the new map early via a private match. This confirms that the new map will be a more colorful version of Verdansk and is set in the 1980s.
While many parts of the map are recognizable, there are clearly plenty of small tweaks to all of its iconic locations to will make Warzone experience fresher than it has been in a while. Check out the new map below:
Many of Season 3's other additions also carry over to Warzone. The new battle pass contains three new operators for the Warsaw Pact: Wraith, Knight, and Antonov. When it comes to weapons, the PPSh-41 SMG, Swiss K3 Sniper Rifle, CARV.2 Tactical Rifle, AMP63 Pistol, Ballistic Knife, and Baseball Bat are all getting added.
The Hunt for Adler event will also happen in both Black Ops Cold War and Warzone, so you'll have some new intel challenges to work toward. Obviously, this nuke event will change Verdansk forever. This is one of Call of Duty: Warzone's most important updates since its launch, so you should definitely tune in to see this battle royale event as it continues to play out.
This article was originally published on