The 9 best headset stands, according to reviewers
We only recommend products we love and that we think you will, too. We may receive a portion of sales from products purchased from this article, which was written by our Commerce team.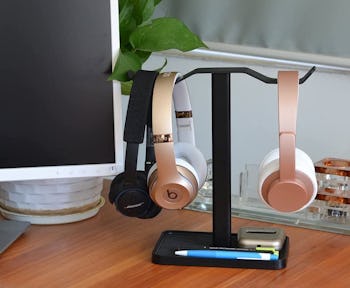 Amazon
For an optimal gaming experience, a streamlined desk setup can make all the difference. The best headset stands are sturdy, durable, and designed to suit your personal aesthetics. Some also come with extra bells and whistles, like USB ports, storage nooks, and RGB lighting.
What to look for when shopping for the best headset stands
The latest gaming headsets weigh half a pound or more, so stability is paramount. Stands made of metal are ideal, as they'll typically keep your headset from toppling over. If you opt for plastic construction, look for thick legs or a wide, sturdy base to support the weight of your headset. There are also headset holders that mount to your desk or monitor, which saves space on your desktop. Some stands include screws and nonslip grips to provide added assurance against having your gear tip over.
Headset stands run the gamut from minimalist to multitasking. A sleek tabletop stand is a practical storage solution for a wireless headset, while stands with hooks and cable storage are beneficial for wired models. There are also stands with built-in USB ports for charging devices, audio ports for surround sound, and RGB lighting for colorful visual effects. If you own multiple headsets, there's a stand for that as well.
Decide which of these features will most benefit your particular gaming setup, then scroll down to see the best headset stands on Amazon right now.
Shop the best headset stands
In a hurry? Here are the top five headset stands:
1. A premium RGB headset stand with surround sound
This Corsair headset stand is more than a tabletop display — it's a multifunctional unit that will elevate your gaming experience. It's made of aircraft-grade aluminum for a durable body and has a nonslip rubber bottom for added stability. Dual USB 3.1 ports rapidly charge your devices, while an analog jack provides immersive surround sound for anyone with a 3.5-millimeter analog headset. For visual effects, there's also an RGB lighting feature with dozens of presets and patterns.
According to a reviewer: "Excellent build quality. It looks sleek and beautiful. Nice heavy metal weight to it so it doesn't slide around. [...] I didn't know I needed one of these until I got one. [...] After seeing how useful it was by being able to hang my headphones on the hook instead of leaving them on my already cluttery desk, sold me on it."
Material: aircraft-grade aluminum | Dimensions: 4.72 x 4.72 x 9.84 inches | Available colors: black
2. A minimalist headset stand for under $10
This cheap headset stand is a no-frills option that will keep your tech safe and desktop tidy. The square base is made with high-grade ABS plastic, while the supporting pole is constructed from a sturdy aluminum alloy. The headrest, made from flexible TPU plastic, gently bends to fit the curve of your headset. To prevent the stand from tipping over, there are silicone grips attached to the corners of the base.
According to a reviewer: "Came in 3 pieces which went together super easily. The silver part is metal so it is very sturdy. The little silicone feet make sure it doesn't slip around. The base is thicker than the top piece so it does not bend. The top piece has some flexibility so headsets rest naturally on them. Amazing product for the price!!"
Material: ABS plastic base, aluminum alloy pole, TPU plastic headrest | Dimensions: 8.5 x 4.9 x 1.1 inches | Available colors: white or black
3. An RGB headset stand with a built-in USB port
With a built-in USB 2.0 port and vibrant lighting, this RGB headphone stand is a convenient and colorful addition to your desktop setup. The nonslip base keeps the unit steady, while a cable management hook keeps your space free of stray cords. Choose from nine presets for fun lighting effects and use the USB port to connect or charge a device. Although this stand is made of lightweight plastic, multiple Amazon reviewers reported that it's a sturdy device at a reasonable price.
According to a reviewer: "This works great with my head phones the usb port in the front helps a lot since my head phones are Blue Tooth and need to be charged. I was worried I might break my head set if I left them laying around. But this keeps them up and out of the way and works as a charging station. Plus it lights up. It is all around a win win. If you have gaming headphones or BT this is perfect for keeping them safe."
Material: plastic | Dimensions: 9.45 x 3.94 x 1.57 inches | Available colors: black
4. A dual headset stand with built-in storage
Store multiple headsets in one place with this dual headphone desktop stand. You can rest your gear on an arm made of sturdy ABS plastic — contoured grooves keep the headsets from sliding off either end. A heavy metal base and aluminum alloy pole offer extra stability to prevent tipping. The hanger can hold two headsets or more (depending on their sizes), and the base includes a storage tray for small items like cables and clips.
According to a reviewer: "It was super easy to assemble and it's completely sturdy. I usually have three sets of headphones on the rack and they all [stay] put. I do like the shallow tray in the base. It's a great place for the aux cords. I would definitely recommend this to anyone looking for a stand."
Material: ABS plastic headrest, aluminum alloy pole, metal base | Dimensions: 4.88 x 1.02 x 11.1 inches | Available colors: black
5. A versatile headset that stores your mouse cable and comes in 3 colors
For an alternative to the usual solid-black models, this Tilted Nation headset stand is an excellent option that's available in pink and white (in addition to the classic black). Although it's made of plastic, the weighted base with nonslip grips helps ensure that your headphones won't tip over on your desktop.
Two USB 3.0 ports power accessories and mobile devices, while a built-in mouse bungee keeps your mouse cord out of the way while you're gaming. There's also RGB lighting that adjusts between seven colors at the touch of a button. Multiple Amazon reviewers were even impressed with the braided power cable, describing it as a high-quality component.
According to a reviewer: "Works great, material is solid, sturdy construction, looks pretty good with the rest of my rgb setup. Usb ports work great (not often you find a good looking hub with usb 3.0) and it has no extraneous buttons for control. Honestly a bit better than expected. Would definitely recommend."
Material: plastic | Dimensions: not specified | Available colors: pink, white, or black
6. A discreet headset holder that clamps onto the edge of your desk
With more than 16,000 five-star Amazon ratings, this desk mount headset holder is a popular option that frees up desktop space. Its plastic construction makes it lightweight, but adhesive strips and a spring-loaded clip help keep it secure on the edge of your desk or even a nearby shelf.
Soft rubber pads help prevent the clamp from scuffing surfaces, and a side clip neatly stores the cord on wired headsets. The headset hook swivels 360 degrees, so you can swing it out for easy retrieval and then rotate it back under the desk for an unobtrusive storage solution.
According to a reviewer: "The nice thing about this? It secures itself and it does not let go easily. So you [accidentally] knock it, the thing doesn't come undone and fall. The rotating hanger is a nice touch to stow your headset out of the way."
Material: plastic | Dimensions: 2.75 by 4.37 by 3.93 inches | Available colors: black
7. A sleek headset stand with more than 6,000 five-star ratings
This sculptural headset stand could easily double as an objet d'art. The aluminum alloy pole provides a stable structure for headphones of any size, and the weighted plastic base has nonslip grips to keep it in place on your desktop. The curved plastic hanger — designed to resemble the contours of a bird — conforms to the shape of your headset and reduces the risk of scratches. It's available in black or white, and as one Amazon reviewer puts it, the stand is both practical and "a beautiful sight to behold."
According to a reviewer: "After using it for some days now, my opinion hasn't changed one bit: this is one of the best stands out there. It looks so elegant, it's quite sturdy, it doesn't slide and it's just the right height for any headset. But the feature I like the best is that Lamicall went with a curvy shape at the top instead of a boxy one, so your headset's headband isn't damaged. [...] For anyone looking for a minimalistic stand, you can't simply go wrong with this one. Its simplicity and elegance make it outstanding."
Material: plastic | Dimensions: 5.1 x 5.1 x 12.48 inches | Available colors: black or white
8. A desk mount headset holder with a charging dock
For a discreet storage device, consider this under-desk headset stand with USB ports. It attaches to the underside of your desk using adhesive strips, but its load bearing ability can be increased by using screws. Three USB ports allow you to simultaneously charge multiple devices, and a durable, fire-resistant plastic shell keeps the charging hub's circuitry well-protected. Cable management clips are also included to prevent cords from getting tangled. With two separate arms, there's even room to store an additional headset or device such as an Apple Watch.
According to a reviewer: "You have your phone, your wireless headset, your tablet, your game controller, and other things at your desk. Your desk is cluttered and covered in cables. This product solves all of that with an under-desk mounting system using either screws, 3M adhesive pads, or both if you want. You can plug in three USB cables for charging, and hang two different items on the wings. I love not having my headset just laying on my desk somewhere, and I can charge it while storing it! Great value, great build quality, get it!"
Material: plastic | Dimensions: 5.51 x 4.49 x 3.39 inches | Available colors: black, wood, walnut wood
9. A headset holder that attaches to your monitor
Maximize your desktop space with a headset stand that mounts to your computer monitor. The simple plastic hook attaches to the side of your screen with adhesive strips, and silicone padding protects your headphones against scratches or dents. This option works on monitors with flat and curved backs, and several reviewers noted that it's easy to install.
According to a reviewer: "Functionally, it's the absolute best (non-charging) headset holder I've tried or could imagine using. It keeps the headphones off the desktop in a safe position, does not interfere with monitor viewing while headphones are on or off, AND it does NOT take up 1 millimeter of desk space. I was also concerned the weight on one side would cause monitor tilting, it has not.
Material: silicone/plastic | Dimensions: 5.4 x 1.5 x 2.7 inches | Available colors: black/gray