Geoff Keighley is the nicest power player in video games
"Hopefully we're using that power for good."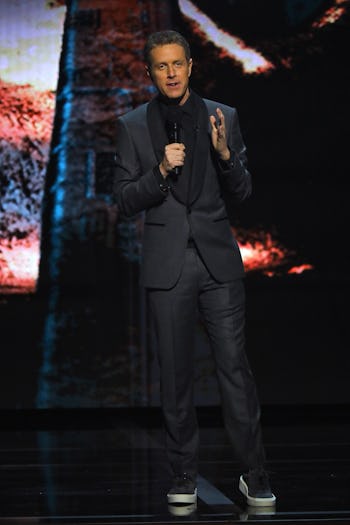 JC Olivera/Getty Images Entertainment/Getty Images
It's the day before Thanksgiving and Geoff Keighley already has a very full plate. He's entering the home stretch of a months-long process of painstaking negotiations with game developers, publishers, musicians, content creators, and esports luminaries — all while navigating a notoriously prickly business, a sanctimonious base of critics, and a sometimes grouchy fan base.
"People always ask, 'What do you do the rest of the year?" Keighley tells Inverse. "They don't realize The Game Awards takes like three-quarters of my year to stage and put together."
Keighley, 40, lives in Los Angeles, and over the phone exudes the sunny demeanor of someone who thrives on only four hours of sleep and a blocked-out Google Calendar. He's worked in the industry since he was 14, when he cut his teeth writing stage patter for a TBS awards show called CyberMania '94: The Ultimate Gamers Awards.
With the Wonder Bread good looks of a default character from Call of Duty, Keighley is an earnest evangelist for games who could endear himself to the most hard-assed skeptic. But it's only in the last few years that The Game Awards has catapulted him into the position of one of the industry's most influential and powerful people.
"Hopefully we're using that power for good to bring the industry together and unite people," he says.
Two weeks out, Keighley says the major components of the show are mostly in place, but how it all locks together is still very much up in the air. He likens it to a jigsaw puzzle.
"I would say we have all the pieces out of the box; we just don't have them correctly placed yet," he says.
The ceremony blends elements of the annual E3 video game conference and the Oscars, honoring the past year's achievements while also serving as a platform for debuts of video game trailers.
For a two-and-half-hour show without the typical network ad breaks, The Game Awards is tight-paced and eminently watchable. (If you haven't seen it, imagine if the Golden Globes were interspersed with all-new footage for Rise of Skywalker, the upcoming season of Stranger Things, and vignettes of fan-theory YouTubers.)
This year's ceremony — Thursday at 8:30 p.m. Eastern — promises to be even bigger than ever. The show will include musical performances from Green Day, CHVRCHES, and a live orchestra.
Keighley also plans to reveal a whole bunch of brand-new games. Among the highlights of last year's announcements were the reveals of Mortal Kombat 11, The Outer Worlds, and a new addition to the Smash Ultimate roster. So, naturally, the expectations for 2019 are huge.
Keighley has refined the award show format — mercifully trimming the windy speeches and montages that put us to sleep — over the course of more than a decade, much of it while hosting and producing the Spike Video Game Awards from 2003 to 2013. Keighley left Spike after the 2013 awards was met with a lackluster reception.
"Gaming is at the top of popular culture."
The Game Awards has grown exponentially since its 2015 debut, with the 2018 show attracting upward of 26 million viewers and more than 10 million online votes. (For comparison, this year's Oscars drew 29 million viewers.) The ceremony — which airs on Twitch, YouTube, Twitter, Facebook, and Mixer, among other platforms — now includes 30 categories that span a variety of video game genres. There are technical awards for standout elements like sound design and honors for content creators and esports athletes. In 2019, some 107 different games, individuals, and teams have been nominated.
"I try to make sure that the show is representative of many different aspects of gaming, versus just one sliver, and it's a hard balancing act," Keighley says. "It's important for me that people see an aspect of the show that they agree with and resonates with them."
But Keighley isn't content to settle for The Game Awards being thought of as "the Oscars of gaming," as it's been called by The New York Times. Instead, he wants the show to carve out its own niche and bring gaming more fully into the mainstream.
"One of the reasons I built this show, and why I've kind of devoted my life to creating a show like this, is to show the world — very loudly and proudly — that gaming is at the top of popular culture," he says. "I'm really proud that even though the show is from Los Angeles, it does feel pretty global in its appeal. I think that's where the growth will come for our show, too. More gaming around the world."
In assuming the mantle of gaming's ambassador to the world, Keighley's been accused of being too cozy with the industry's high flyers. Back in 2012, Eurogamer ran a scathing op-ed about a viral image of Keighley sitting next to a Halo 4 poster and a pile of Doritos and Mountain Dew, essentially excoriating him as the biggest sellout in games journalism. For a time, the resulting memes earned him the inglorious nickname of "Dorito pope."
In a recent Reddit AMA, he responded to a question about the image by saying, "I would hope my legacy is more than that photo, but if that's the meme I am remembered for then so be it!"
"I don't really consider myself a traditional journalist by any means. Though I was, at one point, for sure," he tells me when I ask how he sees himself professionally.
Keighley's recent cameo in Hideo Kojima's star-studded Death Stranding prompted new allegations of impropriety. The game is nominated for nine awards this year, including Game of the Year, the most nominations of any title.
This year's field for Game of the Year is wide open. Among this year's six nominees for the top honors — Death Stranding, Control, Resident Evil 2, The Outer Worlds, Super Smash Bros. Ultimate, and Sekiro: Shadows Die Twice — there's no clear frontrunners like God of War and Red Dead Redemption 2 were in 2018.
Some observers have expressed concern that Keighley's friendship with Kojima could tip the balance in Death Stranding's favor. Much of that criticism stems from the idea that Keighley should remain more objective given his journalistic background. He says that's a label that doesn't fit anymore.
"The world of media has shifted so much over the years, and my career has kind of evolved. Now I see myself more as a producer that creates events around gaming and celebrates the industry in unique ways," he says.
When asked about his influence on the industry and how it's covered, he says, "We're in an enviable position to be asked by all the game companies to shape the show. As we showed last year by getting Sony, Microsoft, and Nintendo on stage together, hopefully we're using that power for good to bring the industry together and unite people."
In recent weeks, he's asserted his objectivity amid the Death Stranding kerfuffle by reiterating that he doesn't choose the nominees or cast a ballot, nor do any of the board members for The Game Awards. Kojima, the Death Stranding creator, along with a number of other high-profile industry executives, like Nintendo's Doug Bowser and Microsoft's Phil Spencer, are on the 13-member advisory board.
"We're just the vessel through which [the vote is] delivered," Keighley says.
Keighley's critics still point out that he has enormous influence over which games are showcased before an audience of millions, and consternation about the objectivity of The Game Awards also touches on the fan vote, which counts for only 10 percent of the overall result.
"A pure fan vote introduces some challenges," Keighley tells me when I ask if he's thought of raising the percentage. A popular vote could overlook indie games. And aggressive social media campaigns can create a tidal wave of votes for a particular title. "We think it's a good balance between the global jury of 80 media outlets voting but also giving fans an opportunity to shape that. Especially in a year like this, where it's kind of anyone's game in terms of what's going to win, the fan vote can actually be really, really important."
Since speaking with Inverse, Keighley has added a new category for The Game Awards that's exclusively determined by fan voting. He rolled out the Player's Voice vote on Twitter on December 9. Over three days, members of the public can vote online via Facebook or Twitter for their picks among 24 of the year's most popular games.
How The Game Awards winners are chosen
Here's how the voting works for the other 29 categories: Several weeks ahead of the ceremony, the lengthy Game Awards ballot goes out via email to those 80 global media outlets. Each outlet names up to five choices per category (the ranking doesn't matter) and the top vote-getter takes the honors.
Seventeen of those judges are based in the United States — Keighley said that figure will "probably decrease a little bit" in the next year or so "just because there are fewer outlets." It's an eclectic mix of legacy publications, like the The Los Angeles Times and Newsweek, and geek-niche news sources. Leading games outlets like IGN and Polygon are among the US judges, yet Kotaku, widely recognized as a leading voice in the space, is conspicuously absent.
According to Keighley, Kotaku has been asked to participate and chose not to. "They had some challenges with getting access to games. For one, publishers wouldn't send them content. As such, they weren't able to play things in time for the ballot. That's why they sort of bowed out."
(Kotaku editor Stephen Totilo confirmed to Inverse that this was accurate.)
Arguably, gamers have greater influence over the format of The Game Awards than which games take home the trophies, stylized zinc seraphs with an Art Deco-meets-Cybertruck vibe.
"We like to be flexible, unlike some of these other awards shows. It's an open conversation. If the audience tells us, 'We want to see this category,' or 'We want to see less of this,' then we can make those changes," says Keighley. The Player's Voice category isn't the only new category this year; the event will also recognize the best community support for ongoing games like Fortnite and Destiny 2.
No matter how the votes fall, for many viewers the success of 2019's Game Awards will be determined by the crop of new games announced. Among the most talked-about games to be showcased at this year's ceremony is Half-Life Alyx, Valve's push into the VR space that leverages its most popular original franchise. While Keighley's enthusiastic about the game, he acknowledges the limits to the technology. "Half-Life Alyx is incredible and super immersive, but you know there's a limit to how many people can afford the tech to be able to do that," he explains.
"I love VR stuff when I play it. But it doesn't replace the other games that I play. It's not the scenario that some people thought a few years ago, where like everything's gonna move to VR."
The persistent notion of "the next big thing" in the industry — whether it be cloud gaming, VR, or games-as-service — seems to rankle Keighley a bit. He likens this tendency to Martin Scorsese's recent contention that Marvel movies aren't cinema.
"The Scorsese comments sort of echo something I'm sensing a little bit in the gaming industry right now. The sense of like, we have to decide if Marvel movies are cinema or not," he says. "The power of art is that you can have completely conflicting opinions on something and they're totally valid."
"I like that people have different priorities and approaches to their platforms. The more diversity in gaming, and the more ways to access gaming, the better. Stadia and all these other platforms… if it's not for everyone, that's totally fine," he elaborates. "Like a Hideo Kojima game… there are certain people that will like it, and there are people that won't. The idea that they have to sort of be at odds with each other is frustrating to me."
So what does the future hold for an industry where a search for the Next Big Thing can be exhausting?
Keighley sees the global gaming community becoming more diverse and interconnected, and he hopes The Game Awards can be an integral part of that.
"Now that the show is free and streaming around the world, we're on, like, 60 video platforms globally. We see the response from gamers in Latin America and in Europe, and even places like China. They love and play the same games," he says. "That's also been surprising to me, that there's interest in God of War and Red Dead Redemption around the world."
This year, Keighley will expand the reach of The Game Awards in India through a partnership with Nodwin Gaming, the country's leading esports company. "Even though India is predominantly still kind of a mobile market for gaming, there's a curiosity around these console games and PC games. If our show can sort of be this beachhead that gets more people interested in games, I think it's good for all of us," he tells me.
"That's why this industry excites me so much. It only gets better, right?"
It's an unusually chipper perspective on an aspect of popular culture that often expresses itself via crotchety cynicism and snarky memes.
I can't help but hope he's right. 
The Game Awards stream live at 8:30 p.m. Eastern on Thursday, December 12, 2019