Build the Ultimate Classic Video Game Console With Ease
Learn About Electronics And Play Some Classic Games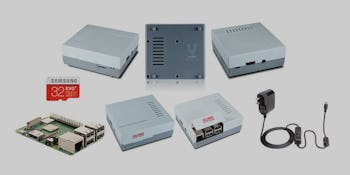 Inverse
The Raspberry Pi product range lets users with little to no electronics experience experiment with the intersection between hardware and software—create their own DIY projects and learning tons in the process. This is an awesome kit that lets users build a classic style console and then play it in all its glory as a reward. Usually $129, it's also currently only $109 at The Inverse Shop—that's 15% off MSRP. Plus, for a very limited time, you can use the code MADNESS15 for an additional 15% off, bringing the cost to just $93. There's nothing cooler than playing some throwback classics on a console you built. You can find consoles anywhere but this concept really stands out.
Get building right away using the quick start booklet and you'll be playing in no time. Follow the instructions and use the Raspberry Pi 3 Model B+ to craft an awesome gaming console. Hook up one of the various included controllers when you're finished, whether NES, N64 or PS2 and get some much needed R&R from all that hard work. Then once you're all rested up, you can go on to build whatever you want using the skills you've learned. The sky is the limit.
If you love classic gaming and want to learn about building electronics, check out this kit—-currently almost 30% off retail and only $93 right now at The Inverse Shop.