Here Are The 40 Android Devices That Will Get 'Fortnite' First
Did your smartphone make the cut?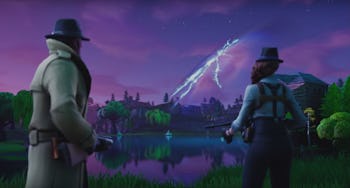 Epic Games
Fortnite: Battle Royale has been wildly successful for a whole bunch of reasons, one of which is accessibility. Epic Games has released the title for free on nearly every conceivable device, and now, Fortnite is poised to launch on yet another platform: Android.
Fortnite is finally coming to Android this summer. Though a mobile version of the game already exists, it's only compatible with certain Apple devices. Fortnite for Android will arrive first for the Samsung Galaxy Note on August 9 then rolled out on other Android devices on August 24, according to XDA Developers. Here's the full list of 40 Android smartphones that will support Fortnite:
Google Pixel 2
Google Pixel 2 XL
Huawei Mate 10
Huawei Mate 10 Lite
Huawei Mate 10 Pro
Huawei P10
Huawei P10 Plus
Huawei P10 Lite
Huawei P9
Huawei P9 Lite
Huawei P8 Lite (2017)
LG G6
LG V30
LG V30+
Motorola Moto E4 Plus
Motorola Moto G5
Motorola Moto G5 Plus
Motorola Moto G5s
Motorola Moto Z2 Play
Nokia 6
Razer Phone
Samsung Galaxy A5 (2017)
Samsung Galaxy A7 (2017)
Samsung Galaxy J7 Prime (2017)
Samsung Galaxy J7 Pro (2017)
Samsung Galaxy Note 8
Samsung Galaxy On7 (2016)
Samsung Galaxy S9
Samsung Galaxy S9+
Samsung Galaxy S7
Samsung Galaxy S7 edge
Samsung Galaxy S8
Samsung Galaxy S8+
Sony Xperia XA1
Sony Xperia XA1 Ultra
Sony Xperia XA1 Plus
Sony Xperia XZ
Sony Xperia XZs
Sony Xperia XZ1
This is welcome news for Android users but hardly surprising. Ever since Fortnite: Battle Royale was released in 2017, Epic Games has maintained a rapid growth rate by continually removing barriers of entry. If your Android device isn't on here, that doesn't mean you should lose hope. In fact, you should bank on the fact that Epic Games is already working to implement it onto your platform of choice.
Just don't play it while you're crossing the street.