The Creator of This Gorgeous Game Doesn't Even Know How to Code
The maker of 'The First Tree' wants you to know that you can do the same.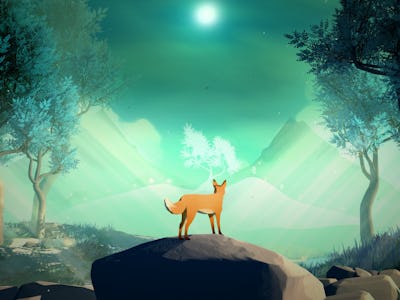 David Wehle
When technical artist David Wehle posted about his new fox adventure game to the Video Games subreddit, he unknowingly struck Reddit gold with his headline: "After 2 years of work and no knowledge of code, I still launched my fox adventure game today, The First Tree!" The post has over 116,000 upvotes and an outpouring of enthusiastic comments about the beautiful game's art style.
In The First Tree, you play as a fox mother looking for her cubs. The colorful third-person experience is presented as a dream, and as you explore the beautiful wilderness through the transitioning seasons, you find relics that trigger conversations between a man and his wife. They talk about him reconnecting with an estranged father. The mood is tragic and grave, but the stylistic execution builds an engaging atmosphere.
When Inverse caught up with Wehle shortly after The First Tree's launch on September 14, he offered an in-depth perspective of his development process.
Obviously, Wehle hopes gamers will buy and enjoy the game, which clocks in around 2 hours for only $7.99 via Steam, but he also wants The First Tree to inspire people that dream of making a game but lack the coding know-how to make it happen.
"The video game industry is so huge," Wehle says, "but there's an audience now for smaller, more heartfelt games." The First Tree compares to other atmospheric indie games like like Journey, Gone Home, and Firewatch. Despite prominently featuring an animal, The First Tree feels incredibly human.
Wehle wants fans and those with aspirations of making their own indie games to know that if he could make a game without knowing code then anyone could. "Unity and Unreal have democratized game development, so anybody can give it a shot. It's exciting."
Anyone can download game engines like Unity and Unreal. "I'm a big fan," Wehle said, "mostly because their licensing options are very generous." With these engines, anyone can create games and make most of their modest earnings, up to a point.
For amateur game-makers without the know-how to design a game from the ground up, they can use visual scripting plugins like Playmaker that do a lot of the hard work for you, allowing makers to interact with code without actually knowing the code itself. Wehle explained, "It opens up a whole world for people who want to make a game who don't have the specific knowledge of coding."
In this way, indie game development also takes something close to an open-source approach so popular in coding: "Talented programmers sell plugins that allow more people to use Unity, so there are things like environment packs or a really good FPS first-person shooter template," Wehle explained. "You can buy these asset packages and all the hard work is done for you." You don't have to design a mountain when you can use a mountain designed by someone else. You just integrate it into your own game.
Like the story presented in The First Tree, the game's creation is steeped personal tragedy. "I like the work to stand on his own, but I think any author puts a lot of themselves into a work," Wehle admitted. "The First Tree is based on losing my father unexpectedly a few years ago, so I wanted to write a story to accept that with life sometimes death comes with it."
The story is deeply personal. As such; Wehle himself voices the main narrator of The First Tree, and his earnestness comes through in the gameplay just as much as it does when he speaks on the phone. His voice is mellow and contemplative, conveying a sense of gravity and personal depth, and that earnestness.
Why a fox? The easy answer is that the beast is aesthetically pleasing: "I think it was mostly the visual impact of a beautiful red-orange creature in front of a green forest." But the symbolic nature of the fox also meant a lot to Wehle and his wife: "For our wedding cake, she designed these two foxes that she got cut out using laser-cut wood pieces. Fox is also a family name on her mom's side." Players can almost feel the personal connections through The First Tree's story.
The game is short, simple, earnest, and incredibly endearing. It's exactly the kind of game Wehle set out to make two years ago. With enough dedication, you can do the same:
"The only thing stopping you from making a game is yourself," Wehle said. "I'd just strongly encourage people to finish something and release it, even if it's short. It's such a good feeling to share it with people around the world."
The First Tree is available now via Steam for PC and Mac.
We are shining a spotlight on some of the millions of small businesses now challenged by Covid-19. This is part of an ongoing commitment our parent company, Bustle Digital Group, is making to support small businesses throughout the entire month of May. Tell us about your favorite small business on social media using #SmallBusinessSalutes.