'Star Wars Battlefront II' Introduces Every Era to Multiplayer
Battle droids, clone troopers, and Darth Maul are coming back.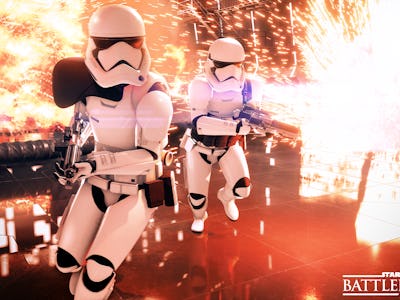 Electronic Arts 
In 2015 Star Wars officially made its return to the world of video games under the protection of Disney with Star Wars Battlefront, bringing the minds of gamers back into conflicts filled epic lightsaber battles, heavy blaster fire, and the iconic soundtrack we all fell in love with long ago.
Following a disappointing re-introduction to the series on modern consoles, however, many felt that the original Battlefront needed more content across multiple timelines, which is exactly what Star Wars Battlefront II is promising to deliver.
Revealed earlier this year at the Star Wars Celebration, the development teams behind Battlefront II are revisiting and improving upon dozens of community complaints about the original.
There's now multiple eras including the prequel trilogy (and the battle droids which come with it), dedicated character roles, and the introduction of additional heroes to take into combat with your friends — all of which we got to see for the first time today during EA Play.
Throughout the gameplay demo DICE gave us a look into some of the new heroes being included in Battlefront II such as Darth Maul and Rey from The Force Awakens, which appear to have a lot less durability than before along with a customizable set of abilities.
They also seem to be always present on the battlefield, but that may just be for demo purposes. As for our beloved clone troopers and battle droids, Battlefront II seems to have delivered, each complete with the proper voices and sound effects to match.
There's a handful of other noticeable changes, including the new squad-based team system and a distinct lack of power up pick-up tokens around the map. You can view the entire gameplay demo below, which was shown by Electronic Arts today during its EA Play presentation.
Star Wars Battlefront 2 will be released on November 17, 2017.