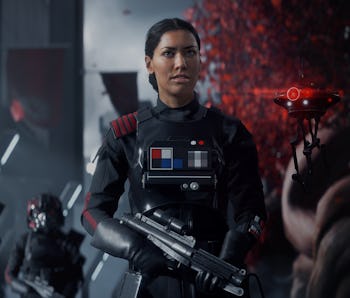 Gaming
'Star Wars: Battlefront II' is Making Some Big Improvements
This time around, DICE is using community feedback to better the experience. 
Electronic Arts 
A few weeks ago, Star Wars fans around the world got their first glimpse at the sequel to 2015's Star Wars: Battlefront during a panel with game developers from DICE, Criterion, and Motive at the Star Wars Celebration in Orlando. While the only footage shown from the game was a quick cinematic reveal trailer, the developers shared lots of details about the improvements they're making for Star Wars: Battlefront II following the official presentation.
In a series of private Q&A sessions, content creators and other invitees were given the opportunity to speak with the game's developers about some of the more intricate details coming to Star Wars: Battlefront II's multiplayer. These include aspects of the game like the introduction of a class-based character system, an entirely new progression system with tangible rewards, and a few major changes to the way heroes function on the battlefield. Here's a comprehensive look at everything being improved in Star Wars: Battlefront II we know about so far:
How Heroes Work
Unlike the token system Star Wars: Battlefront used for heroes in multiplayer, heroes in Star Wars: Battlefront II will be rewarded to players with the best performance throughout a match. Now, instead of having to sit around waiting for a token to play as Darth Vader, players will automatically be rewarded the opportunity to become a hero by killing enemies and completing objectives on the battlefield, meaning that those who contribute to their team the most will become heroes more often.
In addition to the new way heroes become available to players, Battlefront II is making heroes feel more physical on the battlefield by improving lightsaber combat and the power behind each of their abilities. You'll also be able to change their loadouts with ability modifiers and upgrades too, allowing you to best match each available hero to how you play the game.
Vehicles and Star Fighters
Just like the heroes of Star Wars: Battlefront II, vehicles are no longer going to be tied to a token system where players pick them up from specific locations scattered about the battlefield. You'll now be able to spawn directly into vehicles and starfighters whenever they're available, which is just like how you would tanks and planes in Battlefield 1. In a similar fashion, vehicles and starships can be upgraded and customized through the new progression system in Battlefront II, although we're not sure if they are going to handle differently than in the originalBattlefront. Oh, and did we mention they game is dedicated adding space battles? Score.
Classes and Squads
In Star Wars: Battlefront II, players will be able to pick from one of four new classes in each match with different, specialized roles unlike the very basic loadouts available in the first Battlefront. You'll now be able to play as an Officer, Assault, Heavy, or Specialist; but we're not sure on any specific details regarding how they will handle on the battlefield just yet. Squads were also mentioned instead of Battlefront's two-player partner system, although there were not any details about how they would work or what the size of each squad might be. It's a safe bet to assume that Battlefront II will use a squad system like Battlefield 1's however. We just won't know officially until EA Play.
Weapons and Variety
One of the biggest problems players had with Star Wars: Battlefront was the lack of skill-based gunplay when it came to infantry and vehicular combat throughout multiplayer. Essentially, every blaster and vehicle felt the same, and it ended up becoming a major issue for those seeking a challenging experience to master. DICE has confirmed that gunplay has been drastically refined in Battlefront II to provide a more varied experience, with each weapon having more deviation from their counterparts and a harder learning curve to master on the battlefield. There's also going to be a difference between shooting in first-person and third-person too, giving players who choose to play in first-person a small benefit when aiming down sights.
A Battle for the Ages
If you haven't already heard the new via the Star Wars: Battlefront II reveal trailer, DICE announced that multiplayer will now be spanning across multiple Star Wars eras including the original trilogy, prequel trilogy, and newly introduced trilogy, meaning players will have the opportunity to play as battle droids and clone troopers once again. This also means you'll have a chance to play as iconic heroes from the entire Star Wars saga like Darth Maul, Yoda, Kylo Ren, and General Grievous, depending on the era selected for each multiplayer match. Naturally, this means some fan favorite vehicles are coming back around this time too. So, if you've been longing to ruin some Republic pilot's day as a speedy Vulture Droid, you're in luck.
Star Wars: Battlefront II hits PlayStation 4, Xbox One, and PC on November 17, 2017.