The Netflix Of Video Games Might Be Streaming Starting Next Month
Rumors circulate that EA is launching the game rental service we've been waiting for.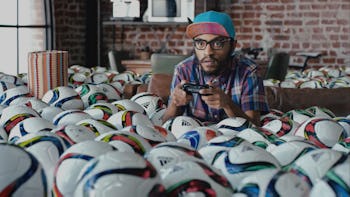 Yeah, we know there's already a "Netflix for Games" in the form of physical mailing service Gamefly. But everyone has been waiting patiently for years, asking where the digital-streaming version of Netflix-style game rental is coming from. Playstation Now opened the floodgates for this last year, despite having rental systems and pricing that are prohibitive to say the least, and which does not include modern console game availability. EA started dabbling in a monthly subscription-based service for a few of its modern games, but none of these options approach an ease of use, a price-point, or a library of titles that anyone could call a "game-changer." Now, there's a rumor floating around that EA might use their platform to launch an all inclusive rental service — starting as early as June.
GameZone writer Tatiana Morris first put this story together in a theory based on a September 2015 EA survey based around the following game line-up:
This same EA survey showed a library featuring AAA publishers like EA, Activision, Ubisoft, Take-Two, and Bethesda. The survey not only included the potential pricing plan for the service, but a list of games that would be included in the service.
This was tied together with an EA announcement that June will include a free trial-period for console users, and the following announcement about cross-over content from EA CEO Andrew Wilson:
"Right now we are getting knocks on the door on a very regular basis from other publishers who want to be in EA Access and Origin Access because they see the value of being part of that player network."
GameZone connects their theory to the EA Origin store as well, and ponders the following scenario based on the breakdown of games and access laid out as options within the original EA survey:
For example, paying $4.99 per month can get you access to the base service - as we know it now with the Vault, paying $8.99 could get you access to the Vault, as well as the Netflix-like service that features new games from a number of publishers, and $14.99 could get you access to all that, plus DLC for games.
Honestly, it's a little shocking that EA would beat some of the other big boys of the industry to the punch on this one, but if they have the structure in place, maybe this is our first real shot at streaming rental services for the console world. We won't know until it happens, since this release date coincides with E3, where EA will not be appearing this year.
Does a cross-publisher EA based Netflix platform appeal to you, or is this just one more subscription service designed to bleed consumers? You can view the entire EA survey here, if you want to pitch some of your own theories about where this might be headed.