What We Do in the Shadows Season 5 Finds New Life in Familiar Laughs
Our favorite rotten soldiers are back.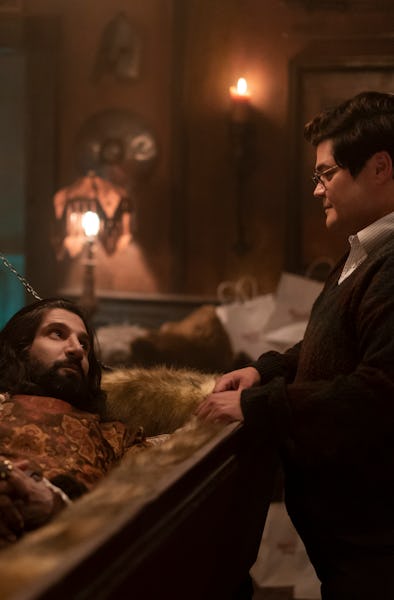 Russ Martin/FX Networks
What We Do in the Shadows is a bit of a miracle. The FX comedy series took the premise of the beloved mockumentary film that inspired it — a group of vampires face the mundane struggles of living as roommates in a banal suburban town — and managed to match, and even surpass, the original. That the show is five seasons in and still finding new comedy to mine out of "vampires stuck in Staten Island!" is a gift unto itself. But it turns out that five seasons is what it takes for What We Do in the Shadows to start feeling redundant.
After the series enjoyed a new peak with its hysterical, and wildly different, fourth season, What We Do in the Shadows is quick to attempt a return to the status quo. The cliffhanger of a frustrated Guillermo (Harvey Guillén) finally asking his friend to turn him into a vampire? It's resolved in classic What We Do in the Shadows fashion — in the least expected way possible.
In the process, the series returns the characters to the dynamics we were used to before Season 4 made its radical narrative and character departures: the vampire nightclub is kaput; Colin Robinson (Mark Proksch) is back to his old self, his baby-Colin chapter forgotten; Lazlo (Matt Berry) and Nadja (Natasia Demetriou) are back to struggling with marriage foibles and ancient curses; and Nandor (Kayvan Novak) is back to being in denial about his true feelings for Guillermo, and dealing with it terribly. A closer part of the ensemble is Kristen Schaal as The Guide, now fruitlessly attempting to become part of the friend group after Nadja's vampire nightclub went under. But apart from a few new additions and twists, What We Do in the Shadows Season 5 feels like a return to the show's early seasons.
That's not to say What We Do in the Shadows doesn't find new life in these old gags and familiar bits. The show trades out a few things that aren't working, like the vampire council, for shiny new versions. This season, we're instead introduced to the hilariously drab Council of Energy Vampires, who make themselves known when Colin Robinson makes an ill-fated bid for elected office, alongside his former flame Evie (Vanessa Bayer, a welcome sight). And the will-they-won't-they relationship between Nandor and Guillermo gets new wrenches thrown into it, with Guillermo forming an unlikely alliance with Lazlo — an odd-couple pairing that oddly works.
But one of the highlights of the season so far (this reviewer received five episodes) is one of the show's best recurring gags: Sean (Anthony Atamanuik). Everyone's favorite good-time boy is as hilariously dimwitted as ever, but this time he brings Nandor and Lazlo into his world, and it's even more illicit than theirs.
But even as Season 5 returns to the status quo, it doesn't quite feel like a return to form. The jokes are good, but don't have the staying power of Season 4's most absurd throwaway gags (say it with me now: "You really are the most devious bastard in New York Citaaay"). And while the introduction of new locations for the vampires to discover (the mall! Little Antipaxos! Outer space?) and new tensions between Guillermo and his masters keep the narrative alive, it does feel like What We Do in the Shadows is starting to lose steam.
Nevertheless, Season 5 of What We Do in the Shadows is a welcome return to Staten Island's only crumbling mansion. The main cast all remain on their A-game, and the show finds no shortage of laughs from the infinite ways that Matt Berry can overpronounce something. Even watching our favorite vampires do more of the same is better than most comedies out there today. As Guillermo is slowly finding out through the course of this season, there are worse ways to spend eternity.
What We Do in the Shadows Season 5 premieres on FX on Hulu on July 13.