Tom Holland Would be "Honored" to Help Introduce Miles Morales to Live-Action
Miles Morales would have a willing mentor in Tom Holland's Peter Parker.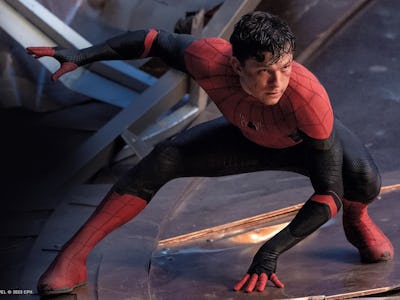 Sony Pictures
The Into the Spider-Verse movies have proven that Spider-Man can be a lot of things: a noir detective, a Gwen Stacy, a punk, and even a pig. But most important, they prove Miles Morales is just as good a leading man as the original Spider-Man. A whole generation of fans have come to associate Miles with Spider-Man — more so than even Peter Parker — so it seems inevitable Miles Morales will make his way to live-action eventually.
Spider-Verse producer Amy Pascal confirmed last week that a Miles Morales movie is in the works. But what does that mean for Sony's current Spider-Man: Tom Holland? Probably not much — the multiverse makes it so multiple Spider-Men can coexist, and it turns out Holland is just as eager to see Miles make the leap to live-action as the rest of us.
In promotion for his new Apple TV+ limited series The Crowded Room, Holland tells Inverse he'd "be honored" to having his Peter Parker share the screen with Miles Morales. He expands:
"I would be honored to bring Miles Morales into the live action world. How we do that, I don't know, but given the opportunity, I would jump at it."
In 2018's Spider-Man: Into the Spider-Verse, it took one Peter Parker's demise for Miles Morales to take on the mantle of Spider-Man. Then the multiverse breaks wide open, and Peter B. Parker (Jake Johnson) steps in to guide the young Afro-Latino teen on how to bear the great power that came with the great responsibility. While Holland's Peter Parker is just fresh out of high school by the end of his last film, Spider-Man: No Way Home, perhaps he could take on the role of mentor to a young Miles Morales. After all, the MCU version of Miles' uncle Aaron Davis (Donald Glover) made an appearance in Holland's freshman outing, Homecoming, which mean a pubescent Miles probably exists somewhere on Earth-616. And with Holland's fourth Spider-Man delayed in solidarity with the ongoing WGA writers strike, enough time could pass that the next time we see his Peter Parker, he's a burned-out Spidey much like Peter B. Parker in Into the Spider-Verse.
It's hard to say, but Holland teased "some stuff going on" in the untitled Spider-Man 4 that he's "excited about."
"Whether or not it'll come to fruition, who knows?" Holland adds. "But right now it's looking pretty good, and we'll just have to wait and see."
Spider-Man: Across the Spider-Verse is currently playing in theaters.