The Worst Mission: Impossible Movie Is Still One of the Best Action Movies Ever
A clumsy romance and convoluted story can't stop John Woo's bombastic film from offering goofy thrills.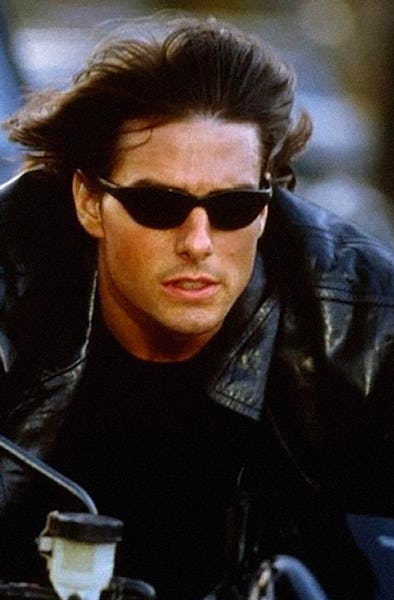 Very few Mission: Impossible fans appreciate Mission: Impossible 2, and for good reason. It's a silly film, one determined to mold its leading man after impossibly cool icons like James Bond or Bruce Lee. It's also the most tonally dissonant installment of the franchise, and compared to more consistent efforts like Ghost Protocol and Fallout, that's more than enough to write the 2000 film off as yet another botched product of the era.
But Mission: Impossible 2 is also the catalyst for the franchise we have today. Before Tom Cruise found an ideal creative partner in Christopher McQuarrie, the actor was averse to the idea of sequels, which is why M:i-2 feels like such a wild swing compared to Brian de Palma's inaugural spy thriller. Cruise wanted each Mission: Impossible film to maintain a distinct tone, with the help of a different director each time. He certainly got his wish by partnering with Hong Kong's definitive action auteur, John Woo.
"When Tom and I set out to make the movie, we wanted it to have the feeling of a classic spy picture like Notorious or How to Steal a Million," Woo told The Morning Call in 2000. The team wanted to shape Ethan Hunt into a new kind of hero, one that could pull off the romance that had become synonymous with the genre. Adding Thandiwe Newton to the mix, as a love interest who's Ingrid Bergman by way of Catwoman, seemed like an easy win. Unfortunately, her partnership with Cruise would have the opposite effect.
Newton is Nyah Nordoff-Hall, a jewel thief who strikes up a flirtation with Ethan when their missions intersect. Their whirlwind courtship begins with charged banter and climaxes in a bewildering car chase; by the time the dust settles, Ethan is drafting Nyah into his latest impossible mission. Said task involves going undercover to reconnect with her volatile ex (Dougray Scott), a disavowed member of Ethan's own Impossible Mission Force, to thwart the release of a biological weapon.
As it usually goes in this franchise's MacGuffin-riddled world, the finer details of the case aren't really worth remembering. It's more about the tension Ethan's latest mission inadvertently creates — not just for Nyah, who has to slink back to her crazy ex-boyfriend and pull off reconnaissance right under his nose, but also for Ethan, who has to ensure success without his feelings getting in the way.
Unfortunately, M:i-2 is a bit too concerned with tension, especially when it comes to letting its central romance breathe. Romance has never been a strength of the Mission: Impossible franchise, but it feels especially out of place alongside Cruise's own style. His intensity is palpable in most of Ethan's scenes with Nyah, so even moments meant to feel intimate and earnest come off as manic.
It doesn't help that Woo and screenwriter Robert Towne lifted so heavily from Alfred Hitchcock's Notorious. M:i-2 isn't so much an homage to the spy romance as it is a bald-faced ripoff, and it never quite captures the sensuality of their influence. The noughties were infamous for trying to bring back the noir, from Pamela Anderson's Barb Wire (essentially Casablanca) to The Truth About Charlie, which remixed the Cary Grant and Audrey Hepburn spy romp Charade with Mark Wahlberg, of all people, stepping in. Compared to those attempts, M:i-2 pulls off its love story with aplomb. And if you consider slow-motion gun fights and mask reveals sexy, then this is a positively erotic film.
Woo may very well be a romantic, but his passion is always best conveyed through a gauntlet of stylized violence. His version of a Mission: Impossible film might put a little too much emphasis on conventional romance, but he switches gears just in time for the film's bonkers third act. Motorcycle jousting, sandy hand-to-hand combat, and a knife fight that could have taken Cruise's eye out are what make M:i-2 so worth the ride. It's also what allowed the franchise to continue, in spite of Cruise's initial reluctance.
Mission: Impossible 2 had a daunting task, but its efforts, however panned, paved the way for one of the best action franchises in history. Sure, its story isn't the best, but it more than makes up for it with plenty of balletic action. It served its purpose well, and now it deserves more credit than it gets. Revisit it as you wait the long wait for Dead Reckoning Part Two... just be ready for it to get a little weird.
Mission: Impossible II is streaming on Netflix.