The Mandalorian is the Weirdest TV Show On the Air Right Now
The Mandalorian's third season has certainly been an interesting ride so far.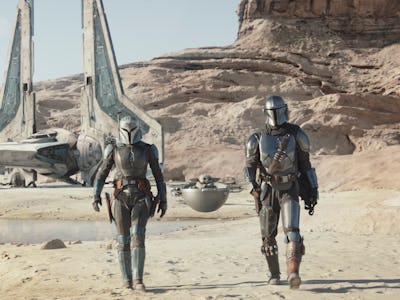 Lucasfilm
Ever since it premiered, The Mandalorian has struggled to find the right balance between its episodic and serialized adventures.
The Disney+ series has never felt quite as narratively unfocused as it does in its current third season, though. The first four episodes of The Mandalorian Season 3 have been so wildly different, in fact, that it feels hard not to react one of two ways to the show: You can either applaud it for being so open to episodic experimentation, or you can call it out for being a bit of a mess.
Either way, there's no denying that The Mandalorian is operating on a truly weird level right now. Unlike so many franchise TV shows that are on the air, The Mandalorian feels totally structureless, and its newfound formlessness has imbued the series with a surprising sense of creative freedom. It's also made watching The Mandalorian on a week-to-week basis a legitimately confounding experience.
Over the course of its first four installments, The Mandalorian Season 3 has delivered, among other things, a premiere where next-to-nothing happens, a second, world-building-centric episode that ends with a bang, and a fourth episode that occasionally feels like a throwback to Land of the Lost. For its part, the season's third episode, titled "The Convert," does a lot of heavy lifting when it comes to the lore of the Star Wars universe at large, but it does very little for The Mandalorian itself.
The episode spends most of its runtime with two very minor characters from The Mandalorian's first two seasons, one of whom didn't even have an official character name until "The Convert." While its plot injects The Mandalorian with a refreshingly Andor-esque political edge as well, to call the episode's sudden exploration of Dr. Pershing (Omid Abtahi) and Elia Kane's (Katy M. O'Brian) new lives on Coruscant jarring would be an understatement.
And if even die-hard Star Wars fans are having a hard time keeping up with The Mandalorian's scattered sense of storytelling this season, then what does that mean for the franchise's casual viewers? Could a 10 or 12-year-old viewer who is just starting to get into Star Wars, for instance, even keep track of The Mandalorian's plot? Or would detours like Dr. Pershing and Elia Kane's storyline in "The Convert" just leave them scratching their heads for 40 minutes straight?
The Inverse Analysis — There's no denying that The Mandalorian Season 3 is pushing the limits of traditional TV storytelling right now, but what's less clear is how effective the show's free-form approach actually is. With that in mind, it's worth asking: Is The Mandalorian's overwhelming weirdness the result of legitimate structural experimentation, or is it what happens when one show's creative team just assumes that its brand name will forever keep people coming back for more?
If it's the latter, that approach may work for die-hard Star Wars fans, but it won't keep The Mandalorian's less devoted viewers interested in the show's increasingly disjointed story.
New episodes of The Mandalorian premiere Wednesdays on Disney+.