Francis Lawrence "Would Return to Direct More" Hunger Games Movies
Eight years after he closed the door on The Hunger Games, the director is back for more.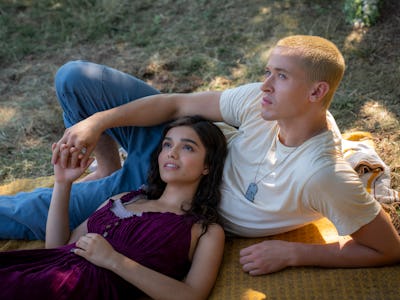 Lionsgate
Francis Lawrence didn't expect to be back in Panem. When he finished the fourth and final film in the Hunger Games series, Mockingjay – Part 2, eight years ago, he thought he'd closed the door on the franchise. But author Suzanne Collins released a new book in 2019, and Lawrence couldn't resist the call to return to the YA dystopian world.
"I read it and fell in love with the story, and knew I was in from then," Lawrence tells Inverse.
A Ballad of Songbirds and Snakes is set 64 years before the first Hunger Games movie. But instead of retreading the classic YA story of a plucky young heroine swept up in a rebellion against an oppressive empire, Ballad boldly centers itself around young Coriolanus Snow (Tom Blyth), the franchise's future villain. When the ambitious Coriolanus is assigned to a Hunger Games tribute as mentor, he ends up falling in love with the defiant Lucy Gray (Rachel Zegler), a born performer who gives him the idea of turning the games into the full-fledged televised spectacle they'd become. It was the more morally complex story that drew Lawrence back to direct Ballad.
"What I found exciting about this was an opportunity to do a very different story," Lawrence says. "To tell the story of the origin of a villain."
Inverse spoke with Lawrence about returning to the franchise after nearly a decade, whether the Hunger Games can still be a pop culture powerhouse today, and if there are plans for further adventures in Panem.
This interview has been edited for clarity and brevity.
When you heard there was a Hunger Games prequel, did you expect to return to the franchise? What brought you back?
I did not think I was coming back when we finished Mockingjay because there were no more books. But then we got surprised by Suzanne saying she was almost done with a book in 2019. It was really exciting, mostly because I had gone off and done a few other things. The idea of a new book written by Suzanne was great. I read it and fell in love with the story, and knew I was in from then.
With the different time period and the scrappier state of Panem, did you approach Ballad differently from how you made your previous three Hunger Games movies? Did you, for example, lean into the dystopia a bit more?
No. What I found exciting about this was an opportunity to do a very different story, to tell the story of the origin of a villain. But also it's, in essence, a period piece to the other ones, so it was like I could build a whole new world, with some nods to Panem. But we actually could do something completely different with the aesthetic and that was super exciting.
Doing a Hunger Games movie without Jennifer Lawrence, was that a transition? Do you think the franchise still works without her, or is there something different about the franchise without Jennifer Lawrence at the center?
To start this off, you hope that people still have an appetite for more Hunger Games movies, and you hope that they have an appetite for a Hunger Games film without Katniss, for sure.
But look, when I read this book, I fell in love with the story. I love that you get a sense of all the origins of a lot of the things that we love from the other books and the other movies. And it makes you look at the other books and movies in a very different way now. You understand Snow and a lot of the background of some of these characters and the beginnings of the Hanging Tree, all that. This movie really stands on its own and I was really excited to start fresh with a whole new group of people.
Do you think, almost a decade after the last Hunger Games movie, the franchise has a different place in the pop culture landscape now?
Yeah, the thing that I've been feeling is that the core audience from the original movies has gotten a little older. But I think they are excited that there's another story to be told that's in this world that has real themes and ideas at its foundation. The themes are so relevant, and we have this new cast, there's a whole new core audience of these teenagers that can come in. And they're rediscovering the original movies. Netflix put them out for a month and people were consuming them that might've been too young when they originally came out. I think there's a whole new audience.
Ballad is an adaptation of one book and is essentially a complete story. But do you know if there are any plans for future movies, and would you return to direct more?
I would return to direct more if Suzanne wrote another book, but I have no idea if there's any more books on their way or not.
The Hunger Games: A Ballad of Songbirds and Snakes opens in theaters on November 17.