Long After All Its Knockoffs Were Forgotten, The Hunger Games Still Holds Up
Watching teens tussle and tug on heartstrings remains timeless.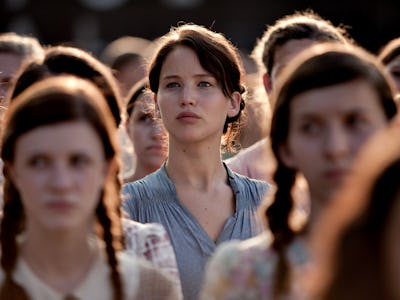 Lionsgate
Put three fingers in the air for the best in the young adult book adaptation biz to ever do it: The Hunger Games, Jennifer Lawrence's star vehicle and the movie to officially launch Hollywood's "plop teens in disturbing post-apocalyptic scenarios" craze.
Netflix surprised fans by grabbing all four of the franchise's films alongside a statement declaring, "May the odds be ever in your favor." Have no idea what that famous line means? Then read on.
The Hunger Games kicks off with Katniss Everdeen (Lawrence) volunteering to compete and likely die to please the wealthy denizens of the Capitol and instill fear in the unlucky residents of Panem's 12 districts. Katniss shouts, "I volunteer as tribute!" because her sister Primrose is selected to fight, and while Primrose is, well, prim, Katniss is a masterful archer and skilled hunter with a steady head on her shoulders. She's forced to rely on her sharp intellect and survivalist instincts when she's pitted against trained and motivated teenage tributes, but she also has to learn how to trust her heart and be vulnerable with her partner, Peeta Mellark (Josh Hutcherson).
But why are we making teenagers fight to the death? Donald Sutherland's eerie voiceover as President Snow sums it up:
"War, terrible war. Widows, orphans, a motherless child. This was the uprising that rocked our land. Thirteen districts rebelled against the country that fed them, loved them, protected them. Brother turned on brother until nothing remained. And then came the peace, hard fought, sorely won. A people rose up from the ashes and a new era was born. But freedom has a cost. When the traitors were defeated, we swore as a nation we would never know this treason again. And so it was decreed that, each year, the various districts of Panem would offer up, in tribute, one young man and woman to fight to the death in a pageant of honor, courage and sacrifice. The lone victor, bathed in riches, would serve as a reminder of our generosity and our forgiveness. This is how we remember our past. This is how we safeguard our future."
The Hunger Games had all the ingredients necessary to cook up a series that both delighted its teenage target audience and drew in intrigued adults. There was an epic love triangle comprised of three cute celebrities that had fans feuding. There were some of the most flamboyant and deviously delightful costume designs in movie history. And there was a strong supporting cast chockfull of star power — Woody Harrelson, Mahershala Ali, Stanley Tucci, Donald Sutherland, Philip Seymour Hoffman, Julianne Moore, and on and on.
But much of what made The Hunger Games engrossing can be credited to its creator: Suzanne Collins. The author co-wrote the first film's screenplay, a movie that excels because of its pace. Collins and her collaborators had an intrinsic understanding of what had to be included, and what could be tossed without damaging the integrity of the film's plot. The result is a relentlessly kinetic adaptation of an already rapid-fire book.
The Hunger Games was, and remains, one of the best YA book-to-screen adaptations ever. And while popularity doesn't necessarily equate to quality, the numbers are still impressive: it's the eighth highest-grossing franchise in North America, and the third-highest based on YA books behind Harry Potter and Twilight. The four Hunger Games films made $2.9 billion.
They also made studios scramble to adapt other dystopic YA series in the hopes of continuing to captivate teen audiences. But despite impressive budgets for special effects and A-list talent, they couldn't recapture the magic. The Maze Runner, Divergent, The Giver, City of Ember, and The 5th Wave were all varying degrees of competent, but none reached the heights of The Hunger Games and its impeccable ability to set the scene and hurtle audiences into a world where kids fight each other to the death for mass entertainment and mass subjugation.
If you didn't catch Hunger Games fever as a tween, teen, or grown adult, it's time to revisit this near-perfect book-to-screen adaptation. If you do, you'll be ready for the franchise's upcoming prequel: The Ballad of Songbirds and Snakes.
The Hunger Games is streaming on Netflix.