TMNT: Mutant Mayhem Rebels Against Hollywood's Franchise Formula
Mutant Mayhem isn't an action film, and that's why it's great.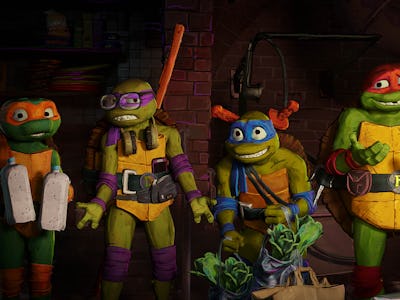 Paramount Pictures
One of the biggest problems with so many mainstream American blockbusters these days is that they all seem to stick to the same formula. It's become increasingly difficult to find new franchise films that don't cram in set pieces at the same points of their stories and don't end with oversized climaxes that land more with a whimper than a bang. That's why Teenage Mutant Ninja Turtles: Mutant Mayhem feels so special.
The new comedy offers a fresh, animated take on the TMNT franchise and its heroes, one that emphasizes their adolescent ages and desires. The film, which was produced and co-written by Seth Rogen and directed by Jeff Rowe, is an absolute blast. While most of them are delightfully fun and eccentrically staged, too, it's not Mutant Mayhem's various action sequences that make it work. That honor belongs to the stretches of the film where its characters do nothing but hang out, joke around, and commiserate about their angsty, shared loneliness.
It's in these moments that TMNT: Mutant Mayhem not only shows its true colors as a blockbuster-sized hangout movie but proves that it understands something about IP storytelling most contemporary American films don't.
TMNT: Mutant Mayhem dedicates huge portions of its runtime to letting its heroes, Leonardo (Nicolas Cantu), Michelangelo (Shamon Brown Jr.), Donatello (Micah Abbey), and Raphael (Brady Noon) goof around. Whether it be the sequence that follows them as they watch an outdoor screening of Ferris Bueller's Day Off from afar, or the time they film themselves playing around with ninja stars, Mutant Mayhem is brimming with moments of pure, laidback fun.
The movie presents its characters' lives in such an unpretentious fashion that it becomes shockingly easy to accept them as four modern teenagers. Even after April O'Neil (Ayo Edebiri) befriends them, Mutant Mayhem never lets their escapades overshadow their connection, nor does it spend too much time on its action montages. From the moment it begins, the film is committed to being the most age-accurate depiction of its turtle heroes to date, and it sticks to that mandate for its entirety.
Of course, that's not to say that it doesn't deliver some genuine action thrills. Not only does the film find room for its own spin on Oldboy's iconic hallway fight scene, but it also grounds all of its biggest third-act emotional beats in the action of its climactic, Godzilla-inspired sequence. While the movie's Superfly-centric climax does, at times, threaten to go bigger than it needs to as well, Mutant Mayhem finds sure footing again in its final sequence, which gives its heroes the John Hughes-esque happy ending they deserve.
By showcasing the everyday shenanigans of its eponymous teenagers in all their immature glory, TMNT: Mutant Mayhem reminds us why any of us fell in love with Leo, Mikey, Donnie, and Raph in the first place. For all their ninja skills, the thing that makes them compelling is their relatable longing for connection and acceptance, as well as the brotherly bond that keeps them together through everything. Mutant Mayhem, to its credit, doesn't let its characters get lost in the shuffle.
Even more importantly, the film doesn't forget that one of the most appealing things about IP-driven blockbusters is the chance they offer to spend more time with characters we already love. That doesn't mean every superhero or franchise blockbuster needs to be a hangout movie like Mutant Mayhem, but more could certainly benefit from embracing the same impulses as it.
At the end of the day, there's something genuinely fulfilling about watching characters you've loved for years misbehave and cut loose, and Mutant Mayhem works so well because it invites you to sit back and hang out with them while they do.
Teenage Mutant Ninja Turtles: Mutant Mayhem is now playing in theaters.