Suzume is Makoto Shinkai's Most Daring, Caring, and Personal Movie Yet
This is the movie Makoto Shinkai has been preparing to make for the past eight years.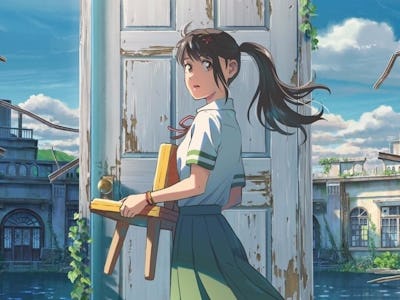 Crunchyroll
Makoto Shinkai is the master of melancholic anime, a man whose huge box office successes have drawn descriptions (like many before him) of being the next Miyazaki. Like the Ghibli master, Shinkai has made a career out of telling stories that blend the ordinary with the extraordinary. His films mourn Japan's past while preparing for an increasingly bleaker future.
After Your Name and Weathering With You both used natural disasters as backdrops to stories of young cosmic love, Shinkai is ready to get at the source of his most prominent inspiration for the past eight years. His latest, Suzume, serves as a confrontation of the lingering trauma and grief caused by the Great East Japan Earthquake of 2011. The result is Shinkai's most ambitious, caring, and mature film since 5 Centimeters per Second.
Japan is full of abandoned places, we learn throughout Suzume. Some due to financial reasons, some because of the population decline, and many due to natural disasters. These are places full of history and memories, now just empty reminders of the people who went to them. It is clear that the implication of these abandoned locations concerning Japan's population decline weighs heavily in Makoto Shinkai's heart. They're a perpetual reminder that, despite everything the country has to offer in terms of technological progress or culture, it does sit in a perilous geological location that makes the country particularly prone to natural disasters.
Suzume follows the eponymous Suzume, a regular rural high school girl. She has friends, and an aunt that cares about her, but she keeps everyone at a distance. She can't quite put her finger on why she has not been the same since her mother died 12 years earlier. One day, she encounters a mysterious and rather fashionably-designed boy named Souta, and incidentally unleashes an ancient god that guarded Japan against a giant CGI monster. The monster produces earthquakes everywhere it goes, but no one, except Suzume and Souta, can see it. Oh, and the ancient god thanks her by turning Souta into a three-legged wooden chair Suzume got from her mom, the last memento she had of her childhood. Now, the two will have to travel all across Japan to close magical doors that connect to an ethereal realm from which the monster comes out, stopping it before it causes earthquakes, and finding the ancient deity (which turned itself into an adorable talking cat) so it can turn Souta back into a human.
If you have seen Shinkai's previous work, especially Your Name and Weathering With You, you can pretty much predict every turn the story takes. At times, Suzume becomes underwhelming in how closely the film follows the beats of its predecessors. Still, what makes Suzume special is how it connects the threads of the pseudo trilogy, while changing just enough to recontextualize the entire thing.
You see, while Shinkai's previous two blockbuster successes used natural disasters as plot points, while focusing on a young romance and some cool sci-fi concepts — but this movie is different. This is not about an impending disaster, or its immediate aftermath. Instead, it is a movie made specifically for a generation of Japanese kids who grew up in the aftermath of the 2011 Tōhoku earthquake and tsunami, a generation that hasn't fully let go of the disaster even if its memory is starting to fade. Suzume is all about not forgetting the past, but also acknowledging that if you are here now, it means everything turned out okay in the end.
Yes, this is a Shinkai film through and through, so tears and sobbing in the theater is to be expected. Though the film is aimed mostly at an audience that has started to forget a disaster, the whole film takes a more immediate meaning when seen in the context of the recent Turkey-Syria earthquake. And watching gorgeously rendered scenes of the aftermath of the 2011 earthquake and the whole neighborhoods it left in ruins hits particularly hard today.
If this sounds a bit too heavy and dramatic, it's because this is Shinkai at his most earnest and raw. There is absolutely no hint of subtlety or subtext here, even if this is the most fantastical of his last three films — there are more set pieces, an actual villain, and bigger stakes. Even the score reflects this, with Shinkai's regular contributors, Radwimps, collaborating with composer Kazuma Jinnouchi to deliver a hauntingly beautiful and more melodic score almost devoid of songs (don't worry, there are a couple, they just play over the credits).
Yet it works because of that same earnestness. As heavy as the story can get, it is also hopeful. This is no Japan Sinks 2020 — arguably the bleakest work of animated fiction of the past decade — but a story with a big uplifting tone, which takes every chance it gets to showcase the goodness in people. Everywhere Suzume goes, people mourn the abandoned places in the vicinity, but show her help and kindness at all times, just because they can.
Despite the inherent darker tone of the story, Suzume is a very fun and often hilarious film. The supporting cast is fantastic, offering great moments of levity, and, somehow, the cutesy companions work great in the context of the movie. Souta's chair form offers both some of the funniest moments, but also works as a grim reminder of the stakes of the film. Comparisons to Ghibli movies are always expected when it comes to Shinkai, but this time he embraces them, with not just a direct shout-out to Whisper of the Heart, but a few homages to Kiki's Delivery Service's cute talking cat, and its mix of humor and melancholy.
Of course, this is still a Shinkai film, so it's no surprise that the animation is spectacular. Outside of the Demon Slayer movie, this is the most gorgeous anime film since, well, Shinkai's last, with a mesmerizing use of colors and a blend of CG and hand-drawn animation. What's different this time is the setting, with Suzume changing the big metropolitan streets of Tokyo for a road trip movie; the animators getting to show off their skills rendering the smaller towns and various countryside vistas. Still, arguably the most impressive shot of the film is not an action set piece or a wide shot of an animated landscape, but a simple scene of two girls talking late at night, with each subtle body movement and facial expression given enormous weight in order to capture their nuanced emotions. It's a subtly gorgeous scene that brings to mind the work of Hiroyuki Okiura in Your Name or the opening of the Cowboy Bebop movie.
Every project Shinkai has worked on, from his short films to his blockbuster successes, deal with some sense of loss and decay — that which you hold dear slowly disappearing. Though Suzume may be a lot to handle at times, and its blend of tones may be too much for some audiences, if you are in its wavelength, the movie results in the culmination of Shinkai's work, and his most personal project to date.