7 Years Later, The Most Divisive DC Movie Might Be Getting a Second Life
An enduring fan campaign may actually come to fruition.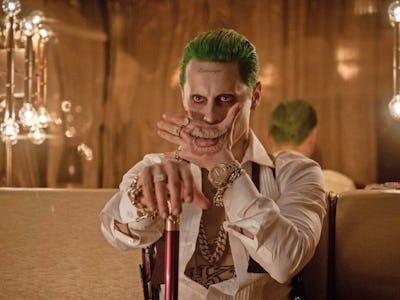 Warner Bros.
In case you haven't heard, the hierarchy of power in the DC Universe is changing. The scattered franchise has bounced from vision to vision and tone to tone, confusing fans all the while.
Now, with the Warner Bros. Discovery merger in the rearview mirror, the DCU has turned to Guardians of the Galaxy and The Suicide Squad director James Gunn to steady the ship. DC is looking to the future... but one old movie may still have its due.
David Ayer is best known to DC fans as the director of the notorious Suicide Squad, the pop-song-filled, trailer-house-edited 2016 movie that divided viewers. Ayer caused a recent stir when he posted a never-before-seen still of Jared Leto as the Joker, and when someone asked why he was still promoting a seven-year-old movie, his response was lengthy and illuminating.
According to Ayer, the "Ayer Cut" fans have been demanding since the film's release may still see the light of day, albeit not for some time. "Gunn told me it would have it's [sic] time to be shared," he wrote on Twitter. "He absolutely deserves to launch to launch [sic] his DC universe without more drama about old projects."
There's clearly no ill will between the directors of two different Suicide Squad movies. Ayer has been clear that he has an entirely different version of the film (and, hopefully, a much better one) ready for release, but the new DCU needs time to mature before it tries to fix old mistakes.
It's not the first time the director's used Twitter to speak about his vision for Suicide Squad. In July 2021, Ayer wrote a multi-part letter to fans, saying, "The studio cut is not my movie. Read that again. And my cut is not the 10 week director's cut – It's a fully mature edit by Lee Smith standing on the incredible work by John Gilroy. It's all Steven Price's brilliant score, with not a single radio song in the whole thing." It looks like that "mature edit" is the cut Gunn supposedly assured Ayer will one day have its moment in the sun.
It's bittersweet news for fans, as while there's finally movement on the project, it's movement to the backburner. But considering the six years of ridicule Suicide Squad has suffered, any news is good news.