Slip Finishes First in the Race for the Next Great Multiverse Comedy
Zoe Lister-Jones invites us on an interdimensional quest for self-love.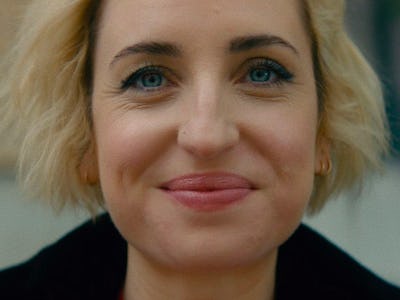 The Roku Channel
Mae Cannon (Zoe Lister-Jones) likes her life, to some extent. She's got everything she could ever want: a cushy job as a museum curator, a ride-or-die best friend that she's known since childhood, and a home straight out of a Pinterest moodboard. Perhaps most importantly, she has Elijah (Whitman Thomas), a hot but distant husband with whom she's carved out a comfortable life. Mae and Elijah have slipped into the kind of groove that most perpetual singles would kill for. But something still nags at Mae, a perpetual dissatisfaction, a restlessness. She's been living this version of her life for so long that their safe, shared groove has lost its whole appeal. They also haven't had sex in a really long time, which might be fueling the bulk of Mae's ennui.
Naturally, this encourages Mae's eye to wander. When she encounters Eric (Amar Chadha-Patel), a crazy-hot musician that frequents her neighborhood bar, a flurry of dangerous possibilities open up in no time. In Eric, Mae catches the glimmer of a different life. What begins with an awkward introduction quickly gives way to an intoxicating flirtation — and later, a steamy one-night stand. That changes everything for Mae, and not only because she's just committed a cardinal sin against her husband of 13 years. When she wakes up the next morning, she does so in a completely different reality. She wakes up married to Eric.
It's on this gonzo premise that Zoe Lister-Jones — the creator, director, writer, and star of Slip — pins the fabric of the entire series. In the past, Lister-Jones had explored the existential with absurd sketch comedies, but Slip is more ambitious and assiduous than any of her past work. The Roku series takes its multiverse-hopping premise and flips it into one big innuendo: as Mae quickly learns, she's inexplicably able to travel the multiverse, simply by reaching completion. Each orgasm yanks Mae (and the audience) headfirst into an entirely different world, one in which she's married to an entirely different person. The parallels this draws to her chronic dissatisfaction, in bed and in life, are hard to miss. But Slip is not interested in subtlety, nor should it be.
Not unlike Everything Everywhere All At Once or Danny Boyle's Yesterday, Slip uses its multiverse as a storytelling tool. Through Mae's sexual encounters, the series unfurls the infinite metaphors behind satisfaction and self-love. Through its hero's discontented journey, it dares to unpack the feeling we've all, at one point, experienced: "There's got to be more than this."
As good as the sex is with the strangers she encounters, as exciting as the lives she leads in other dimensions, Mae still can't find satisfaction. She's understandably anxious to return to her native reality, and to the life she took for granted. But it also doesn't help that she remains the same in every world she slips into. Wherever she goes, and whatever she does, she can never get away from herself. But her self might be the very thing she needs to make peace with before she can get back to her old life — and if that's not a flawless metaphor for depression, I'm not sure what is.
Throughout the series, Mae admits that no place (or person) has ever fully felt like home. She deflects from this feeling of displacement in different ways, be it the lull of social media, drugs and alcohol, sex, or even sleep — and her newfound ability to hop from one reality to another is a major manifestation of that. No amount of multiverse-jumping will be able to smother that void inside: if anything, it only exacerbates it. There's a lesson waiting for Mae at the end of this bonkers journey, but she'll have to listen to herself and her own needs in order to grasp it.
Slip is a tremendous flex from Lister-Jones. In just seven episodes — each clocking in at a breezy half-hour — the series charts its zig-zagging odyssey with propulsive humor and heart. Lister-Jones' Mae is, of course, the driving force, but Slip rarely loses sight of the characters in her orbit, either. Tymika Tafari is a stand-out as Gina, the one constant in Mae's life. Their lifelong friendship is not without its own flaws, but it's through their dynamic that Slip is able to unpack the prickly topic of emotional labor and the curse of the Black Best Friend. Each of Mae's parallel spouses are similarly fleshed out. No one feels like an obstacle, a means to an end, or a lesson for Mae to learn before she can level up — though each relationship, however brief, does teach Mae something new about herself.
The concept of a multiverse is one that Hollywood has been enthusiastically running with in recent years — and for good reason. It's become an endless echo chamber for the hypothetical; a place where morbid, cringe-worthy gags can live side-by-side with the existential. It gives us a platform to confront our fears and fetishes without judgment, and with Slip especially, it empathizes with our ache for something more. Though Slip's expression of that is hyper-specific and deeply personal, that's exactly what allows it to cut through the IP-driven noise.
Slip premieres on The Roku Channel on April 21.