Sharper is a Sleek and Seductive Thriller That Keeps You Guessing
Julianne Moore and Sebastian Stan burn up the screen in the neo-noir thriller that plays the long con.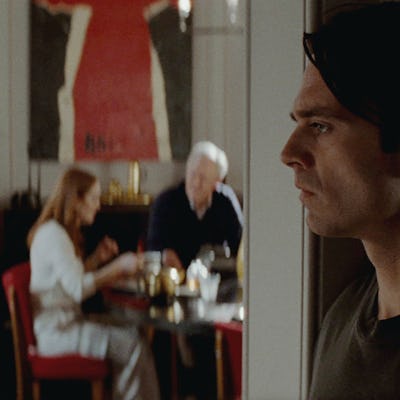 One regular afternoon, a bookstore owner and a pretty customer have a meet-cute. Everything goes right: they connect about books, they charm one another, they make plans for a real date. It goes so right that the red flags, flying high already, go completely unnoticed.
This is the premise of A24's new Apple TV+ film "Sharper," an enticing mystery that never stops turning the story on its head. Director Benjamin Caron sets the stage for a blossoming love story, and then pulls those trappings away to reveal the kind of shady, ruthless dealings that could go on underneath a perfectly tailored romance.
The film follows four central characters — Justice Smith's Tom, Briana Middleton's Sandra, Sebastian Smith's Max, and Julianne Moore's Madeline — and explores how they fit into the shady underbelly of New York City's con artist world. When Sandra meets Tom in his bookstore one day, an intense connection starts to bloom. But soon, Tom discovers not all is as it seems in life and love, and that realization sets off a chain of events that alters not only both of their lives, but the lives of those closest to both of them in ways no one expects.
The film follows a clever structure that keeps you guessing throughout, weaving a devious scheme among a group of seemingly unconnected individuals. Cowriters Brian Gatewood and Alessandro Tanaka masterfully withhold the information until the exact right moment, taking the audience on a hard left turn just when you think you know where the story is going. Though it isn't necessarily doing anything new — stories about con artists require these dramatic red herring set-ups — the film still feels fresh. There's an almost chic touch to the story, despite a classic sense of the con artist trope at work, mostly because the central performances feel so modern and polished in their depiction of the class structure of Manhattan. That the film can build and sustain that tone throughout, even when the story gets down and dirty, is a testament to the strength of the script and a top-notch quartet of lead actors.
Julianne Moore still continues to surprise with the range and depth of her work. Less than a month ago, Moore meticulously played a guarded social worker with little to no bedside manner in Jesse Eisenberg's directorial debut, and now, her new acting mark — no pun intended — is a cunning and hot mom who has a little too much love for her son. There's even a little bit of Boogie Nights in her turn as the alluring Madeline. She and Stan, who share a ton of screentime, have a connection as actors that is really fun to watch. They are sexy and dangerous together, a combination you wouldn't necessarily expect from them, but feels perfect for the morals their characters do or don't uphold.
Middleton stands out as the newcomer of the film's central ensemble, but she fiercely holds her own amongst the likes of Moore and Stan. Her soft-spoken, tender side complements Smith and their chemistry is palpable. She also pulls off the more rugged side of her character with a learned believability; she's the full package, an exciting star to watch as her character's circumstances ebb and flow.
The film is sleekly directed, embedding the trained precision of con artistry into each beat of the plot. But the movie also doesn't shy away from giving flowers to one of the film's great mysteries, and it works to Sharper's advantage. The movie boasts a semi-obvious Seven homage, and despite the original scene's fatalism, Caron's new version is able to get the same effect from the use of spatial awareness. That said, Caron's scene is also able to give the audience the satisfaction Seven's filmmaker David Fincher denies his viewers in his original harrowing ending. Sharper is much more concerned with justice than Fincher's movie ever tried to be, but there is no shame in either's game. It's nice sometimes to watch a movie where the bad guys get theirs in the end.
Speaking of endings, the film's soundtrack is the perfect finishing touch. The buoyant synth music gives the project this edgy vibe, with hints of John Carpenter and the semi-recent It Follows score. The movie isn't horror, but the dramatic effect the score gives the film reflects in the visuals too, those two elements working in tandem to create this specific view of New York City. Even the pre-existing musical selections feel right, especially the lyrics of the film's closing Nina Simone track. The film's cinematography also aids in this end, juxtaposing the city's grit-tinged haze and its glossy, velvet sheen of affluence. DP Charlotte Bruus Christensen — perhaps best known for her work on A Quiet Place and Girl on the Train — shoots the human subjects of this film like she does the prevalent landscapes of the story: with precision and clean style, one that entices the audience to dig deeper into the story and the characters themselves.
Sharper paints a picture of an all-too-polished Manhattan that hides a complicated, heartless underworld. Though the film isn't breaking any boundaries in the crime genre, it holds its own alongside some of the better films of its kind. Con artists have long since been a captivating film subject, and Sharper expands on this fascination in a way that feels modern and worthy of the puzzle it pushes us to solve. Like the quiet swindlers at work in this story, it feels like Sharper is so slick it might actually fly under the radar like a lot of great Apple TV+ programming. But here's to hoping that the stylish and seductive scammer thriller finds the audience it deserves.
Sharper premieres in select theaters February 10 and globally on Apple TV+ on February 17, 2023.