Stories From the Superhero TV Trenches
Director Rachel Talalay on the past, present, and future of the industry she helped build.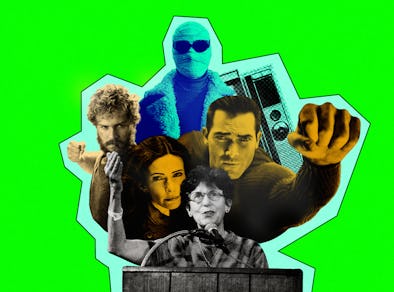 Lais Borges/Inverse; DC Films; Marvel Studios; Getty
Rachel Talalay can tell you exactly where she was when Hollywood writers went on strike back in 2007: gearing up to direct an episode of a new show based on beloved proto-superhero Flash Gordon.
"I don't remember anything about the show because the writers went on strike on my first day of prep," Talalay tells Inverse. "Basically, they handed me a completely unfinished script."
At the time, Talalay was already a well-established director thanks to her breakout anti-hero movie Tank Girl, along with TV credits for everything from the late '90s legal drama Ally McBeal to ABC's sci-fi mystery Kyle XY. But in late 2007, she was just trying to get an episode of Flash Gordon: A Modern Space Opera wrapped amid a Hollywood shutdown and a tiny budget, at least by today's standards.
"Spectacle was really, really important."
"There wasn't enough money to do it," Talalay says, highlighting a major difference between the TV industry back then and the one we're used to today. "It wasn't really into the transition of streaming and cable and making shows of that extra quality." (In 2007, Netflix had only just launched their streaming media service, with only 1,000 films available on-demand and no TV shows at all, let alone ones that the streaming platform was also producing.)
Over the next decade and a half, Talalay would go on to direct 13 more episodes of superhero TV (and counting), mostly within the shared universe of the DC TV shows that aired on The CW starting in 2012 to today, along with episodes of DC's standalone series Doom Patrol and the Netflix-Marvel project Iron First. Along the way, she's become a veteran of the superhero-TV-industrial complex with a unique perspective on how the genre reached its current moment of pop culture domination, and what comes next.
Rachel Talalay's origin story as an architect of the modern superhero show has its roots in the CW's once-sprawling empire of DC shows. Sometimes called the Arrow-verse, for the series that launched the fictional universe, and sometimes called the Berlanti-verse, for the super-producer behind it all, the Arrow-verse was the first real proof TV could do superhero storytelling well.
"Making those Berlanti shows is a very specific piece," says Talalay, who directed six episodes of The Flash, two episodes of Supergirl, two episodes of Legends of Tomorrow, and one episode of Superman & Lois. "What was good about [the Arrow-verse shows] was that they were incredibly hard to make. They're incredibly challenging. They're incredibly ambitious. The Berlanti vocabulary was 'humor, heart, spectacle.' Spectacle was really, really important. And so it started with Arrow and then went to The Flash. And then [Berlanti] branched out and became the DC TV guy."
"How many times can The Flash get knocked out, putting them all in danger, over seven seasons?"
In what already feels like an old-fashioned model, most of the Arrow-verse shows had 22 or 23-episode seasons. For Talalay and the other creators and actors behind the show, the challenge became how to make an intentionally formulaic structure work across so many episodes. In other words, the classic broadcast TV dilemma.
"How many times can The Flash get knocked out, putting them all in danger, over seven seasons?" asks Talalay. "And so, from a filmmaker standpoint, what I got out of it was just being challenged all the time. They were really hard to do well, and there was always something interesting [to figure out] in each episode."
As a veteran TV director, Talalay has often been asked to step in for episodes that require less oversight or that are particularly important, such as the episode after a series pilot.
"On the Berlanti shows, they'll do these really massive episodes that the producer-director will do," she says. "And then he or she won't be available to help at all in the next episode. So I'll be given the next episode, whether it's big or small, because there's a feeling that they can, I don't need to be supervised by somebody."
In other words, Talalay has proven again and again that she can get the job done, whatever that job may be.
"To me, Barbie is the superhero movie of the last five years."
As a TV director, Talalay is unique in that she has experience in both the American and British industries, the latter of which prepared her for the shift from broadcast to streaming. In both streaming TV production and British TV drama production, it is much more common for full seasons of a show to be written and shot before the first episode airs or is dropped on a streaming platform. This is very different from traditional American broadcast TV, which is writing and filming as the season airs, often resulting in a much more truncated production timeline.
"Sometimes, people would ask me, 'Why is your U.K. work better than your U.S. work?'" Talalay says. "Well, there's a variety of reasons, but a lot of it has to do with the smaller [season] orders, and the extra time and attention that's put into each episode."
A shorter season order is what made Talalay's big final episode of The Flash possible. In Season 9's "The Mask of the Red Death: Part 2" — which culminates in a showdown between The Flash, Batwoman, and an evil version of Batwoman from an alternate universe — she had much more money to work with.
"They gave me one of the biggest episodes," says Talalay. "We were doing big wire rigs in the middle of the city. And we were doing things that were bigger than what I normally do on television, and with people who were really, really good at it. Some of the stunts were so well rehearsed. It was really feature-level quality."
The structure allowed for moments of the creative freedom that Talalay is always searching for in a fast-paced, workmanlike industry where directors must do everything they can simply to get footage.
"I would say to my students that, in television, on a good day, you get two shots that you really love," says Talalay. "The rest of it is just getting the material. Some days, you don't get any. That was sort of the standard when there were 22 episodes. And then I started working on shows where, suddenly, every shot was beautiful. And what a revelation."
The Flash ended in 2023, outlasting most of The CW's DC TV world. Superman & Lois is the final show to remain of what was once TV's most exciting superhero universe. Who knows if the traditional broadcast model of a 22-episode superhero season will rise again and, if it does, if there will be more space for TV directors to find those beautiful, joyful shots within it. But whatever happens, Talalay isn't ready to give up on superhero storytelling just yet, especially not in its more subversive forms.
"To me, Barbie is the superhero movie of the last five years," she says. "So I think coming at it from this very nontraditional storytelling is wonderful, and will be where we go. But I also think that will then swing back to 'We need Superman to be Superman,' and then what are we doing with [that story] to make it [work]?"
Ultimately, for Rachel Talalay, it doesn't matter how big or small a superhero story is.
"I think a good story is a good story. It's about making sure that your superhero is a character that you're engaged with, not just a CGI character doing something."
Inverse's 2023 Superhero Issue celebrates the unsung heroes of our favorite stories — in the pages of comics, behind the camera, and everywhere in between. Guest edited by Iman Vellani.