Obi-Wan leak reveals the shocking return of a beloved Star Wars character
Obi-Wan's legendary cast continues to grow.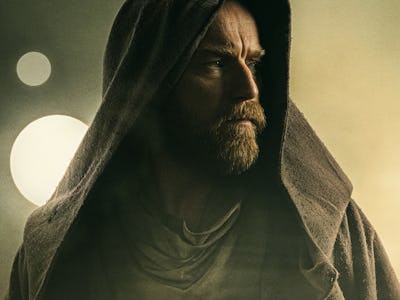 In many ways, Obi-Wan Kenobi is shaping up to be a quasi-bridge between the Star Wars prequels and the Original Trilogy. The upcoming Disney+ series is set to feature a number of actors and characters from George Lucas' prequels, including Ewan McGregor's Obi-Wan, Joel Edgerton's Uncle Owen, and Hayden Christensen's Darth Vader. They're not the only major Star Wars characters rumored to have roles in Kenobi either. Potential Spoilers Ahead.
One new Obi-Wan leak claims that the Disney+ series will feature a very important Star Wars figure in a secret but prominent role. If true, this leak further reinforces the fact that Obi-Wan Kenobi will connect the end of Revenge of the Sith to the beginning of A New Hope.
The Leak — According to a recent report from MakingStarWars.net, one of the most important characters in Obi-Wan Kenobi will be none other than Princess Leia Organa.
The outlet reports that Leia will be kidnapped and taken from Alderaan in Kenobi's first episode, and that will be why McGregor's Obi-Wan decides to leave Tatooine. The report also mentions that Leia will appear in multiple episodes of Kenobi, and that her family's desire to fight the Empire will help Obi-Wan begin to believe that there's still hope for the galaxy.
Of course, as is always the case with leaks like this, take this claim with a massive grain of salt for now.
The Princess of Alderaan — While fans still have to wait one more week to find out whether this leak's claims are accurate, they do fall in line with several other rumors that have been circulating about Obi-Wan Kenobi. Fans have been speculating that Leia would have a role in Obi-Wan ever since rumors began to swirl that Jimmy Smits was reprising his role as Bail Organa, Leia's adoptive father.
This report seems to confirm that both Bail and Leia have secret roles in Obi-Wan. While that may come as a surprise, it makes sense for both characters to appear. Bail is one of the only characters who shares Obi-Wan's knowledge about Luke and Leia, which makes him one of the few people Obi-Wan can actually trust in the years leading up to A New Hope.
Beyond that, we already know that both Luke Skywalker and Darth Vader are going to have roles in Obi-Wan Kenobi, so it only seems fair that Leia has a presence too. Obi-Wan also needs a genuinely important reason to leave Tatooine and temporarily abandon Luke, and preventing Leia Organa from falling into the hands of the Empire would certainly qualify.
The Inverse Analysis — Anticipation has been building for Obi-Wan Kenobi ever since it was announced. It's not hard to see why, considering just how many beloved and established Star Wars characters are set to appear in the Disney+ series.
McGregor and Christensen's roles were enough to make it feel like a noteworthy new chapter in the Star Wars saga. However, if characters like Leia and Bail Organa also appear, then it seems safe to say that Obi-Wan Kenobi may end up being Lucasfilm's most essential Disney+ series to date.
Obi-Wan Kenobi premieres Friday, May 27 on Disney+.