You need to watch the most-underrated monster franchise on Hulu before it leaves next week
We've got some work to do now.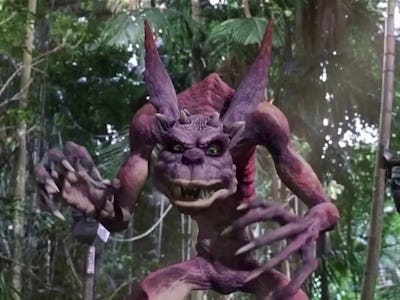 It's been a big week for computer animation. Kathleen Kennedy announced in Vanity Fair that Lucasfilm would stop recasting younger actors to play younger versions of characters, and instead de-age existing actors as they did with Luke Skywalker in The Mandalorian. On top of that, the She-Hulk: Attorney at Law trailer was released, leading many fans to criticize its poor CGI.
But there used to be a time when less-than-stellar CGI was considered impressive, and 20 years later it's almost charming. A pair of CGI-filled mystery movies about to leave Hulu is the perfect example of this phenomenon, so it's no wonder they have such a cult following.
Based on the classic Hanna-Barbera cartoon, 2002's Scooby-Doo marks the first time the Mystery Incorporated team was brought to live-action, and they did not miss with the casting. Real-life married couple Freddie Prinze, Jr. and Sarah Michelle Gellar bring preppy Fred and Daphne to life, and Marvel darling Linda Cardellini launched a thousand weird crushes as Velma. But it's Matthew Lillard who steals the show, transforming Shaggy from a 1960s stoner to a pitch perfect 2000s stoner.
And then there's Scooby himself, a Great Dane who looks... less than great. But after 10 minutes, you don't mind. Everything about the movie is so cartoonish that an obviously animated dog is one of the few elements that actually makes sense.
The plot is reminiscent of a classic Scooby-Doo story, but with some huge twists. The script was penned by none other than James Gunn of The Suicide Squad and Guardians of the Galaxy fame, and if there's one thing he knows how to do it's a team-up movie. Scooby Doo starts with the four members of Mystery Incorporated at odds with each other, but they have to put aside their differences in order to solve the mystery of Spooky Island.
A sequel, Scooby Doo 2: Monsters Unleashed, further fleshes out this iteration of the characters, and includes a supernatural story that's surprisingly intense, at least for children.
Together, these movies serve as the ultimate 2000s reboot double feature. Before remakes were all about creating a different take on a franchise, these movies replicated the kitschy feel of the original Scooby-Doo series with jokes and cameos that could only happen in the early 2000s, including a soundtrack full of Outkast, the Baha Men, Sugar Ray and, of course, Shaggy.
So if you have a family or a stoner in your life, strap in for a spooky, campy, and nostalgic time that proves you don't need seamless CGI to tell a good story. Sometimes all you need is a Mystery Machine, a box of Scooby Snacks, and a whole lot of suspension of disbelief.
Scooby-Doo and Scooby-Doo 2: Monsters Unleashed are streaming on Hulu until May 31.