Ms. Marvel credits Easter egg sets up an epic superhero team-up
Bro, it's a truck from Hawkeye, bro!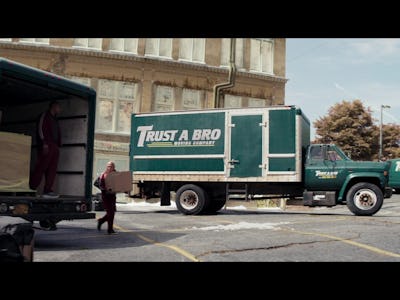 Bro, did you see that Easter Egg in Ms. Marvel's credits?
Blink and you'll miss it, but Ms. Marvel, which debuted its first of six episodes on Disney+ this morning, made a small homage to Hawkeye with a Trust a Bro Moving Company truck featured prominently as executive producer Victoria Alonso's name flashes onscreen.
Trust a Bro Moving, a New York City shell company for the tracksuit-wearing crime syndicate overseen by Wilson Fisk (Vincent D'Onofrio), doesn't have any ties to Kamala Khan (Iman Vellani) in the comic books, but this Easter Egg may mean that Fisk's goons will have a role to play in Ms. Marvel.
And if that's the case, it may mean that young heroes like Kate Bishop (Hailee Steinfeld) and Yelena Belova (Florence Pugh), or even young anti-heroes like Echo (Alaqua Cox), could make cameo appearances during Ms. Marvel's run.
What is the Tracksuit Mafia?
The Tracksuit Mafia are, at least at the start of Disney+'s Hawkeye, comprised of William Lopez (Zahn McClarnon), Echo (Alqua Cox), Kazi Kazimierczak (Fra Free), and henchmen Ivan Banionis (Aleks Paunovic), Tomas (Piotr Adamczyk), and Enrique (Carlos Navarro), along with a small army of unnamed goons.
The squad of athleisure-wearing criminals throw Molotov cocktails and say "bro" a lot, but they're also not the brightest bulbs in the batch. Throughout Hawkeye, they provide levity and humor as they botch every job, and they prove to be no match for Kate Bishop and Clint Barton.
The Tracksuit Mafia making mischief on behalf of Wilson Fisk in Jersey City, where Kamala Khan resides, could be a useful inclusion in the miniseries, as it would connect Kamala's standalone story to more titles in the MCU than just Captain Marvel and the forthcoming The Marvels.
Maybe the truck is just a quick gag. But This Trust a Bro Easter egg inclusion in Ms. Marvel's credits feels purposeful. Ms. Marvel could directly link to Hawkeye, and even the forthcoming Echo and rebooted Daredevil shows, bringing in characters we've seen in previous MCU installments and potentially setting the scene for a crucial Marvel team-up event: The Young Avengers.
Ms. Marvel drops new episodes weekly on Wednesdays on Disney+.