Mrs. Davis Has Something Important to Say About the Dangers of AI
"We have this powerful device at our fingertips and we have to be careful how we use it."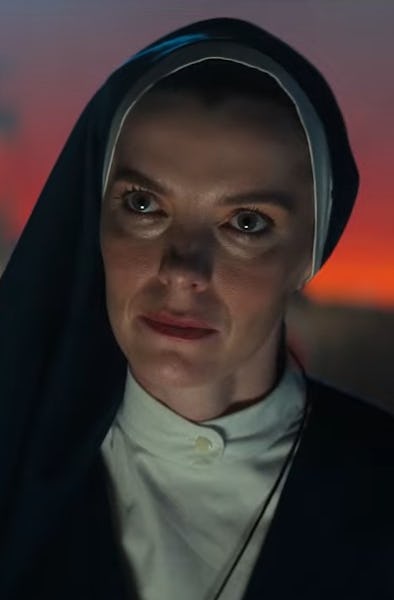 Peacock
When Betty Gilpin started research for her starring role in Mrs. Davis as Sister Simone, a badass nun who takes on a world-conquering artificial intelligence, she went right to the source: actual nuns. What she discovered was the complete opposite of what she expected.
"I viewed nuns as a group of people who were shutting themselves off from society," Gilpin tells Inverse. "I realized in talking to nuns for research how wrong I was. Yes, they're shutting themselves off from certain things, but not to disconnect, to hyper connect."
This hyper-connection is what Sister Simone is trying to attain in her quest to shut down the Peacock show's titular AI, and Gilpin's research only confirmed that her character probably has the right idea.
"The nuns I spoke to had such easy access to a part of their brain that I think that scrolling Instagram has muddied in my own brain," she says.
But not everyone in the world of Mrs. Davis agrees — and neither do Gilpin's fellow cast and crew.
Ahead of a whirlwind round of interviews with the cast of Mrs. Davis and the show's co-creators, Damon Lindelof (Lost, The Leftovers, Watchmen) and Tara Hernandez (an executive producer on The Big Bang Theory), I had what felt like a brilliant idea: ask ChatGPT to spin up some AI-themed questions about this AI-obsessed show. If Sister Simone was a real person, she probably would have warned me not to do it. And she would have been right.
For one thing, ChatGPT couldn't really figure out what Mrs. Davis is about. The popular chatbot kept referring to the show as a "multigenerational family drama" (which is a bit like calling The Mandalorian a "gritty whodunnit").
Even worse, my clever idea was actually pretty unoriginal. Turns out, I wasn't the only journalist bringing AI-generated questions to the junket. But like Mrs. Davis pursuing Simone with dogged determination, I persisted. Thankfully, no one else seemed to mind.
"I always feel when we get a ChatGPT generated question it's as if I'm speaking to it directly, and I want to speak very favorably," Hernandez tells me.
"The thing that people really don't understand about artificial intelligence even now is that it's really stupid"
Without realizing it, I'd recreated a key concept from the series. When Mrs. Davis wants to talk to Simone, she has another human speak for her, reducing them to what's known as a "proxy." In the show's world, most people are eager to serve the AI in any way they can. And here I was doing the same. Worse, unlike Mrs. Davis with her promise of gifting "wings" to compliant users, ChatGPT wasn't even offering me anything in return.
But as both Mrs. Davis and the real world prove time and time again, despite its name, artificial intelligence still isn't very intelligent. ChatGPT makes up facts on a regular basis, and while revealing some of Mrs. Davis' foibles might verge into spoiler territory, trust me that she's got plenty of faults of her own.
"The thing that people really don't understand about artificial intelligence even now is that it's really stupid," Damon Lindelof says. "It's very good if you build an AI that's really good at Jeopardy or that can pass the bar exam or perform surgeries. It is really good at that, but it's still not intelligent."
So if artificial intelligence is so dumb, simply avoiding it should be easy, right? Surprisingly, when asked if they would use Mrs. Davis if it existed in real life, the majority of the cast said yes. Jake McDorman, who plays Simone's ex-boyfriend Wiley (an anti-AI revolutionary with ambitions of his own), admitted to messing around with AI himself — but for a very mundane reason.
"I used it to install a soundbar," he says. "It helped me out a lot. It was like having an assistant that was way overqualified to be an assistant."
The experience sparked a penchant for experimentation with technology.
"At dinner with my agents, I asked it to give a quick bio on one of them. And it did," he says. "Then we were like, 'Give me the same bio but in the style of a fairytale.' And, oh my god, it gave us a beautiful story about how my agent had this hero's journey to the gates of UTA [United Talent Agency]."
While AI is fine for tech help or writing short stories, McDorman, like Wiley, is still aware of its greater implications — both positive and negative.
"The greatest chess player could be bested by an algorithmic chess player," he says. "All these different things are being rendered not obsolete, but being challenged by something of our own creation."
Meanwhile, Hernandez sees it from a slightly different perspective.
"We have this powerful device at our fingertips and we have to be careful how we use it — and use it against each other, potentially," Tara Hernandez says. "But also, it can continue to make us better people and take us forward."
But Betty Gilpin counters, channeling her inner Sister Simone.
"Simone thinks that, in engaging with this thing that is not real, we are sealing off a portal to something that makes us unique as humans," she says. "It's not a good thing to have all the answers in your pocket because maybe then you stop asking the big questions."
Mrs. Davis premieres on Peacock on April 20.