Russell Crowe's Great War Epic is Also Secretly a Star Trek Movie
The old Final Frontier looked a little different, but its spirit was the same.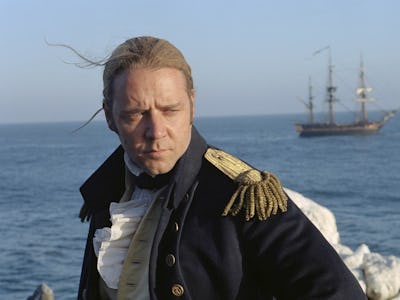 20th Century Fox
Russell Crowe has never been in a Star Trek film, but he's still explored the Final Frontier. Twenty years ago, the historical adventure movies Master and Commander: The Far Side of the World hit theaters, and for those into the narrative aesthetics of Star Trek, it felt like a very distant prequel. With Ridley Scott's Napoleon right around the corner, even sci-fi fans should revisit this underrated epic.
When director Nicholas Meyer was making Star Trek II: The Wrath of Khan, he told composer James Horner he wanted the film's score to sound "nautical but nice." Back in 1981, when Wrath was being shot, Meyer wasn't too familiar with Star Trek lore. In researching the franchise, it reminded him of C.S. Forester's Age of Sail book series about a British officer named Horatio Hornblower.
Meyer would later learn that Star Trek creator Gene Roddenberry based the structure of the Enterprise crew on the Hornblower novels. When Patrick Stewart was cast as Captain Picard for The Next Generation, Roddenberry gave Stewart a stack of Hornblower books and said, "There's your man," indicating that everything Stewart needed to know about playing a starship captain came from books published in the 1930s and depicting the early 1800s. The bold, optimistic future of Star Trek is rooted in the past.
Enter Russell Crowe, director Peter Weir, and 2003's Master and Commander: The Far Side of the World, adapted from the books by Patrick O'Brian. The film focuses on Captain Jack Aubrey (Crowe) and the crew of the HMS Surprise, and technically speaking, it's a war movie; Aubrey's mission is to defeat a marauding French ship called Acheron. But for anyone who's seen The Wrath of Khan (or the more recent and cinematic Picard Season 3), the conflict between the Surprise and the Acheron will feel very Star Trek.
What makes Master and Commander exciting is the tension of the chase, but what makes it good is the ethical debates between Captain Aubrey and the ship's scientifically inclined surgeon, Stephen Maturin, played brilliantly by Paul Bettany. In Star Trek terms, Maturin is a mash-up of Spock and Bones or, more recently, a good match for Dr. M'Benga in Strange New Worlds. Maturin, who embodies Captain Aubrey's conscience, is more interested in exploring the Galápagos Islands than waging war. The two also play classical music together, which will remind anyone of the moments in The Next Generation when Data and crew members play string instruments even when an interstellar conflict is just an act break away.
These similarities are not new to fans. People on Reddit have rediscovered Master and Commander and compared it favorably to Star Trek, while an in-depth YouTube video from Rowan J. Coleman explores the nitty-gritty of how this film feels like a Trek movie. Coleman's most trenchant observation is that Age of Sail literature tends to reinforce the idea that a ship can contain a kind of community that outsiders romanticize as ideal.
There's nothing utopian about a Brit trying to track down a Frenchman on the high seas, but Aubrey and Maturin's dynamic suggests they have a strong desire to retain their humanity and preserve a sense of decorum no matter how bleak things get. The result is a movie that has a kind of coziness to it, while still presenting the realism of 1800s warfare with a healthy dose of grit.
In 1994's Star Trek Generations, when Captain Picard and Commander Riker stand on the deck of a simulated sailing ship version of the Enterprise (in uniforms that perfectly match what everyone is wearing in Master and Commander), Picard waxes nostalgic about the greatness of the era. Riker reminds him it was also a time of "bad food and brutal discipline." Picard argues the Age of Sail was a time of true "freedom," while Riker worries that it was a bit hopeless and lonely. What Master and Commander does so well is capture both viewpoints. Sailing on the HMS Surprise in a desperate attempt to defeat Napoleonic forces was the worst of times for those sailors. But in the beauty and simplicity of the voyage, it was the best of times too.