Who is Kelleran? The Mandalorian Finally Reveals Baby Yoda's Jedi Savior
The person who saved Baby Yoda during Order 66 is a shocker.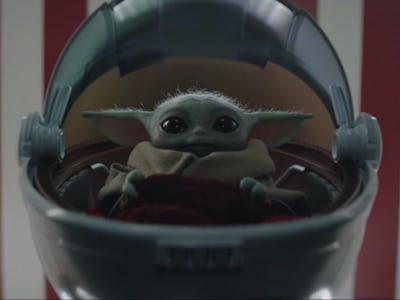 Lucasfilm
Since the start of The Mandalorian, everyone has had one question — who saved Baby Yoda from Order 66? Because (almost) all the Jedi were murdered on Coruscant, we've known that Grogu must have been protected and taken away from the planet somehow. But since Season 2's episode "The Jedi" — in which we learned Grogu's name — there haven't been any clues. Until now.
In "The Foundling," Episode 4 of Season 3, The Mandalorian has revealed the specific Jedi who saved Baby Yoda, plus, how he got off Coruscant. And it's a shocker. Massive spoilers ahead.
Who is Kelleran Beq in Star Wars?
As Grogu flashes back to his early days on Coruscant, we see Jedi rushing to protect from Clone Troopers during the events of Revenge of the Sith. The Jedi all say they're taking him to Kelleran, who is revealed to be Kelleran Beq, a Jedi teacher played by none other than actor Ahmed Best (perhaps best known as Jar Jar Binks). Best first appeared as Kelleran in the 2020 kids' game show Star Wars: Jedi Temple Challenge. Although a reality show, the existence of Kelleran is considered canon, and "The Foundling" is his first on-screen appearance in the context of the actual saga.
In Jedi Temple Challenge, it's implied that Kelleran is a lightsaber master, something that is proven in The Mandalorian. He fights with two lightsabers at once, much like Ahsoka Tano, or, briefly, Anakin Skywalker in Attack of the Clones.
A New Naboo mystery for Kelleran and Grogu
In an interesting wrinkle, the flashback ends with Kelleran meeting up with Naboo soldiers, who let the Jedi take their ship to escape Coruscant. This silvery, sleek craft is an H-type Nubian yacht, the exact same kind of ship that Padmé Amidala flew in both Attack of the Clones and Revenge of the Sith. In fact, in the time frame of Revenge of the Sith, Padmé takes a ship of this exact design to Mustafar to confront Anakin Skywalker. Is it the same ship?
Because Padmé leaves for Mustafar shortly after the events of Order 66, it seems unlikely this is the exact same Naboo starship. Then again, these ships were pretty special, so it feels pointed that we should see this ship and not any other kind of generic ship in all of Star Wars. Plus, at least one day passes between the slaughter at the Jedi Temple and the showdown between Obi-Wan and Anakin on Mustafar. So, it's possible that Kelleran Beq brings this ship back to Coruscant and Padmé then takes it to Mustafar after that.
But beyond spaceship logistics, Kelleran's escape with Grogu brings up new, bigger questions. Where did he take Baby Yoda? And did Kelleran himself escape Order 66? And if so, for how long? How did Baby Yoda go from being under the protection of a Jedi Master to being all alone in the first episode of The Mandalorian?
Roughly three decades take place between this flashback and the present day of The Mandalorian. We know Grogu ages slowly, so, in Baby Yoda years, this isn't a lot of time. But, for the rest of the galaxy, a lot happens in that interval. And now, it seems that, finally, The Mandalorian is poised to fill in those missing years, but with the promise that some of the new information will only lead to more questions.