Lance Reddick Was the First Person to "Get" John Wick, Director Says
John Wick director Chad Stahelski remembers the late Lance Reddick nailing his character "10 minutes after we pitched."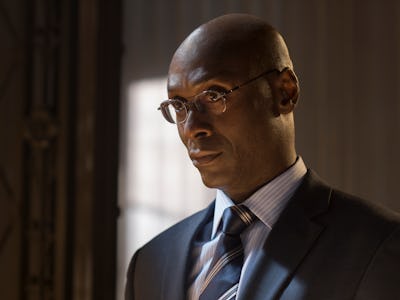 Lionsgate
It's hard to fathom now, but there was a time when John Wick was the farthest thing from the start of a franchise. But one actor who joined it in its infancy, the late Lance Reddick, saw exactly the transgressive film Keanu Reeves and co-director Chad Stahelski strove to create.
In an interview with Inverse to promote the newest movie in the series, John Wick: Chapter 4 — which stars Reddick in one of his final film appearances — Stahelski remembers the enthusiasm Reddick had towards his vision for the first John Wick, released in 2014.
"Obviously we were friends [and] professional collaborators," Stahelski tells Inverse about the late actor, who died of natural causes on March 17 at age 60. "Lance was very special. You can ask anybody. He made the room better, and he made the movie better. He made being on set better. He was a positive guy that was infectious, a smile that warms you from the outside."
Stahelski remembers the difficulties of pitching John Wick to producers and talent, among the first being Lance Reddick. "He was one of the first people we ever cast on John Wick," Stahelski says, contextualizing how tough a sell the movie was in the beginning.
"It's easy to look back, but at the time we had an 82-page script about a retired assassin that didn't talk for the first 40 minutes of the movie. He comes out of retirement because someone kills his puppy, so he shoots 80 people in the face. That's not an easy pitch. It doesn't seem like a character-driven movie. It sounds like, 'This is gonna end my career.'"
Despite the rough edges of John Wick, Stahelski gave the script to Lance Reddick, who instantly knew what the movie was going for. "I gave him the quick pitch about how we're gonna do a Greek myth. [How his character] Charon is the gatekeeper. Lance read it. Lance takes off his glasses, cleans it, and goes, 'I totally get it. That's super cool. I'm gonna come in with an African accent.' He didn't miss a beat. He was one of the first guys that actually got it. Oh, you're doing a melodrama based on Shakespeare. He had the character 10 minutes after we pitched."
In 2014 for John Wick, Reddick made his first appearance as Charon, concierge of the New York Continental that secretly services assassins. He returned to the role three more times, appearing in every John Wick sequel thus far alongside Keanu Reeves and Ian McShane.
Stahelski tells Inverse both Reddick and Reeves shared a passion for filmmaking that is rare to find even in Hollywood. "Lance [and] Keanu are very rare guys," Stahelski says.
"There's no bullshit. He and Keanu love every minute of being on set. Not just the high points or the end product, not the fame and glory or the action. [They] love moviemaking. The hard parts. The minute-to-minute sitting on set, being cold, tired, insecure, being worked to death. There's not a lot of people like that in this business."
Adds Stahelski, "He understands people well. If you were having a bad day, Lance had a way of coming over and putting his arm around you going, 'Hi, we're making movies.' And that always put a smile on your face."
In the wake of Lance Reddick's passing, family members including his wife Stephanie Reddick have asked fans for donations to Baltimore organizations MOMCares and Walden School, where Reddick taught music as a teenager.