Donnie Yen's John Wick Role Was "Bruce Lee Meets Chow-Yun Fat," Says Director
Yen wanted to be "the coolest guy in your movie."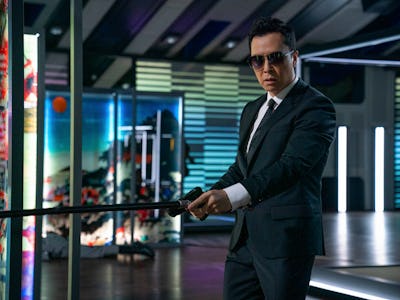 Lionsgate
John Wick may be the namesake of his own glorious action franchise, but his blind rival Caine has stolen the show from him.
In John Wick: Chapter 4, Hong Kong movie star Donnie Yen swaggers onto the screen as Caine, a blind assassin tasked with taking down Wick (Keanu Reeves). Armed with a walking stick that sheathes a sword and a wardrobe straight from Bruce Lee's closet, Caine is one of the most striking characters ever seen in an action movie.
John Wick director Chad Stahelski credits Yen for coming up with the details that make Caine unforgettable. "I wish I could say it was all on paper," Stahelski tells Inverse, "but it was very loose. I write what I need the character to get done. I give a lot of credit to Donnie for molding that character."
When it came to conceptualizing Caine (originally given the more stereotypical name Shang, as Yen told GQ), Stahelski said he needed someone who could be John's friend and foe.
"I needed him to be a frenemy to John. I needed him to motivate John. I needed him to kill Hiroyuki [Sanada]'s character Koji, so that it initiates this dilemma," Stahelski says. "I write what I need them to do. And then I come in with the cast and we work the dialogue and physicality of it all."
Donnie Yen was no different from other cast members in terms of working with the director to add important finishing touches. "Sitting in a room day after day with Donnie, riffing ideas, going home thinking about it and coming back," says Stahelski. "But you don't really know until he puts on the clothes and shows up for the scene."
Stahelski says that Yen wanted to do something bold with Caine. It wasn't enough to simply play a blind warrior, an archetype so prolific in pop culture that Yen already played the devout monk Chirrut Îmwe in 2016's Rogue One: A Star Wars Story.
"Donnie was like, 'I've done the woe-is-me blind man before,'" says Stahelski. "After the first week of riffing ideas, he's like, 'F*** it, I just want to be the coolest guy in your movie. I'm gonna come looking like Bruce Lee meets Chow Yun-Fat, A Better Tomorrow meets The Killer. F*** being blind. Not only did he not lose his eyes, he gave his eyes. That's how badass this guy is. I'm the blind version of John Wick.'"
"He told me, 'You want an antagonist? I'm your antagonist.' Once he said that, I literally put down my pen, high-fived [him], and I'm like, 'Okay, let's go see wardrobe.'"
At 59 years old, Donnie Yen is finally making a mark in Hollywood. Yen told GQ that he rarely entertains Hollywood projects unless the roles offered are meaty and avoid racial stereotypes of Asian men.
"These kinds of opportunities occasionally come up: 'You want to be in this?' It doesn't mean anything," Yen said. "If I'm not allowed to have my creative control ... it's not worth my time."
Clearly, going after John Wick was worth Donnie Yen's time.
John Wick: Chapter 4 is now playing in theaters.