Does Indiana Jones 5 Have a Post-Credits Scene? A Spoiler-Free Guide
The post-credits scene belongs in a museum!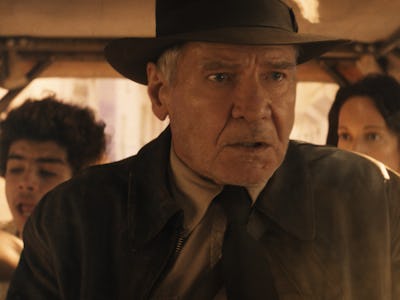 Lucasfilm
In 1979, Steven Spielberg and George Lucas signed a deal with Paramount Pictures to develop five movies based on classic Hollywood adventure serials. With Indiana Jones and the Dial of Destiny, that deal has finally been fulfilled, though with neither Lucas behind the story nor Spielberg behind the camera. Instead, James Mangold takes the helm as the director of the fifth and final Indiana Jones movie, which brings the story of the whip-slinging, snake-hating archaeologist to an end. Or does it?
In the decades since Indy raided his first tomb, the post-credits scene has become a staple of every big tentpole film — after all, what better way to market your next movie than by putting a little teaser for it at the end of your current one? Indiana Jones is still one of the biggest franchises today, so there's some expectation of a post-credits scene at the end. So do you need to stick around after the credits of Dial of Destiny? Here's your (spoiler-free) answer.
Does Indiana Jones and the Dial of Destiny have a post-credits scene?
The short answer: No.
This really is the end for Indiana Jones, and the lack of a post-credits scene in Dial of Destiny cements that fact. Indy is hanging up his hat for good. You can satisfy yourself with the knowledge that the post-credits scene, at least for this movie, is back in the museum where it belongs.
Indiana Jones and the Dial of Destiny opens in theaters June 30.