The Most Surprising Exorcism Thriller of the Year is The X-Files Meets Last of Us
Ghouls and goblins aren't the only things that go bump in the night in Revenant.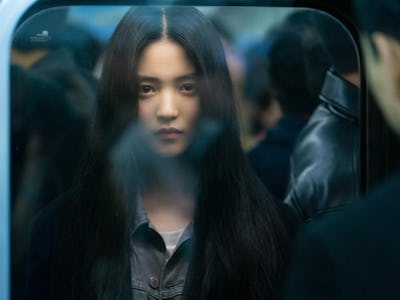 Hulu
The scope and definition of horror is expanding all the time, and Hulu's most underrated international shows are at the forefront of the growing conversation. The streamer has quietly dropped a handful of surprisingly-solid thrillers this year, most of which have flown under the radar. They're not all going to reinvent the wheel, but hidden gems like Revenant prove that there's still a lot to explore in the supernatural.
One hesitates to label Revenant as an outright horror, at least initially. Like so many of South Korea's best dramas, the series is a slow burn ... a really slow burn. Though it sprinkles in a handful of jump scares and jarring musical cues, supernatural shock is not Revenant's immediate goal. It's more of an avenue through which screenwriter Kim Eun-hee (Signal) can explore the fraught societal inequality in the region. Ghosts and evil spirits are not the only ones capable of violence: sometimes, the scariest entity one can face is actually made of flesh and blood. But before the series subverts its supernatural conceit, things do kick off with an appropriate dose of melodrama.
Kim Tae-ri (The Handmaiden) stars as San-yeong, a struggling law student that stumbles into a world of the occult when her late father bequeaths her with a mysterious artifact. The moment she touches the heirloom, San-yeong is inadvertently possessed by a hostile, centuries-old spirit. At least, that's what Professor Yeom (Oh Jung-se), a folklore professor and amateur exorcist, seems to believe.
Yeom and San-yeong have a lot more in common than meets the eye. The former is Revenant's true believer, while San-yeong is a skeptic to a fault — but they share a connection through San-yeong's dad, and through the spirit that now resides in her. Yeom is one of the few that can see what he calls "the loose-haired demon," which manifests as a Medusa-like shadow that follows San-yeong everywhere. He also believes that the demon is responsible for a string of suicides throughout the city, and warns San-yeong that death will begin to follow her, as well.
San-yeong, of course, shrugs this warning off: in her experience, people are more dangerous and cruel than ghosts could ever be. Sure enough, though, people around her [begin to] die. As the bodies pile up, she has no choice but to team-up with Yeom in an effort to stop the spirit once and for all. Their quest takes them on one detour after another; as Revenant takes on an episodic, case-of-the-week structure, the shared tragedy that connects Yeom and San-yeong comes into clearer focus.
It's a little like The X-Files or Fringe, spliced with the surrogate father-daughter dynamics of a show like The Last of Us. But Revenant is secretly an ensemble piece, even if it takes a long time to get there. Once it establishes its complex premise, the world of the series opens up to include a string of interesting players... and let a little more horror in.
While one unlikely duo solves supernatural crimes, detectives Lee (Hong Kyung) and Seo (Kim Won-hae) struggle to piece together the conspiracy from the physical plane. Their paths frequently cross with Yeom and San-yeong's, offering a bit of levity to a series so entrenched in tangible, more familiar horrors. Revenant flirts with a myriad of genres and influences, from crime procedurals to emotionally-devastating family dramas. It's unfurling a tangled web across its 12 hour-long episodes — but it's the central performances, and the mismatched temperaments in its main cast, that make the series entirely bingeable.
Revenant does eventually lean into the familiar trappings of its native genre, but it's not nearly as interested in thrills as it is with emotion. It makes a great starter horror for that reason alone: while Yeom and Sanyeong do find themselves in Seoul's seediest corners, coated in tangible layers of grime, the scariest aspects of the series aren't always supernatural. Revenant is taking its sweet time to build out a proper, sophisticated conspiracy; it just so happens to involve ghosts now and then. Its subtle approach won't be everyone's cup of tea, but for anyone in the mood for more thoughtful thrills this spooky season, Revenant is definitely worth the time.
Revenant is currently streaming on Hulu.