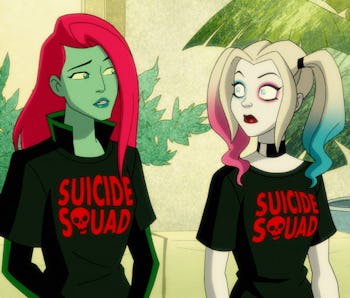 Inverse Codex
Everything we know about Harley Quinn Season 3
The irreverent animated show has a new home at HBO Max.
It's the era of Harley Quinn. DC Universe debuted the first season of the animated series in late 2019, and Season 2 followed in April 2020. Harley Quinn followed its titular character on her misadventures with Poison Ivy and her ragtag crew of misunderstood villains. The series garnered enough positive attention for its move to HBO Max in August, and many speculated that a Season 3 renewal was all but confirmed.
Here's everything we know about a possible Harley Quinn Season 3, including when it could debut, cast, possible plot, and more.
Has Harley Quinn been renewed for Season 3?
Yes! After much speculation, in September 2021, it was announced that Harley Quinn would be returning for Season 3 and would exclusively stream on HBO Max.
When will Season 3 come out?
Initially, it was speculated that Harley Quinn Season 3 would air in late 2021. But things got clarified at the 2021 DC FanDome event. Harley Quinn, King Shark, and Kite Man previewed some animatic footage from Season 3, which was currently in production. They said that Harley Quinn Season 3 would arrive "sometime in 2022."
What is the plot of Harley Quinn Season 3?
Season 2 ended with Commissioner Jim Gordon crashing Poison Ivy's wedding to Kite Man to get ahead of the Justice League and take down the villains who were attending. Harley also crashes the wedding to stop Gordon and save her best friend (whom she has feelings for). Gordon flees and utter chaos ensues, but Harley and Ivy finally get the happy ending they deserve and drive off into the sunset together (while being chased by Gordon's men). Oh, and Joker realized that he still wanted to be a villain, but also settle down in the suburbs with his new girlfriend. What a show!
Fans should expect Season 3 to pick up where Season 2 left off, with Harley and Ivy starting a romantic relationship together (and possibly in jail if they're caught). Series creator Justin Halpern said Season 3 would explore their new relationship and dive deeper on Ivy after focusing so much on Harley. The writers' room even brought in new voices from the LGBTQ+ community to help diversify the staff and speak to their romance from a personal place.
In general, there's a lot left plot-wise to explore with Harley Quinn. After all, Gotham City is still cut off from the rest of the U.S. and Harley has finally realized that she's not the straight up villain she wanted to be. Season 3 could explore this new side of her as she finds her place as an antihero.
Who is in the cast of Harley Quinn Season 3?
Kaley Cuoco as Harley Quinn
Lake Bell as Poison Ivy
Alan Tudyk as Clayface, the Joker, Calendar Man, Doctor Trap, Condiment King
Tony Hale as Doctor Psycho
Ron Funches as King Shark
Jason Alexander as Sy Borgman
J. B. Smoove as Frank the Plant
Fans should also expect Batman (Diedrich Bader), Batgirl (Briana Cuoco), Bane (James Adomian), and Gordon (Christopher Meloni) to be back in Season 3.
Is there a trailer for Season 3?
As mentioned above, the only footage we have so far from Harley Quinn Season 3 is some early animatic material introduced at DC FanDome 2021. You can check it out below:
Harley Quinn is currently streaming on HBO Max.
This article was originally published on