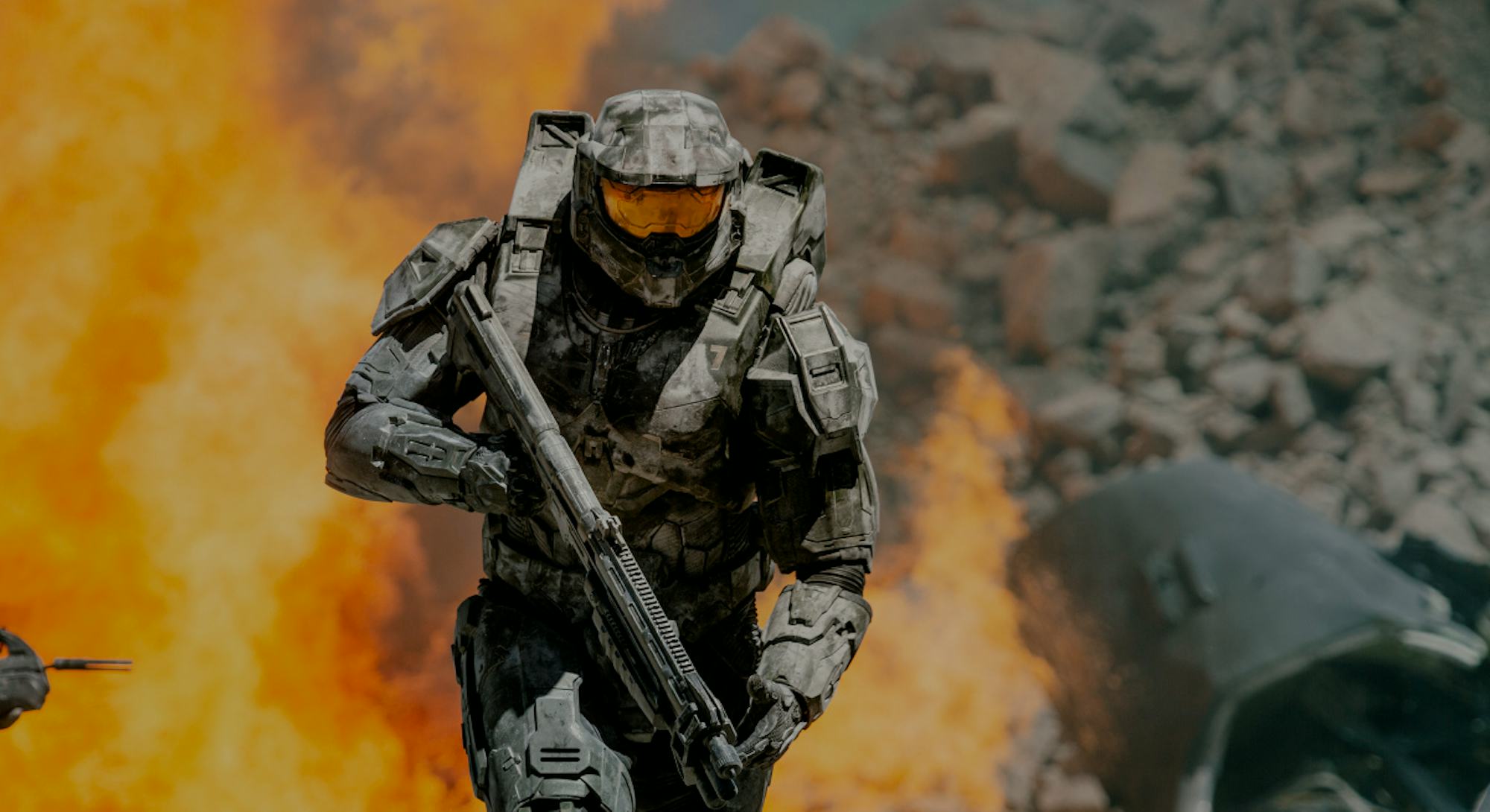 The Inverse Interview
Why Halo on Paramount+ is pressing restart on the video game canon
Based on the best-selling Xbox shooter games, Halo is charting a different course than the one fans know. Here's what awaits in deep space.
Paramount+
For over 20 years, Halo has ruled over video games. Now in 2022, humanity's war against the Covenant will be waged on a new frontier: Streaming television.
On March 24, Halo will premiere exclusively on Paramount+, telling a new story inspired by the sci-fi shooter games and its many tie-in novels and comic books. But the series, which began life under Steven Spielberg, is not a direct adaptation, according to executive producers Steven Kane and Kiki Wolfkill. Like the J.J. Abrams-helmed Star Trek films, the TV show explores a new timeline of events — dubbed the "Silver Timeline" — in which the story of Halo is reimagined, including a few bold decisions that may polarize hardcore fans.
Halo is still Halo, however. It's all about Master Chief, an exemplary soldier with a heck of a vertical leap who rallies mankind against an alien threat.
"The intent of the Silver Timeline is to allow [our show] to be founded in canon," producer Kiki Wolfkill tells Inverse. "The things you see and hear are all familiar and grounded in the spirit of the core themes of Halo — hope, heroism, humanity, wonder — while giving space for the story to develop in a way it needs to for the medium."
Unmasking Master Chief
For those who didn't spend their youth in basement LAN parties, Halo takes place in the 26th century, where Earth's combined military might, the United Nations Space Command (UNSC), squares off against an alliance of aliens called the Covenant. The latter believe that Halo, an artificial ringworld of mysterious origins, is a holy site... and that humanity needs to be purged from the galaxy.
One of the UNSC's best weapons is an elite class of genetically engineered super-warriors, Spartans, who tower over the average soldier in bleeding-edge armor. In the games, players control the greatest Spartan of all, Master Chief. Like all Spartans, Master Chief has no memory of life before soldiering. He only knows his name, John, and his designation: 117. He's never seen without his helmet.
The first Halo debuted in 2001 as a launch title for the Xbox, Microsoft's first foray into direct competition with Sony and Nintendo. It has since become a blockbuster franchise, with 81 million copies sold and $6 billion generated in sales. But the TV show makes a few critical changes. First, the show pairs Master Chief with a new character, Kwan (Yerin Ha), a teenage girl whose village is massacred by Covenant forces.
"...the season is about taking off the helmet."
Also, Master Chief takes off his helmet for the first time. Actor Pablo Schreiber (The Wire, American Gods) plays the hero gamers have never properly seen, and Halo's producers say unmasking its mysterious lead "was not a decision made casually or haphazardly."
"Unmasking Chief is to get to John's story," Wolfkill says. "We all understand there is a man inside the armor we know as John. But he's not a character we're able to really understand through the games. This was an opportunity to explore his journey and see the effects of him understanding what his origins are, and his place in the world."
Wolfkill says the differences in how audiences engage with TV versus video games necessitated this choice. "When we set out to make the show, it was not a foregone conclusion to take his helmet off," she adds, "but it became evident that in order to hit the goals of being a character-focused drama, we needed to take him out of the armor."
Among its biggest changes, Halo introduces a new character, Kwan (Yerin Ha) who accompanies Master Chief in a journey across the stars.Paramount+
Jen Taylor, who voiced Master Chief's A.I. companion Cortana in the original video games, reprises her role in live-action for the TV series.Paramount+
In Halo, Earth is threatened by an alliance of aliens known as "The Covenant" who seek to weaponize an arsenal of ring-shaped worlds known as "Halo."Paramount+
Originally developed by Steven Spielberg, Halo was destined for cable channel Showtime before landing at Paramount+. It is already renewed for a second season.Paramount+
"In some ways, the season is about taking off the helmet," adds co-producer Steven Kane. "He doesn't take off the helmet casually. It's a moment. It speaks to what the show is about, which is understanding who this Master Chief is."
"The face is everything," Pablo Schreiber tells Inverse. "Halo is a first-person video game, you're asked to believe you're Master Chief as you play. You're [a] co-creator of the experience. The character was purposefully created in a vague way because he's a symbol for all of us. We're meant to fill in aspects of his personality with our own."
Schreiber says that vague characterization works for games better than television. "In order to bring an audience along on the journey of the human being inside the suit, you have to access their face to know what they're feeling and thinking. That felt like a very basic need."
Another major character from the Halo games has undergone changes, too. Master Chief's witty A.I. assistant Cortana — also Microsoft's one-time answer to Amazon's Alexa — enters Halo in a different way. Jen Taylor reprises her role from the games, but she isn't simply repeating her performance.
"She's a little different," Taylor tells Inverse. "We're seeing the very beginnings of her relationship with Chief. And it's different than what the fans of the game are used to. She's the same character. She's just at a different point in her journey."
Reaching for the Stars
In 2001, the year Halo launched on Xbox, the official prequel novel Halo: The Fall of Reach by Eric Nylund hit bookshelves. It was adapted from story bibles written by the game developers and revealed the horrific ways the UNSC created and trained Spartan soldiers.
The novel remains popular among Halo fans for its strengths as a standalone sci-fi novel that questions the military industrial complex. It inspired the 2010 spin-off game Halo: Reach, and now it's influenced the TV show too.
"When I got the job, I read the book right away because I wanted to understand what I was getting into," says Kane. "I would say it was part of the toolkit."
"We would dig deep into the canon."
The producer reveals he embarked on a "343 Boot Camp," a crash course in Halo with developers 343 Industries. "I went to Seattle to learn about Halo, and we never talked about the games. It was all about character, values, themes," he says. "We would dig deep into the canon; I remember talking to 343 about burial rites for the Sanghelli [one of the species in the Covenant] and thinking they might just say 'wing it.' But they had an answer for it. There's so much in there that all you have to do is ask and someone can give you an answer. It was a great sandbox to play in."
While Halo boldly leaps from consoles to Paramount+, it's still Halo. Even if the plot has been tweaked and Schreiber is a different Master Chief than fans remember, it remains a story about finding one's way through a vast universe.
"Nothing I'm doing here can take away from what's done," Schreiber says. "If anything, we're going to add to the Halo universe. For audiences to connect with a show, it has to be felt, to feel organic, and it has to be your own. Otherwise, nobody is going to connect with it on any level."
Halo begins streaming on Paramount+ on March 24.