With One Reboot, a Horror Icon Took His Place as the Unquestioned Slasher Movie King
Michael Myers can slay anything, including continuity problems.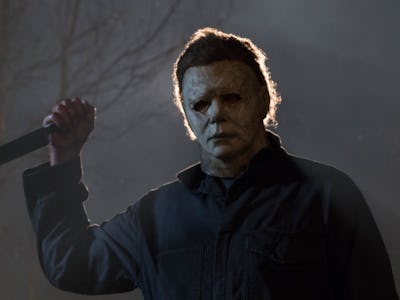 Universal Pictures
From Leatherface to Ghostface, the silver screen has been home to countless slasher villains. But who reigns supreme among these horror icons? Much spirited debate could ensue in trying to answer this question, but five years ago, one icon returned after a near-decade absence and took his rightful place as the slasher movie king.
Slashers are a staple of horror, which itself has been one of the backbones of popular cinema for a century. But the '80s, when the slasher craze found its footing, were ruled by franchises like Friday the 13th and A Nightmare on Elm Street. Much of that was thanks to John Carpenter's 1978 classic Halloween, which introduced the world to Michael Myers.
Myers has taken many forms across 45 years, 13 films, and several timelines. The franchise has had a messy journey, but in 2018, Myers slashed through all the continuity issues in director David Gordon Green's Halloween, which served as a direct sequel to Carpenter's original. With Jamie Lee Curtis returning as Laurie Strode, it felt like a true horror event.
Halloween 2018 was many things. It was a legacy sequel that tried to simplify a complicated franchise (like Halloween H20 before it). It was also an attempt by the horror experts at Blumhouse Productions to prove they could play in an already-established sandbox. On top of that, it was the first time Myers had graced the screen since 2009's Halloween II, the sequel to Rob Zombie's 2007 Halloween remake.
Zombie's films were divisive then and now. For certain genre fans, it was hard to accept a remake from the guy who made House of 1,000 Corpses. Perhaps that's why Halloween II's box office was underwhelming, and why it took so long to get another film going in the first place. When Blumhouse got involved, they were wise enough to know Halloween needed to be a proper Halloween film. Laurie vs. Michael. Haddonfield on All Hallow's Eve. That legendary John Carpenter score. Carpenter was actively involved as a producer, and having him on board in a meaningful way was a big deal. It signaled that this would be more than just another cash grab.
"There's so many different versions, and the timeline is so mixed up, we just thought it would be easier to go back to the source and continue from there," co-writer Danny McBride said to Flickering Myth during development. "It was nicer than knowing you're working on Halloween 11, it just seemed cooler, 'we're making Halloween 2.'"
The move allowed for a better story that let Michael Myers shine. More importantly, it made moviegoers feel like they could get on board even if they hadn't kept up with all the sequels over the decades. Taking place 40 years after the original Haddonfield massacre, Michael Myers breaks free during a prison transfer and once again wreaks havoc on the town. Myers had a lot of bloodlust after being cooped up for decades, and Green let him get it all out of his system. No one was safe, and the result was violent, gritty, unflinching, and only sparingly nostalgic.
Halloween became the highest-grossing slasher film in history, raking in over $255 million at the box office and spawning two sequels. Very few slasher films have enjoyed that level of success. It succeeded to the point that other legacy horror franchises also tried to untangle their continuity with straightforward sequels, like Scream and Scream VI, and Netflix's Texas Chainsaw Massacre. But nothing has had the same impact as Halloween and, in terms of dollars and cents, it's not really close.
The last time Freddy Kreuger was on the big screen was in 2010's much-maligned A Nightmare on Elm Street remake. The last time we saw Jason Voorhees was in the 2009 Friday the 13th remake, which played like a greatest hits tape. Halloween was a damn good movie that gave Michael Myers the spotlight with vicious murders, an incredible one-take sequence, and a satisfying showdown with Laurie.
Five years later, after countless horror movies tried to ape Halloween's take on female trauma, it still feels like a real gift to the genre. Much as John Carpenter, the man who introduced us to the Haddonfield Boogeyman in the first place, is rightfully known as the horror master, Michael Myers should be rightfully recognized as the master slasher. Hail to the king.