Obscure Roman History Could Reveal Pedro Pascal's Mystery Gladiator 2 Role
We don't know much about Ridley Scott's upcoming sequel, but history could provide answers.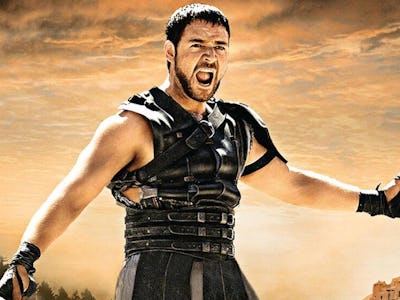 Universal Pictures
Gladiator was a monumental action movie entrenched in ancient history. While Russell Crowe's Maximus was created for the film, Emperor Commodus and his daughter Lucilla actually existed, although their characters were only very loose adaptations of the historical figures. 23 years later, Ridley Scott is directing a star-studded sequel that will also draw inspiration from history. With the historical context in mind, one knowledgeable fan has extrapolated who each star — even the recently attached Pedro Pascal — could play.
Redditor jimmy_costigan started their speculation by reflecting on the roles that have been announced. Paul Mescal will play Lucius, Lucilla's son and Commodus' nephew (he appeared in the first movie as a child), and Joseph Quinn will play Emperor Caracalla, who ruled the Roman Empire from 198 to 217. Barry Keoghan has also been cast, and is rumored to play Caracalla's brother Geta.
The first Gladiator applied some Hollywood magic to the historical timeline, condensing Commodus' 12 years reign into a single year: 180 AD. This theory suggests the sequel will be set in 211, and will begin with Caracalla murdering his brother Geta. Before then, the two had ruled as co-emperors. This would mean a small role for Barry Keoghan, but that's only the tip of this theory's iceberg.
jimmy_costigan goes on to suggest Lucius will take on the historical role of his real-life brother, Aurelius Pompeianus, who Caracalla murdered. This brings us to Pedro Pascal, the latest addition to the Gladiator 2 cast. This theory suggests he'll be fictional like Maximus.
If he's the protagonist, he'll probably have some tie to Lucius and will seek to punish Caracalla — presumably through gladiatorial combat, given the franchise. If so, it may not end well for him. Historically, Caracalla was assassinated by a soldier named Justin Martialis, who was himself killed for the act. It's possible Pascal's character would adapt this part of history.
There's one last piece to this theory: Denzel Washington is also slated to appear, and he's the perfect fit for this tumultuous period of Roman history. Martialis, the assassin of Caracalla, was hired by a well-off North African man named Macrinus, who was scheming to make himself Emperor. Marcinus would succeed and enjoy his own troubled reign, which could be a good role for Washington.
Again, this is just a theory, but an epic story of sibling rivalry, betrayal, and assassination would be a perfect fit for a Gladiator sequel. Joseph Quinn would be a tyrannical emperor, Paul Mescal would provide a stakes-raising loss, and Pedro Pascal would be the hero set on getting revenge. With Ridley Scott's direction, this obscure chapter in history could get the Hollywood treatment it deserves.
Gladiator 2 premieres in theaters on November 22, 2024.