40 Years Later, an Iconic Sci-Fi Classic is Beating the MCU to The Punch
They've got chills, they're multiplying.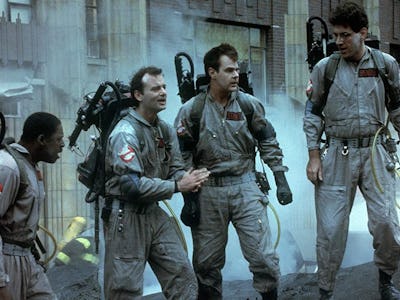 Columbia Pictures
We're in the midst of reboot fever, and some are more successful than others. But one of the most surprising has been the new life of the Ghostbusters franchise, which managed to find a new life after a failed remake in 2016 with 2021's aptly named Ghostbusters: Afterlife.
But now, 40 years after the original movie hit theaters, the Ghostbusters franchise is building a team-up movie that the Marvel Cinematic Universe could only dream of — a true crossover that spans decades of ghostbusting power. And it looks like they're going to need all the power they can get as a chilling threat is sweeping the globe. Check out the full trailer for Ghostbusters: Frozen Empire below.
Ghostbusters: Frozen Empire brings together the remaining members of the original lineup, Peter Venkman, Winston Zeddemore, and Raymond Stantz, as well with the Spengler family we were introduced to in Afterlife. But unlike the previous movie, the old and new groups will be working together in the city where it all began: New York.
The new threat they're facing is known as the "Death Chill," a way to kill through fear. The official synopsis of the movie teases the new team will have to work to save not only the Big Apple but the entire world from ending — or at least being plunged into a frozen tundra.
In Ghostbusters: Frozen Empire, the Spengler family returns to where it all started — the iconic New York City firehouse — to team up with the original Ghostbusters, who've developed a top-secret research lab to take busting ghosts to the next level. But when the discovery of an ancient artifact unleashes an evil force, Ghostbusters new and old must join forces to protect their home and save the world from a second Ice Age.
Ghostbusters may be a newer franchise now, but it's building on 40 years of history and nostalgia, and that gives it a leg up on any of the superhero-era franchises. Now that it's building its legacy once again, we'll have to see how the action involves from the comedy-focused and slightly raunchy origins.
Ghostbusters: Frozen Empire premieres in theaters March 29, 2024.