Freaky Writer Reveals Plans for a Wild Blumhouse Crossover: "We've Talked About It"
"In my head, the movies happened simultaneously and then they somehow meet or run into each other."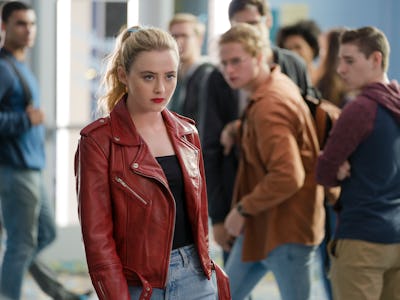 Blumhouse
Ever since Happy Death Day 2U all but shed its slasher structure to become a bonafide sci-fi comedy, Blumhouse teen slashers have happily toed the line between horror and other genres. 2019's Ma was a meme come to life. 2020's Freaky was "Freaky Friday but as a slasher." And M3GAN? Well, that's just pure camp.
No one knows that better than Freaky writer Michael Kennedy, who co-penned the body-swapping slasher with director Christopher Landon. The movie, which starred Kathryn Newton as an everyday teenager who magically switches bodies with a serial killer played by Vince Vaughn, stood out because of its unique premise, Kennedy says.
"It's a way to break through all the noise," Kennedy tells Inverse. "Quite frankly, it's hard to make an original that doesn't have a massive hook, and Freaky was a great example. When I was talking to Chris about it, I literally said the words 'Freaky Friday the 13th,' and I saw his face completely light up."
Kennedy has more ideas. While talks around a Freaky sequel have stalled, Kennedy reveals to Inverse that he spoke to Blumhouse about a crossover between Freaky and another Blumhouse darling: Happy Death Day.
"Freaky Death Day," Kennedy says, using the same single-sentence pitch he made for Freaky.
In Kennedy's vision, Tree, the protagonist of Happy Death Day who gets stuck in two separate time loops, and Millie, the body-swap heroine of Freaky, are cousins. "In my head, the movies happened simultaneously and then they somehow meet or run into each other and they're like, 'Oh my God, I just had the craziest day,' and they're like, 'Me too,'" Kennedy says.
It sounds like the perfect crossover for Blumhouse, but Kennedy says that while he and the studio have "talked about it," Blumhouse was "not there yet." Kennedy cites the pandemic as the culprit for the stalled talks; while Happy Death Day was enough of a success to earn a sequel, Freaky's 2020 box office earnings were much more modest. Kennedy also thinks that its awkward release date might have stemmed Freaky's sequel prospects, though that hasn't stopped him from coming up with plot ideas for Freaky 2.
"My dream scenario is multi-body swap, or the kids all switch with each other and the Butcher," Kennedy says. "I always envisioned the Butcher has a sister that comes and is like, 'You killed my brother,' and in my head it's Charlize Theron."
Kennedy's next project is It's a Wonderful Knife, coming to Shudder on November 10.