For All Mankind Just Broke One Space Science Rule — With Good Reason
Here's the truth about that shocking asteroid capture mission.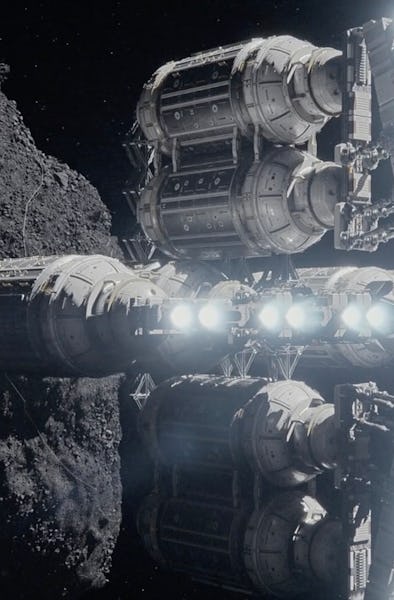 Apple
The name of the game in For All Mankind isn't so much about settling on Mars, but rather, capturing a massive asteroid nearby. In the explosive Season 4 premiere episode, "Glasnost," the multinational space crew led by Ed Baldwin (Joel Kinnaman) and Grigory Kuznetsov (Lev Gorn) latch onto an asteroid with the intention of pushing it across space. If you've seen the episode, you know the result of this attempt will define the next several episodes to come. But, what's interesting about this big plot point is that it's one of the areas where the normally scientifically accurate sci-fi series had to break a few rules to make the story work.
Here's why the asteroid scenes in For All Mankind Season 4, Episode 1, shake out the way they do, and why in the interests of realism, sometimes, the show "cheats."
Spoilers ahead for Episode 1 of For All Mankind, Season 4.
Throughout "Glasnost," the epic capture and attempt to push a big asteroid occupies much of what everyone is doing and talking about. When Ranger 1 loses control of the asteroid, tragedy strikes, which results in a fatality for Kuz. Once again, For All Mankind keeps the tension high by proving no character is safe; in Season 3, Kuz became a beloved part of the the ad hoc team of Mars astronauts from different countries, who eventually all had to come together in order to survive. Now nearly a decade after the Season 3 finale, Kuz is the victim of a tragic space accident at the start of Season 4.
But would you really push an asteroid in real life? Is this how it would look? The answer seems to be: almost, but not quite.
According to For All Mankind's production designer Seth Reed, the design of the Ranger 1 spaceship is supposed to evoke the idea of a "tugboat." In For All Mankind new spaceships aren't designed with a "wow" factor in mind, but instead with a specific function. "What is this spaceship? Why would it not look like any other spaceship we've ever seen?" Reed explains. "Well, it's a tugboat. And that metaphor of a tugboat is that it's designed very specifically to deal with the mass of this gigantic object that it's ultimately trying to push."
This idea, of pushing the asteroid, makes everything about this story make sense, and for the big moment in the middle of "Glasnost," when everything goes to hell, relies on the idea of a push not a pull.
"We had to decide, would you push the asteroid or pull it with your tugboat?" NASA tech advisor, Garrett Reisman tells Inverse. "And it turns out that to keep one important plot point intact, we had to push it. In reality, you would probably pull it. But in the show, we push it. There's a specific reason why: because it had to serve the story. So we cheat. We're human and we have needs."
Despite this deviation from real-world spaceflight theories, Reisman insists that For All Mankind is utterly unique among science fiction shows. Even if there have been a few moments of "cheating," overall he says, "I found this show cares more about getting it right than any other show I've worked on. And at the end of the day, the important thing is this story. So, in Season 2, the shuttle flew to the Moon. It can't do that. But we don't cheat like that very often."
From how a colony would work on Mars, to the exact amount of time it would take to move an asteroid from Mars to Earth, to how the space suits work, and how much oxygen they should hold, For All Mankind always splits hairs to get as close to real space science as possible. In fact, it's often in the smaller things where there's less wiggle-room to create fanciful science fiction.
When Inverse asked costume designer Esther Marquis if she bends the space science, or makes something anachronistic with the clothes that characters are wearing in each time period, she responds clearly, and confidently. "Hell no," she says. "I never cheat."
For All Mankind streams new episodes on Apple TV on Fridays.