Dune: The Sisterhood Exits May Spell Trouble for HBO's Dune-iverse
Chernobyl executive producer Johan Renck has exited the prequel project, as has lead actress Shirley Henderson.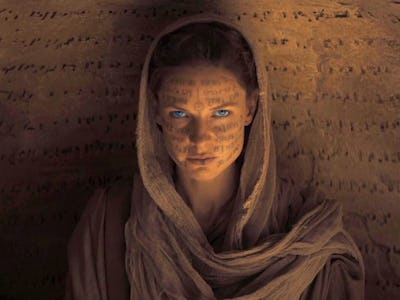 HBO Max
A coriolis sandstorm seems to be engulfing HBO's Dune-iverse.
Dune: Part One, Denis Villeneuve's gorgeous and grand space opera based on author Frank Herbert's sci-fi masterpiece of the same name, received 10 Academy Award nominations with a highly-anticipated second installment on the way. Hype for the Dune films has trickled down to excitement for its prestige prequel series, Dune: The Sisterhood, which is slated to star a bunch of A-listers including Emily Watson, Indira Varma, Sarah-Sofie Boussnina, Travis Fimmel, Mark Strong, Jade Anouka, and Josh Heuston. Dune: The Sisterhood hopefuls also have a musical score composed by avant-rock Icelandic singer and guitarist for Sigur Rós, Jónsi, to look forward to.
But in spite of being one of the hottest sci-fi franchises right now, HBO's Dune-iverse isn't looking all that spicy. Dune: The Sisterhood has just lost one of its directors, Swedish music video auteur Johan Renck, and actress Shirley Henderson. Their retreat from the Dune-iverse may lead to a production delay of the show of up to seven months.
"As Dune: The Sisterhood (wt) has entered a pre-scheduled hiatus, there are some creative changes being made to the production in an effort to create the best series possible and stay true to the source material," an unnamed HBO Max spokesperson said in a statement to Deadline. The spokesperson added that although Renck has moved on from the project "through mutual agreement," Renck has completed his work on the series.
HBO Max did not provide further comment about Renck's departure, or Henderson's, who will no longer be playing Tula Harkonnen, a member of the Bene Gesserit who was groomed from a young age to kill all members of the Atreides bloodline. (Watson plays Tula's older sister, Valya Harkonnen.) Deadline has heard from other anonymous insider sources that Renck's creative vision for the series didn't align with the aesthetics of Denis Villeneuve's Dune duo; Deadline did not speculate further about Henderson's exit.
Dune: The Sisterhood seems to have been plagued by production snafus from the start, and Renck and Henderson's pullout from the prequel series haven't been the first signs of trouble on set. Is Dune: The Sisterhood doomed?
The project immediately received criticism after its announcement in June 2019 for only having one female executive producer attached to the project (Frank Herbert's granddaughter, Kim Herbert). Dana Calvo (Good Girls Revolt) was hired a month later to serve as co-showrunner with Jon Spaihts (Prometheus, Dune Part One & Two), but Spaihts was quitting by November so he could channel all of his creative energy on Dune: Part Two. Calvo then stepped down as co-showrunner and retained her status as executive producer. Both were then replaced as co-showrunners by the series' creator Diane Ademu-John (The Haunting of Bly Manor, Medium) and genre veteran Alison Schapker (Westworld, Alias), but soon another unexpected shift happened to the crew: Villeneuve was too busy with the film's sequel to bother with Dune: The Sisterhood, so he was replaced as director for the first two episodes by Johan Renck.
And if you think that's the end of it, well ... it's not! Ademu-John stepped down as co-showrunner last fall, leaving Schapker as the sole showrunner.
Dune: The Sisterhood's production saga is almost as convoluted as Herbert's Dune and its five subsequent sequels. The prequel show is set 10,000 years before the ascension of Paul Atreides (Timothée Chalamet in the Villeneuve films), and it centers on the two Harkonnen sisters as they "combat forces that threaten the future of humankind, and establish the fabled sect known as the Bene Gesserit." The Bene Gesserit are an exclusive social, religious, and political sisterhood in Herbert's Dune-iverse. Its cunning and calculated members undergo rigorous training to obtain superhuman abilities to direct humanity on an enlightened path — or, at least what they consider to be enlightened — and acquire more influence. (Basically Jedi, but all women, super-secretive, and far more "dark-sided" than not.)
Before Villeneuve stepped down from Dune: The Sisterhood, he noted that the Bene Gesserit have always fascinated him. "Focusing a series around that powerful order of women seemed not only relevant and inspiring but a dynamic setting for the television series," he said in a statement following the series' announcement.
The Inverse Analysis — So, is HBO Max's Dune-iverse in peril?
Maybe. Villeneuve's Dune: Part Two is a done deal, but it's unclear how far along Dune: The Sisterhood is in its development and principal photography stages. The prequel series' seemingly premature production status, along with its likely whopper of a budget and its beleaguered behind-the-scenes, isn't helping its case for survival. Warner Bros. Discovery (and by extension, HBO Max) has become the media mammoth of shakeups and shockers in recent months — CEO David Zaslav's cost-cutting strategies have tarnished the entertainment company's reputation, leading to titles either being canceled (like Batgirl, Gossip Girl, and South Side), or completely wiped from HBO Max (like Westworld and Infinity Train).
If Dune: The Sisterhood proves to be too much of a headache to justify the price tag, Zaslav may pull the plug. Duneheads, cross your fingers and wish for the best.
Dune (2021) is available to stream on HBO Max.