Dune (2021) trailer: Release date, rumors, leaks, and everything we know
The trailers must flow. Here's everything to know about the highly-anticipated trailer for the sci-fi blockbuster.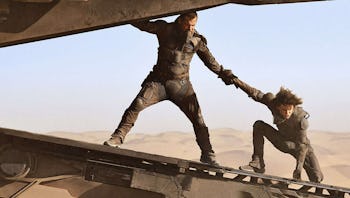 This article about the trailer to Dune was originally published on August 3, 2020 and updated on November 21, 2021 following the release of the trailer. Read on for the original article, with some new changes to reflect the latest updates on this topic.
In the final sprint to Dune's release at the end of 2021, director Denis Villeneuve had been upfront about the fact that final edits on the sci-fi spectacle that is Dune will "be a sprint to finish the movie on time right now."
Despite this ominous warning, after much waiting and speculation, the trailer for Dune dropped in the summer of 2021. Here's everything you need to know about it.
Is there a trailer for Dune 2021?
Yes! You can view the Dune trailer below.
What did the Dune 2021 trailer reveal?
The trailer opened with narration about the planet of Arrakis from Chani, played by Zendaya. But it's revealed she's merely a figment in the dreams of Paul Atreides (Timothée Chalamet), who has been sent to the planet alongside his family to become its new rulers. Naturally, there is some pushback, with explosive results. We even get a glimpse of the enormous sandworms that live under the sands of Arrakis.
The video introduces a good amount of the leading players in Dune. That includes Lady Jessica (Rebecca Ferguson), Paul's mother; Duke Leto Atreides (Oscar Isaac), Paul's father and the leader of House Atreides; Gurney Halleck (Josh Brolin), an expert weapons master; Baron Vladimir Harkonnen (Stellan Skarsgård), the main antagonist of the Atreides family; Glossu Rabban (Dave Bautista), the Baron's nephew; and Duncan Idaho (Jason Momoa), House Atreides' swordmaster and Paul's friend and mentor.
When was the Dune 2021 trailer release date?
The Dune trailer was released on July 22, 2021.
What does the Dune 2021 trailer change from the book?
The trailer does not show any significant changes in adaptation from the Frank Herbert novel Dune is based on. What's notable is there is one shot of the character Liet-Kynes, played by Sharon Duncan-Brewster. The character is now a Black woman, after being a white man in the book. This is a smart move for Dune since the original cast of the 1984 film was painfully white.
When did Dune release in theaters?
After much hype, Dune was finally released in theaters and HBO Max on October 21, 2021.
Dune arrived in theaters and HBO Max on October 21, 2021.
This article was originally published on