Dune 2's "Secret Agent" Character is Fixing a Major Book Plot Hole
How Lady Margot will expand the Bene Gesserit beyond the page.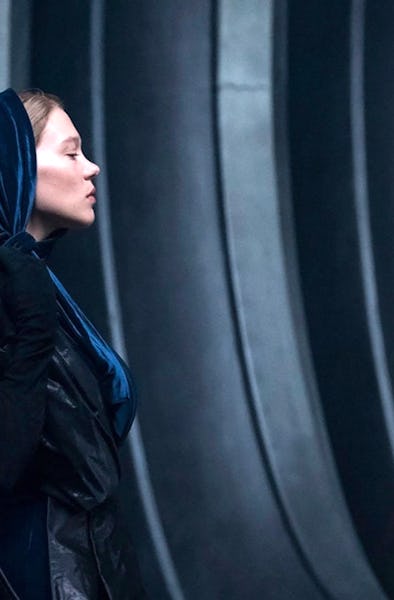 Vanity Fair/Legendary/Warner Bros
We may receive a portion of sales if you purchase a product through a link in this article.
One character from Frank Herbert's first 1965 Dune novel is getting a much bigger role in 2023. Lady Margot Fenring, a relatively minor character in the pages of Dune, will be a major player in the forthcoming Denis Villeneuve film, Dune: Part Two. In fact, based on recent comments made by the director, this character — as played by Léa Seydoux — may finally fix a longstanding plot hole from the classic Herbert books.
In a "first look" preview piece at Vanity Fair, we got our first image of Léa Seydoux as Lady Margot, a Bene Gesserit sister who is also married to Count Hasimir Fenring. Speaking to Vanity Fair, Villeneuve describes the role of Lady Margot like this: "Margot Fenring is a Bene Gesserit sister, but will be a secret agent in the movie... It was very playful to work with Léa. It's a character full of surprises."
Because Dune spoilers have been around since 1963, when the first installments of "Dune World" began appearing in the magazine Analog, it's natural to wonder how a classic character, created by Frank Herbert could be "full of surprises." And yet, Villeneuve is almost certainly telling the truth. By simply putting Lady Margot in Dune: Part Two, and in such a prominent role, the film automatically alters her character by default.
In the novel, Lady Margot is less of a character and more of a catalyst for political intrigue. In that way, she serves two story purposes: via a hand-written note in which she warns Lady Jessica of an impending attack, and, in her first actual appearance in the novel, when she obtains genetic material from the wicked Feyd-Rautha, as part of the larger Bene Gesserit breeding plan.
Lady Margot's mission in the book version of Dune
Because the Bene Gesserit are all about controlling the bloodlines of the galaxy, Lady Margot's secret mission in the original Dune is to become pregnant by Feyd to produce a child that will become ... what? The antithesis of Paul's sister Alia? The true Kwisatz Haderach? In all six of Herbert's original Dune novels — which all span roughly 5,000 years of future history — we never found out what happened with this part of the Bene Gesserit plan, which is why the 1984 apocryphal Dune Encyclopedia asks this question: "What became of her daughters, particularly the one sired by Feyd-Rautha Harkonnen?"
Hardcore Dune-heads will be quick to point out that Margot's daughter, Marie Fenring, does exist in the 2008 expanded novel, Paul of Dune, written by Brian Herbert and Kevin J. Anderson. That said, there's no reason to believe the Villeneuve films are bound by the quasi-canon of those books, not to mention the fact that Dune: Part One already changes the canon of the original novel in several ways. (Most notably, Liet-Kynes is a woman in the contemporary cinematic Dune.)
Frank Herbert wrote many multi-layered and compelling women throughout the Dune saga, which, as experts like Kara Kennedy have argued, is one of the reasons these books remain so groundbreaking. That said, on the page, Lady Margot, is perhaps not the best example, simply because we don't know much about her in the book.
How Dune: Part Two could reinvent Lady Margot
In the previous filmed Dune adaptions — David Lynch's 1984 film and John Harrison's 2000 miniseries — the character of Lady Margot never once appeared. Léa Seydoux is the first person to play the character, which, again, is inherently significant. Although Villeneuve's two films are certainly taking more time than the 1984 version, overall, the runtime of both Dune: Part One and Dune: Part Two, when combined, will probably be about five hours, which is close to the 265 minutes of the Harrison miniseries from 2000.
The larger point? Even with all the extra time in 2000, the miniseries Frank Herbert's Dune still couldn't figure out how to incorporate Lady Margot, who, on the page is a minor character in the novels. So, by elevating her role in Dune: Part Two, it stands to reason Villeneuve is adding something to her story.
By teasing that Lady Margot is a "secret agent," Villeneuve could be referring to the truth of the text: she works for the interests of House Corrion, but also, the Bene Gesserit, and also has sympathies with Lady Jessica and House Atreides. So, without changing the book too much, there are already plenty of different allegiances Lady Margot could have in Part Two.
And yet. What if there's something more? Or more specifically, something new? Because the outcome of Lady Margot's plans were never fully realized by Frank Herbert, it feels like there's a lot of artistic wiggle room with her story in the new film. Her secret mission could be connected to what we already know from the text. Unless of course, the "surprises" teased by Villeneuve are truly brand new. By expanding an interesting (and underdeveloped) character from the book, Dune: Part Two may have found a way to shock everybody. Because even if you've read the books, it might be impossible to accurately predict what Lady Margot will do next.
Dune: Part Two hits theaters on November 3, 2023.