Den of Thieves 2 is "a lot more fun" than the first film, Gerard Butler says
Butler teases the long-awaited Den of Thieves sequel, which begins filming this year.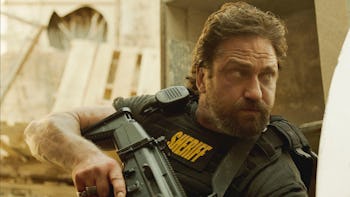 It's been five years since Gerard Butler's boozy LA detective met his match in a group of ex-MARSOC Marines planning to rob the Federal Reserve. The dirtbag riff on Michael Mann's Heat was a critical bomb but a surprise box office hit, grossing $80.5 million against a production budget of $30 million. A sequel was quickly greenlit, with writer-director Christian Gudegast returning at the helm, and Butler back to lead the cast alongside O'Shea Jackson Jr and Meadow Williams.
However, fans of gritty heist franchise will have to wait a little bit longer: filming will start in earnest this year.
In February 2022, Deadline reported that the Den of Thieves sequel, titled Den of Thieves: Pantera, was due to begin shooting in the spring. However, Butler tells Inverse (in an interview which you can read in full here) that this was not the case.
"We didn't start production. We were about to start production. But now I'm shooting it in a couple of months," Butler says.
With production due to begin soon, that means we can likely expect Den of Thieves: Pantera in theaters sometime next year. But what can we expect in the sequel?
The first film ended with the reveal that O'Shea Jackson Jr.'s Donnie Wilson was the true mastermind behind the heist of the Federal Reserve. He and his crew double-crossed Ray Merrimen (Pablo Schreiber), shipping the money offshore to Panama and escaping to London. We pick up with Donnie working in a new bar in London that happens to be across from his next target: a diamond exchange.
Swen Temmel (After) joins the sequel, which, per Deadline's initial report, finds Donnie "embroiled in the dangerous world of diamond thieves and the infamous Panther mafia as they plot a massive heist of the world's biggest diamond exchange."
It's Donnie's new scheme that lures Butler's Detective Nick O'Brien out of LA and to Europe. "I see Donnie's [O'Shea Jackson Jr.'s character] at work," Butler describes of Pantera's plot. "And I'm screwed if I'm going to sit my ass in LA and let this guy go and take over Europe. So I go to hunt him down. And it's very surprising where it takes us."
One potential surprise about the Den of Thieves sequel: "This one's a lot more fun," Butler teases. Whereas the "last one was down and dirty and dealt with marital issues and some heavy stuff" and allowed the audience to "climbed into the characters' souls," Butler suggests that Den of Thieves: Pantera will let loose a little.
"It's a great script, Christian [Gudegast]'s a wonderful writer," Butler says.