Ant-Man 3 release date, trailer, cast, and plot for Marvel movie
The ant-sized adventures will continue, and it's sure to be "Quantumania." Here's everything to know.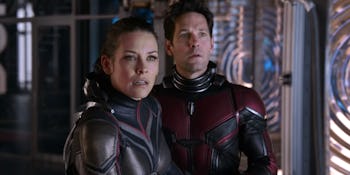 While the MCU grows, things stay small for Scott Lang and company. In 2023, the third film in the Ant-Man series will hit screens, the 33rd film from Marvel Studios. Though not much is known outside of the cast, given the film's title and the implications from its new characters, we may be in for some big things to come.
Here's everything to know about the third Ant-Man movie.
What is the title of Ant-Man 3?
On Disney Plus Day 2020, Marvel Studios head Kevin Feige announced the film would be titled Ant-Man: Quantumania. Given the title, we can assume at least some action will take place in the Quantum Realm, which we saw a good amount of in the climax of Ant-Man and the Wasp.
When is the release date for Ant-Man 3?
Ant-Man: Quantumania is scheduled to be released on July 28, 2023. The film was initially set for a 2022 date, then announced for February 2023. But due to shifting dates around many MCU properties, it was ultimately pushed back to its July home.
Is there a trailer for Ant-Man 3?
Not yet. Production has yet to finish on the film, and it's safe to say we won't get any peek at footage until well after that.
What is the plot of Ant-Man 3?
There hasn't been any official word about the plot, but we do know a few things already. Hope and Scott obviously survived Endgame. Given her recasting, it seems like Cassie will play a large part in the movie. Speaking with Inverse, Reed hinted at what's in store for Cassie's future.
"We wanted to plant these little seeds about what might become of Cassie. She's smart and sees herself as a potential partner for her father. And she really kind of has her dad's spirit."
There's also the fact that the Ant-Man movies have been pivotal to the MCU's overarching storylines. Ant-Man and the Wasp introduced the Quantum Realm that the Avengers used to time travel in Endgame. Given the character making his big-screen debut in this movie (see below), unlocking the secrets of time travel in the MCU could have been a double-edged sword.
Who is in the cast of Ant-Man 3?
Paul Rudd and Evangeline Lilly will reprise their roles as Scott/Ant-Man and Hope/Wasp, respectively. Speaking with Yahoo, Reed confirmed that Lilly would share equal billing with Rudd and continue to be integral to the film's central storyline.
"They're a partnership, and she's a very, very important part of that. And that was a very gratifying thing, I guess technically we were the first Marvel movie with a female hero in the title of the movie. Finding that balance in that movie, that's very important to me because that's very much a men's playing field, historically. But that's really, really changing now in a great way."
The newly-reunited Pym family will continue intact for the third movie. Michael Douglas and Michelle Pfeiffer will also be reprising their roles as Hank Pym and Janet Van Dyne. Scott's daughter Cassie has been recast for a second time, this time around being played by Big Little Lies' Kathryn Newton.
In addition to the old, there's a lot of exciting new to Ant-Man and the Wasp: Quantumania. Jonathan Majors will be playing Kang the Conqueror, described as a "time-traveling, multiversal adversary." Majors surprisingly appeared in the finale of Loki as a character titled "He Who Remains" and warned about his multiversal counterparts. Kang has been described as "the next big cross-movie villain" for the MCU by Loki head writer Michael Waldron.
There's still a lot up in the air with the Ant-Man and the Wasp: Quantumania cast, including whether Michael Peña's fan-favorite character Luis will be making a return appearance. But excitedly, the movie should expect some comedy from a new character played by Bill Murray.
Will there be any Ant-Man films after Ant-Man 3?
It's tough to say whether Scott Lang's adventures will go into another movie, especially considering how the MCU likes to cap off their characters with trilogies. But the idea of a Hank Pym prequel film has been floating around since 2015, with interest shown from both Peyton Reed and Michael Douglas.
Ant-Man 3 arrives in theaters on June 28, 2023.
This article was originally published on