The Biggest & Best Black Friday Deals On Amazon
We only recommend products we love and that we think you will, too. We may receive a portion of sales from products purchased from this article, which was written by our Commerce team.
by BDG Commerce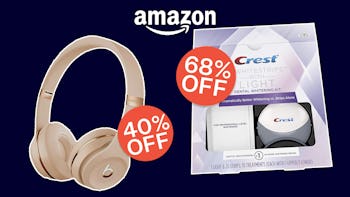 Black Friday 2020 is upon us, and in true Amazon fashion the deals are coming in hot and they're disappearing just as fast. This year the shopping holiday falls on November 27, Amazon's Black Friday deals are better than ever — and you can even score some of them early.
Not a Prime Member? Click here to sign up for a 30-day free trial of Amazon Prime.
While Black Friday is technically the official unofficial start to the holiday shopping season, that doesn't mean you shouldn't use the sales as an excuse to stock up on all the things you've been wanting to buy for yourself and for others. Stock up on all the gadgets you've been eyeing, and some of the best deals of the year on personal tech, gaming, smart home upgrades, and more.
32% off the Apple AirPods Pro
A rare find on Black Friday, Apple's AirPods Pro headphones are sweatproof, designed with active noise-cancelling technology, and on sale for 32% off while deals last. These feature soft silicone tips in three sizes so you can find a perfect fit, making them even more comfortable than AirPods of the past. This best-selling pair has earned over 90,000 Amazon reviews and a glowing, 4.7-star overall rating.
31% off these Apple AirPods that come in a charging case
It's a rarity for Apple products to get such a deep discount, so you'll want to grab these Apple AirPods before they sell out. Featuring an overall 4.8-star rating on Amazon with more than 220,000 reviews, these wildly popular wireless AirPods come with a handy charging case that will give you more than 24 hours of battery life. Get them for 31% off today only.
20% off these non-stick silicone baking mats
Silicone mats are a game-changer for anyone who loves to bake, and you can get this best-selling three-pack for 20% off during Black Friday. These nonstick sheets help distribute heat evenly to your baked goods, can handle temperatures of up to 450 degrees Fahrenheit, and eliminate all the mess of baking. They've earned high marks on Amazon, with a 4.7-star overall rating and thousands of fans.
48% off these zinc supplements
Zinc supplements can help to boost your immune system and promote healthy enzyme function, and these ones have over 4,300 reviews on Amazon and a 4.7-star rating overall. Reviewers love that these capsules, which come with 120 in a bottle, are free from common allergens and additives.
33% off this 50-pack of disposable face masks
The must-have accessory of 2020 is one to always keep on hand, and that's easy to do with this set of 50 disposable face masks on sale for just $8. With three layers of protection, these masks remain soft and comfortable to wear for long stretches. It's no wonder they maintain a 4.5-star rating with 6,700 reviews.
31% off this organic elderberry liquid extract
This elderberry liquid extract is organic, vegan, GMO-free, and packed with antioxidants that can help promote immune health. Over 2,000 Amazon reviewers have tried out this elderberry supplement and have given it an impressive 4.7-star rating. One fan raves, "The berry flavor is great tasting and it's the perfect immune booster for us. I love that it's vegan and organic." Snag it for 31% off during Black Friday.
49% off this 66-foot string light set for a soothing glow
More than 1,300 Amazon shoppers have given this 66-foot-long set of string lights a five-star rating, and many love that it can be used indoors and outdoors. For Black Friday only, these twinkle lights can be yours for nearly 50% off, making this a great time to stock up for holidays to come.
60% off this contactless thermometer
With a 4.5-star rating after more than 65,000 Amazon reviews, this infrared touchless thermometer has amassed a serious fan base thanks to its fast, accurate, and painless readings. Score the Black Friday deal and get it for an impressive 60% off.
53% off this 50-foot strand of outdoor string lights
This set of outdoor string lights can stretch 50 feet, making it the perfect accessory for most patios, porches, or decks. Not only are these globe lights weatherproof, but they can be connected to each other so you can buy a few and build a large set of string lights if your space allows. Nearly 4,000 Amazon users have weighed in and the reviews are rave, with one fan saying, "Beautiful lights, perfect ambiance." They're 53% off while Black Friday lasts.
50% off the fan-favorite Revlon One-Step
The cult-favorite Revlon One-Step is already marked down 33% for Black Friday, but you can get an extra 10% off if you clip the coupon at checkout. This legendary hair tool dries, volumizes, and styles your hair all at once, which makes it easy to achieve a salon-level blowout at home with barely any effort involved. Over 90,000 Amazon reviewers gave it a five-star rating!
56% off a fabric shaver with over 23,000 reviews
Get rid of lint and pilling on everything from upholstery to clothing, all thanks to this battery-operated fabric shaver which helps your stuff look like new again. Its 23,000 reviews and 4.5-star rating speak to how convenient, versatile, and damage-resistant it is.
22% off a value pack of 5-layer mask filters
These five-layer mask filters are made with activated carbon to help keep contaminants away when you layer them inside your mask. They're also designed with a melt-blown layer that's porous enough to allow you to breathe easily. Over 1,000 Amazon users have tried out this mask filters and the reviews are rave. You can get this pack of 50 filters for 22% off during Black Friday.
20% off these multicolored, remote-controlled fairy lights
These waterproof fairy lights can be strung indoors or out, and stretch a whopping 66 feet long. They can also change between 16 different colors using a wireless remote, and you can even set a six-hour timer so they turn off automatically when you're done using them. These lights are beloved on Amazon, and have earned a 4.5-star overall rating from over 1,900 reviewers.
40% off the L'Oreal Paris Lash Paradise mascara
This L'Oreal Paris Lash Paradise mascara has an incredible 32,000 reviews and 4.4 stars on Amazon. Why? It creates thick, soft lashes without flaking, smudging, or clumping — and today it's 40% off for a pack of two.
25% off this derma roller with over 1,800 positive reviews
With over 1,800 positive reviews and a 4.5-star rating, you can tell right away that this RoselynBoutique derma roller is a game-changer for your beauty routine. Its 540 titanium micro-needles painlessly stimulate your skin to boost collagen production, which results in a clearer, brighter complexion.
44% off a 10-pack of KN95 face masks
This popular 10-pack of KN95 face masks is nearly half off if you act fast. You won't regret having these more protective masks with 99.2% filter efficiency when you need them. They're a favorite with a 4.5-star rating and over 4,600 reviews.
53% off this pack of smooth, fast-drying gel pens
These smooth-writing, fast-drying gel pens from Paper Mate have over 7,000 reviews and an average 4.5-star rating. They feature a textured, ergonomic grip, and dry three times faster than some similar pens, which means fewer smudges on your important documents. Right now, a 10-pack is 53% off.
57% off this 24-pack of soft white LED bulbs
With a 4.7-star rating after more than 24,000 Amazon reviews, this value pack of 60-watt LED bulbs is wildly popular for a reason. The long-lasting, energy-efficient lighting provides a soft, white glow to warm up any space. Pick up 24 bulbs for less than $23 now while the deal lasts.
50% off this phone mount that fits in your car's cup holder
Keep your phone safely within view for navigation and music control. This car mount — which has 650 reviews and 4.8 stars — fits most standard cup holders, rotates 360 degrees, and has a quick one-button release.
40% off this easy-to-read digital meat thermometer
Get a temperature readout in just two to three seconds with this meat thermometer with hundreds of fans — winning it a 4.8-star rating after more than 1,000 reviews. With a range from -4 to 302 degrees Fahrenheit, it works for much more than just meat, and thanks to the super clear LED display, it's really easy to use, too.
23% off this smart multicolored light bulb
This smart LED light bulb from Kasa is all about the ambiance, allowing you to wirelessly control color and brightness using voice control or an app on your phone. Create light schedules or adjust the bulb whenever you feel like it. And because you control the bulb via Wi-Fi, you don't need to purchase any expensive hubs — as long as you have a phone and an internet connection, you're good to go. Get it for 23% off on Black Friday while supplies last.
10% off the smart plugs you can control with your voice
With more than 6,000 reviews and a near-perfect rating on Amazon, these Kasa Smart Plugs are a wildly popular tech accessory, and for good reason. Compatible with Alexa and Google Home Assistant, the plugs come in a handy four pack and enable you to operate lights, electronics, and more using voice command or the Kasa app.
30% off this 5-pack of KN95 masks
This five-ply KN95 mask is designed with two polypropylene non-woven layers, two meltblown filter cloths, and one non-woven cotton middle layer. It features an adjustable soft nose clip and comfortable elastic ear bands. Several reviewers note that these masks are thick and protective, but also extremely comfortable and breathable. The mask has a 4.4-star rating and comes in a value pack with five masks.
37% off these smooth satin pillowcases
During Black Friday, these already-affordable satin pillowcases are even cheaper — just $6 for a set of two. These pillowcases have earned 20,000 reviews on Amazon and an overall rating of 4.5 stars, making them some of the most popular pillowcases on the site. Snag them for 37% off, if you act fast.
61% off this powerful PurSteam steamer
With 1,400 watts of power, this PurSteam steamer is amazingly powerful, efficiently removing wrinkles from all fabrics almost instantly. Reviewers on Amazon give it a knockout 4.5-star rating overall, backing up its effectiveness. The steamer is over half off, so act fast — and don't forget to click the coupon box to save an extra 5% at checkout.
54% off a wildly popular jade roller and gua sha set
With 11,000+ Amazon reviews and an impressive, 4.6-star rating, this jade roller and gua sha set is a luxe beauty tool that's super discounted for Black Friday. Pop this jade roller and gua sha in your freezer and let them cool, then roll away stress and any fluid build up from your face, to reduce unwanted puffiness from your skin. You can get this duo on sale for 54% off during Black Friday.
15% off these 6-foot charging cables for iPhones
Get three 6-foot iPhone charging cords for under $9 with this Black Friday deal. Impressively, these have garnered over 12,000 five-star ratings and reviews from Amazon shoppers, who rave about their quality, convenient length, and durable, tangle-free design.
23% off this 5-pack of nylon charging cables
Score this five-pack of durable nylon charging cords for 23% off this Black Friday and you'll be able to charge anywhere, thanks to the versatile cable lengths (you get two 3-feet and two 6-feet cords, and one 10-foot cord). Compatible with all USB type C devices, you can power up everything from a Samsung Galaxy to a Nintendo Switch.
30% off this power strip with built-in USB ports
With two AC outlets and two PowerIQ-enabled USB charging ports, this multi-tasking power strip with USB can charge up to four devices at once. The compact charger is portable and features a rubber-coated power cable for safety and durability. It boasts a 4.8-star rating and more than 2,000 reviews.
15% off this fingertip pulse oximeter
This fingertip pulse oximeter is a handy health gadget to have at home, and it can read your pulse rate and oxygen saturation levels and display them on a crisp digital LED screen. Over 8,000 Amazon reviewers have invested in this pulse reader, and it boasts a glowing 4.7-star rating overall on the site.
20% off this Kasa smart plug for outside
Over 5,000 Amazon reviewers have tried out this Kasa outdoor smart plug and it's earned a near-perfect 4.8-star rating overall. Not only is this long-range plug weather resistant, but it can also be used with two different outdoor devices at once, making it great for several strands of string lights, patio lights, and more. You can connect it to your smart assistant and turn the lights on from wherever you are. It even has a built-in "away" mode that will automatically turn your lights on and off while you're away, to make it look like someone is home. It's just $20 while sales last.
15% off this Anker wireless charging pad
Nab one of Amazon's most popular wireless phone charging stations for less than $10 (that's 15% off) to make sure your phone never runs out of juice. The Anker charging pad easily powers up your phone or earbuds — all you have to do is place them on the center of the pad. It's compatible with a variety of phone models, from iPhones to Samsungs, and it's racked up more than 54,000 reviews on Amazon along with a 4.4-star overall rating.
41% off these hotel collection gel pillows
Nab these ultra-comfy, incredibly plush gel pillows for an impressive 41% off now. They come backed by more than 40,000 positive reviews so you can rest assured you're getting a quality set of pillows.
34% off the Roomba robot vacuum that connects to Wi-Fi
This Wi-Fi-compatible robot vacuum takes all the work out of cleaning, and can even sync with your smart assistant so you can control it from anywhere in your home simply by using an app or the sound of your voice. It's also designed with multi-surface rubber brushes and a high-efficiency filter, making it a great buy for anyone with allergies or hard-to-clean pet messes. Nearly 5,000 Amazon reviewers have tried it out and given it a rave, 4.4-star overall rating. Get it for 34% off while sales last.
See all deals on iRobot Roomba vacuums.
53% off the 3rd generation Echo Dot
With more than 750,000 reviews and a 4.7-star overall rating, this incredibly popular smart speaker can be controlled with your voice and offers a lot of versatility: use it to stream music, make phone calls, set alarms, check the weather, ask random questions, and more. The compact speaker is available at 53% off during Black Friday while supplies last.
24% off this phone holder for your car's air vent
This air vent phone holder keeps your device steady while you're driving, which is perfect for when you need to follow directions. It has six strong magnets that keep it firmly in place and it's compatible with most smartphones and even some tablets. This holder has more than 7,000 reviews on Amazon and a 4.4-star overall rating, and is being offered at 24% off for Black Friday.
43% off a set of precision tweezers with different tips
These best-selling precision tweezers come in a pack of four and have various-shaped tips to suit a wide range of needs. They're made from stainless steel and have earned a 4.5-star rating with 8,000 reviews.
40% off this 8-piece Ring alarm system
This eight-piece alarm set from Ring has a glowing five-star rating from over 5,000 shoppers, so you know it's a good deal. The set includes a base station and keypad as well as multiple contact sensors, a motion detector, and a range extender, so you can create a fully functional DIY home security system. It's also Alexa-compatible, making this the perfect addition to your smart home.
33% off this FitBit with over 12,000 positive reviews
This Fitbit Charge 4 fitness tracker has over 12,000 perfect five-star reviews on Amazon and an overall rating of 4.5-stars. More than just a basic fitness tracker, it also has some solid entry-level smartwatch capabilities, like playing music from Spotify as well as alerting you to calls and texts. It also features a built-in GPS and is fully submersible up to 50 meters.
20% off the Shark vacuum & spray mop combo
With more than 3,100 positive ratings, this cordless Shark vacuum gets high marks from Amazon shoppers for being "lifechanging" because it gives you two tools in one— a vacuum with powerful suction and a spray mop to wipe up stuck-on grime. This model is rechargeable and only weighs 5 pounds. For today only get it (and a disposable pad) at an extraordinary discount: Under $100!
40% off the Fire Stick 4k with Alexa Voice Remote
If you haven't made the full switch to a smart TV, the Fire Stick 4K is a must-have with over 385,000 ratings and an overall score of 4.5 stars. The Fire Stick makes it easy to stream all your favorite shows from Netflix, Hulu, Prime Video, and more. This isn't just your average streaming device, though — it's also an Alexa-enabled device, so you can use the remote for everything from controlling smart home devices to pulling up your favorite playlist. Get it now for 40% off.
38% off a 6-pack of Scotch gift wrap tape
Stock up on all the tape you'll need for holiday gift wrapping with this discounted six-pack from Scotch. The tape has a satin finish that fans report looks "almost invisible" on packages.
33% off the Instant Pot Ultra pressure cooker
With thousands of devoted fans on Amazon, the Instant Pot Ultra Pressure Cooker serves as 10 appliances in one: pressure cooker, slow cooker, yogurt maker, egg cooker, steamer, and more. It boasts a 6-quart capacity and allows you to do everything from slow cook meat to whip up yogurt with ease.
33% off the classic Kindle
If you don't already own a Kindle, or are looking to get another one for a friend or family member, now is the time to buy because Amazon's classic e-reader is currently 33% off. With over 25,000 reviews and a 4.5-star rating, this designed-for-reading tablet has a built-in front light, and comes in both ad-supported and ad-free versions.
45% off a Shark vacuum with a HEPA filter
Whether your floors are hardwood or carpet (or both), this Shark vacuum can help you get it clean, all while its HEPA filter helps capture 99.9% of dust and allergens. With an easy-to-detach pod, it also doubles as a hand-held unit for furniture, stairs, and more. Get it for a serious bargain during Black Friday.
53% off an AncestryDNA test
Stay connected to family — even at a distance— with this AncestryDNA at-home kit, which has a whopping 4.6-star rating overall with more than 29,000 Amazon reviews. Simply mail in a saliva sample and in only a few weeks you'll learn the origins of your ethnicity so you can start building a family tree. For Black Friday only, get this memorable gift at an unbeatable price.
19% off a Black+Decker power drill & tool set
Set yourself up for home project success with this 68-piece, fan-favorite Black + Decker drill and tools set. More than 6,700 reviewers have given it a 4.6-star rating overall for being "inexpensive yet dependable" and "strong." The lightweight drill also lasts a while on each charge but is still light in the hand.
30% off the all-new Ring video doorbell
Never wonder who's at the door again with this new video doorbell from Ring. Not only does it feature 1080p HD video, it also pairs with most smartphones and tablets as well as some Alexa-enabled devices for even more functionalities. It has an overall rating of 4.5 stars from over 30,000 shoppers, and it's currently 30% off.
30% off this gel memory foam mattress topper
This 4-inch memory foam mattress topper is designed with an inch of swirled cooling gel on top that helps regulate your temperature at night, and a 3-inch layer of supportive foam beneath that will cradle you as you sleep. It's also stamped with the CertiPUR US certification for durability as well as safe production. With more than 12,000 reviews, it's earned a a 4.4-star overall rating on Amazon.
28% off the adidas Fluidflow running shoes
If you're a runner, these adidas Fluidflow running shoes will get you where you want to go — fast. The engineered knit upper stretches around your foot to give you the kind of control that only comes with a great fit, and the cushioned midsole absorbs impact whether you're hitting the pavement or the treadmill. Best of all, right now they're available at a solid discount.
39% off the adidas Edge Lux 4 running shoes
This popular running shoe from adidas is a real investment on a normal day. But if you act fast, you can get it majorly on sale for Black Friday. Designed with great traction and built-in lace closure, this shoe is a great buy for anyone on their feet a lot, running, walking, or standing.
42% off a pair of Stan Smiths
With over 2,000 Amazon reviews, adidas' Stan Smith sneaker is one of their most popular sneaker styles, and it's a comfy classic. It's designed with a leather and synthetic upper and has a bold pop of color on the heel. If you act fast, you can get this essential wardrobe staple for a deep discount.
57% off a Sonicare toothbrush
This rechargeable electric toothbrush from Philips Sonicare uses sonic technology to remove plaque — and with more than 32,000 reviews on Amazon, it's clear that users love it. It operates on a two-minute timer to help you brush for the recommended amount of time, plus it pulses when it senses you're applying too much pressure. The battery holds charge for up to 14 days, but it's easy to recharge when you need to.
31% off this insulated tumbler
This insulated tumbler with a straw has earned a cult-following on Amazon, with a near perfect overall rating after more than 16,000 reviews. And it's no wonder why. Designed to fit most cup holders, it features a high-quality stainless steel interior as well as double-wall vacuum insulation to help keep drinks cold for hours. Grab it on sale during Black Friday while this deal lasts.
50% off the popular 23andMe genetics test
If you've ever wondered about your ancestry, there has never been a better time to dive in and find out more. This popular genetics test, which boasts more than 12,000 reviews and a 4.6-star rating, can give you insight into how your genetics affect your health and more — plus it's 50% off.
30% off a 2-pack of T-shirts
A basic tee is a classic wardrobe staple that you can always count on (and throw on) no matter what the occasion. For Black Friday only, you'll get two Amazon Essentials men's v-neck t-shirts for less than the cost of one at any retail shop anywhere else. More than 3,000 shoppers have given this set positive ratings, with many noting they are the "perfect length and fit."
25% off a set of microfiber sheets
Upgrade your bedding on the cheap with these AmazonBasics microfiber sheets. With material that's soft and lightweight, the four-piece set comes complete with two pillowcases, a flat sheet, and a fitted sheet with pockets to accommodate thicker mattresses. Best of all, they're made in an OEKO-TEX Standard 100 factory, so you know they're high quality.
37% off this highly-rated portable charger
With more than 21,000 reviews and a 4.7-star overall rating, the Anker portable charger is a fan-approved way to juice up your electronics on-the-go. Compatible with both Apple and Android devices, it's lightweight, compact, and can charge two devices at once.
40% off the Beats Solo2 headphones
These top-of-the-line Beats headphones have earned 8,000 Amazon reviews and an overall 4.5-star rating. Offering award-winning sound and 40 hours of play, these cult-favorite wireless headphones are a sure way to upgrade your listening experience.
33% off a Mach3 razor & refill set
Give yourself (or someone you love) the gift of a quality shave with this discounted Mach3 razor and blade refill set from Gillette. The razor comes with a comfy, grippy handle and each razor refill promises to deliver up to 15 shaves so you'll have this pack for a while.
28% off this memory foam contour pillow
Sleep more comfortably and wake up without pain with an ergonomic memory foam pillow. Whether you sleep on your side, stomach, or back, this contoured pillow adjust to support you head and neck perfectly. It comes with a machine-washable outer cover so you can keep reduce dust mites and allergens from your bed.
30% off the Venus razor with 4 refills
Stock up on shaving supplies with this Gillette Venus Extra Smooth Sensitive Razor, which comes with four refill cartridges. The head of the razor pivots and each of the refills features five blades and a lubricating strip for a smooth shave.
39% off this 57-piece first aid kit
It's always a good idea to be prepared in case of an emergency, and this 57-piece first aid kit has you covered. The kit is OSHA compliant and includes enough bandages, antibiotic ointment, trauma pads, and more to treat up to 10 people. It boasts more than 3,000 reviews and a 4.7-star rating and is offered at 29% off.
57% off a 6-pack of shave gel for sensitive skin
Black Friday is a great day to stock up on basics, like this sensitive shave gel from Gillette. It's lightly fragranced and formulated with aloe to help soothe irritated skin. With over 6,000 Amazon reviews and a near-perfect, 4.8-star rating, this is one of the most popular hygiene products on Amazon, and you can get a great deal on this six-pack while deals last.
42% off a 4-pack of Gillette Venus refills
With five blades in each cartridge and built-in lather, this four-pack of Gillette Venus refills offers a smooth shave without needing a separate shave cream. It features a sweet "sugarberry" scent, and reviewers have given it a 4.7-star overall rating.
42% off the latest Echo Dot
The all-new Echo Dot is back with a new design, and is seriously discounted while sales last. With all the same features that made the Echo Dot a best-seller, this smart speaker has Alexa built in, can be used as a hub for your smart home devices, can play music, tell you the weather, and so much more. Get it for less than $30 if you act fast.
30% off a 20-pack of Mach3 refills for sensitive skin
Got sensitive skin? This 20-pack of Gillette Mach3 razor blade refills won't cause irritation, thanks to a lubricating gel strip that makes the razor glide across your skin. Three sharp blades and microfins that smooth your skin before each stroke ensure a close shave. If these razor blades are exactly what you need, there's never been a better time to stock up than on Black Friday.
47% off the Fire10 HD Tablet
With over 92,000 Amazon reviews (not a typo!), this wildly-popular tablet has won fans for a good reason: It has a large, crystal-clear widescreen display and a fast processing system that allows you to easily stream your favorite videos, play games, or browse the internet. With somewhere in the neck of 10 to 12 hours of battery life depending on your usage and 32 gigabytes of storage, this is a great purchase any day — even better when it's 47% off for Black Friday.
40% off these Levi's straight-leg jeans
More than 7,000 Amazon reviewers have weighed in on these straight-leg jeans from Levi's, with the majority of shoppers giving them a perfect five-star rating. With a crisp leg, mid-rise, and a classic button fly, these jeans offer casual style.
52% off Levi's skinny jeans
With more than 7,500 reviews on Amazon and a 4.5-star rating overall, these popular Levi's skinny jeans are likely to sell out on Black Friday. The mid-rise jeans feature four-way stretch fabric, for a stylish look plus unmatchable comfort.
52% off this 9-in-1 Ninja pressure cooker
With the nine-in-one Ninja Foodi, you can pressure cook, steam, slow cook, sear, sauté, air crisp, bake, roast, and broil, all in one machine, and with a 4.8-star rating after more than 21,000 reviews for the line, it's definitely customer tested and approved. With a 6.5-quart capacity, it's large enough for group or batch cooking.
44% off Crest Whitestrips
Crest Whitestrips are the gold standard when it comes to whitening your teeth at home, and at this price, you'll want to hop on this deal fast. The kit comes with 20 whitening treatments, plus two express treatments for last-minute brightening.
50% off this Shark Rotator vacuum
This powerful vacuum traps 99.9% of dust and dirt on any surface. In fact, the vacuum has a detachable pod that works the same magic on hard-to-reach places, like under the couch as well as a pet power brush to tackle animal hair. The popular cleaner has more than 6,000 ratings on Amazon and if you get it now you can save an impressive $200, so grab it while you can!
45% off Crest Arctic Mint Whitestrips
These Crest Whitestrips come with a minty serum that'll add a burst of freshness to your teeth-whitening session. The set comes with 14 treatments and will leave you with noticeably brighter teeth.
59% off a 2-piece set of Samsonite luggage
Black Friday is one of the best days to stock up on high-quality luggage like this two-piece set from Samsonite because it's offered at such an extraordinary price. Your purchase includes a 20-inch carry-on and a 24-inch upright model. Both are expandable, with a retractable handle, smooth spinner wheels, and an extra-durable hardside shell.
36% off a nourishing sugar scrub
This gentle, skin-softening sugar scrub is made from shea butter, sugar, mango fruit, and a blend of six nourishing oils, including avocado, macadamia, sweet orange, sweet almond, and evening primrose. This popular (as in, a 4.7-star rating and over 52,000 reviews!) sulfate- and alcohol-free scrub delivers a lovely spa experience, and all for a truly unbeatable price.
20% off this protective mattress pad
Add padding and softness to your bed and keep your mattress protected with a machine-washable fiberfill pad that stretches to fit even those extra-thick, 16-inch mattresses. This has an impressive 4.7-star rating from 38,000 satisfied reviewers, so rest assured, you'll sleep soundly on it.
72% off a 3-piece set of American Tourister luggage
Whenever you're ready to travel (safely) again, this American Tourister hardside luggage set has you covered. This suitcase set has earned a 4.7-star overall rating on Amazon after thousands of reviews, and it comes with three different sizes: 21-inch, 24-inch, and 28-inch. You'll be able to get to your destination seamlessly thanks to the 1.5-inch expansion, smooth telescoping handles, and 360-degree roller wheels.
90% off the Invicta Pro Diver watch
Water-resistant up to 200 meters, this Invicta diver watch features a stainless stainless steel band and unidirectional bezel for a timeless aesthetic that'll last for years to come. Plus, with more than 3,000 reviews and a 4.6-star rating, it's wearer-approved.
44% off a 3-pack of Native natural deodorant
This three-pack of Native natural deodorants is an Amazon favorite. The aluminum-free, vegan deodorant comes backed by more than 30,000 reviews, with fans singing its praises for being long-lasting and great smelling. And for Black Friday, you can score the set — which features three unique scents — on major discount.
30% off these Powerbeats wireless earphones
These fan-favorite Powerbeats Pro wireless earbuds are certainly powerful, with up to 9 hours of listening (and more than 24 hours if you utilize the charging case). Secure-fit ear hooks keep the buds in place, even during high impact activity, and water resistance means they can stand up to sweat or rain. The earbuds have 4.6 stars on Amazon from a total of more than 26,200 reviewers, so you can be sure they're worth the cash — and this Black Friday, they're even on sale.
47% off this highly-rated Oral-B electric toothbrush
This best-selling electric toothbrush is designed with three modes to clean your teeth — a daily clean mode, a sensitive teeth mode, and a gum care mode. It also has a built-in 30 second timer that lets you know when to switch to a new area of your mouth. Over 4,000 Amazon users have tried out this toothbrush and given it a glowing, 4.7-star rating overall. One fan says, "Forget all the rest, this is the best."
37% off a 12-pack of Chapstick Classic Lip Balm
The classic, beloved lip balm that's soothed dry, chapped lips for generations, Chapstick glides on smoothly and keeps lips hydrated and comfortable for hours. With this bargain buy, you score 12 cherry Chapsticks, so you can slip one into all your pockets and bags, and never be without moisture again!
50% off this calming weighted blanket
The best-selling YnM weighted blanket has 26,000 reviews and a 4.6-star rating because it's considered a great value under normal circumstances — but right now, you can grab its calming glass beads and seven-layer structure for less than $40.
32% off this rechargeable blackhead remover vacuum
Because it's USB-rechargeable and comes with several interchangeable heads, the Alin&Alan blackhead remover vacuum helps to suck out unwanted oil and impurities from your pores. It has 4 stars and 1,600 reviews.
27% off a pack of exfoliating foot masks
These exfoliating foot masks are seriously discounted for Black Friday. Formulated with a combination of lactic acid and salicylic acid, this two-pack of masks is an exfoliating powerhouse. And, because the mask also has aloe vera on its ingredient list, they'll soothe and soften your feet, as well. Just put them on for 60 to 90 minutes and then wash your feet. Over the next two weeks dead skin will slough off, leaving your feet looking brand new. More than 9,000 Amazon users have left reviews, giving this two-pack of foot masks a glowing, 4.3-star rating overall.
34% off this Crest 3D Whitestrips kit with a whitening blue light
Over 3,500 Amazon reviewers have tried out these best-selling Crest Whitestrips and given them a rave, 4.5-star rating overall. This set of 10 treatments comes with a handheld light that you hold up to your teeth while you wear the treatments, to enhance your results. In fact, Crest even says the results of these whitening treatments can last up to 36 months (three years!). This teeth-whitening kit is seriously on sale for Black Friday.
35% off this Blink Home Security system
This outdoor security camera is made to withstand the elements and runs on two AA batteries that only need to be replaced every two years. The Blink Home Security system has a 4.5 star rating with 3,800 reviews on Amazon, and if you act fast you can get it for 35% off.
36% off a 6-pack of organic lip balms
You get an organic lip balm for about a buck a pop with this incredible deal in six different flavors: mint, citrus, beeswax, eucalyptus mint, vanilla, and coconut. Made with nourishing ingredients like beeswax, Vitamin E, coconut, sunflower seed, and olive oil, these nourishing balms soothe chapped lips and keep your delicate skin protected from dryness and cracking. A Leaping Bunny-certified cruelty-free and hypoallergenic product.
20% off essence's Lash Princess False Lash Effect mascara
This cult-favorite mascara by essence is the next best thing to falsies. The fiber brush lengthens your eyelashes while it coats them, leaving them looking lush and long. Bonus, this formula is cruelty-free and gluten-free. Over 72,000 Amazon reviewers have tried out this volumizing mascara and the reviews are rave. You can get it for 20% off (just $4) during Black Friday.
41% off a stainless steel foot file
This foot file works like magic to remove dead skin and calluses from your feet, making them look and feel soft and smooth. No wonder this tool has a 4.7-star rating, and nearly 10,000 rave reviews, from enthusiastic users.
20% off a Belkin 12-outlet surge protector
Plug all your devices into this 12-outlet surge protector, which can be easily tucked away because of the streamlined design and extra-long, 8-foot cord. With over 35,000 reviews and a near-perfect 4.8-star rating, it's a proven winner.
56% off a compact 3-in-2 air purifier
At more than 50% off the original price, now is the time to order an energy-efficient, 3-in-1 air purifier. It traps dust, pollen, pet dander, and other irritants, reduces cooking odors and smoke, and generally improves air quality in your home or office. Small and lightweight, it can be moved easily from one room to another, and is effective in rooms up to 200 square feet. There's an optional timer setting, too, so it runs only when you need it to.
36% off the iRobot Roomba 675 Robot Vacuum
With more than 22,000 reviews on Amazon and an impressive 4.5-star rating overall, this iRobot Roomba is highly coveted for its wifi-connectivity, allowing you to control it with Google Assistant, Alexa, or even the iRobot HOME app. The vacuum is effective on carpet and hard floors, and it has built-in sensors to navigate under and around furniture. Snatch it up for $100 off.
37% off this ultrasonic humidifier with an essential oil tray
Improve your sleep and your skin health with this 6-liter ultrasonic humidifier, which boasts a 5-star rating from more than 11,600 Amazon users. It's so quiet, with a high mist output that lasts up to 50 hours without requiring a refill. The machine is filterless, meaning you won't have to worry about buying any sort of refills down the line. The bonus built-in essential oil tray makes rooms up to 500 square feet smell amazing!
20% off a microfiber sheet set with over 53,000 reviews
These luxury microfiber sheets have over 53,000 reviews and a rating of 4.6 stars. Amazon buyers love them because of their deep pockets, hypoallergenic material, wrinkle-resistant texture, and super soft feel.
33% off this mini steam iron from Steamfast
11,000-plus reviewers praise this portable steam iron for its compact, lightweight body, long cord, and power. It's great for steam cleaning, removing wrinkles from clothing and linens, and it's also ideal for sewers and quilters. Heats up in 15 seconds, and features three temperature settings to safely care for any fabric, even delicate ones. The Steamfast steam iron also comes with a bonus travel bag included.
24% off these adjustable shredded memory foam pillows
Because they're filled with high-quality shredded memory foam that can be added or removed depending on your preferences, these breathable, adjustable pillows are great for any sleeping position. Over 1,000 reviewers have given them a 4.3-star rating — and today you can get a pack of two for $26.
52% off this portable electric space heater
With more than 2,000 reviews on Amazon and a solid 4.5-star rating overall, it's clear that this ceramic space heater from APLUSTE is a good one — and for that price tag of under $25, you'll want to snatch it up fast. The heater has four different heating modes, and it oscillates to evenly distribute warm air for optimal comfort.
33% off the Xbox Core Controller
Compatible with Xbox One, this Xbox controller is a rare 33% off today, so you'll want to snatch it up while it is in stock. The controller comes in carbon black, and it has a 3.5mm audio jack to plug in a headset for a full gaming experience.
30% off the waterproof JBL Boombox
This powerful speaker with 24 hours of battery life is $120 off today. The JBL Boombox is waterproof, produces amazing bass, and has a near-perfect star rating with more than four thousand reviews.
30% off these Beats Powerbeats Pro earphones
With up to nine hours of listening time on a single charge, it's no wonder that these Powerbeats wireless earphones are so highly sought after on Amazon, boasting a 4.5-star rating overall, among 27,000 and growing reviews. The earphones feature adjustable ear hooks for lightweight comfort and stability, and the sound quality is out of this world.
27% off a 2-pack of sink strainers
Boasting over 18,000 reviews with a five star rating, these stainless steel sink strainers have become a cult favorite. It acts as an anti-clogging shield that prevents food particles from entering the drain. Great news: They're on sale today.
37% off the Wahl Color Pro hair clipper kit
With 19,000 reviews on Amazon and a solid 4.5-star rating overall, this hair clipper and trimmer from Wahl makes achieving a new hairdo an absolute breeze. The clippers use a color-coded system to cut a variety of different lengths, and it features a rechargeable battery that'll run for up to 60 minutes.
33% off the Eureka RapidClean Pro vacuum
Going cordless is a serious upgrade when it comes to household chores, and this cordless vacuum cleaner is definitely one to grab on Black Friday when it's just $100. This popular pick has 4.5 stars with 5,300 reviews, and it works great on wood, tile, and low-pile rugs.
33% off an air fryer with more than 35,000 reviews
Discover what the hype is all about by investing in this best-selling air-fryer from COSORI. It's earned an impressive score on Amazon, with more than 35,000 reviews and a 4.6-star rating overall. It comes with a 5.8-quart basket that's dishwasher-friendly and 11 handy presets for making everything from bacon and steak to french fries and bread.
30% off the Eureka PowerSpeed upright vacuum
With more than 15,000 Amazon reviews, this upright bagless vacuum is a best-seller for a few reasons: It's lightweight and easy to handle, can be adjusted to five different heights, comes with a number of handy attachments, and can hold up to 1 liter of dust and dirt. Snag this quality vacuum for 30% off while Black Friday lasts.
42% off the Instant Pot Duo Evo Plus
One of the most versatile kitchen appliances out there, the Instant Pot Duo Evo Plus can steam, sous vide, pressure cook, sauté, slow cook, and bake. It also has settings for making homemade yogurt and the perfect rice. It's easy to prepare one-pot meals, so you'll gain more counter space (and need to wash less dishes). Over 20,000 Amazon users have invested in this 6-quart pressure cooker, and it's earned a near-perfect 4.7-star rating overall.
48% off a care kit for thinning hair
Get thicker, fuller-looking hair and reduce hair breakage and thinning with this 90-day, three-piece hair care system that contains a shampoo and conditioner to gently cleanse and nourish with ingredients like biotin, menthol, salicylic acid, and niacinamide. Then follow up with a scalp and hair treatment that supports a healthy scalp and hair growth with invigorating caffeine, citrus peel, and biotin. Over time, hair will look and feel stronger, shinier, and more voluminous. This hair thinning treatment has earned over 6,000 Amazon reviews and a 4.5-star rating overall.
50% off the Amazon Echo Show 5
The Amazon Echo Show is like having a personal assistant, and on Black Friday it can be yours for less than $50. Its smart display can play your favorite TV show, function as a digital photo frame, play audiobooks, pull up a favorite recipe, or even become a spot for hands-free video calls with loved ones. With a 4.6 rating after a whopping 194,000 reviews, it's a solid gift for just about anyone on your list.
50% Off the Amazon Echo Show 8
With more than 87,000 Amazon reviews, this Echo Show 8 is one of Amazon's best-selling smart assistants. With built-in Alexa and a generous 8-inch screen, this Echo Show can connect you with voice and video calls, play TV shows, movies, and all manner of video content, and can also act as a smart home hub for all your devices. If you act fast, you can get 50% off during Black Friday.
32% off this 32-inch smart LED TV from TCL
This 32-inch LED TV from TCL is a total steal at under $130 — act quick because it surely won't last. The smart TV works with Amazon Alexa or Google Assistant to help you find movies, launch or change channels, and switch inputs... all using the sound of your voice. This pick has a whopping 27,500 reviews and a solid 4.5-star rating overall, so you can rest assured that it's a high quality pick that'll last for years to come.
43% off the Amazon Fire HD 8 Kids Edition Tablet
This kid-friendly tablet comes with a two-year worry-free guarantee — if it breaks for any reason, Amazon will send you a new one for free. Parents can set educational goals and time limits on the Fire HD tablet, which has a 4.7-star-rating and more than 25,000 reviews, and it comes with a kid-proof case that doubles as a stand.
33% off a jump rope that won't tangle
This best-selling jump rope has comfortable foam handles and a tangle-free design, making it a great buy for any fitness enthusiast. And, for just $5 during Black Friday, this piece of exercise equipment will sell out fast. Over 2,000 Amazon reviewers have left ratings for this jump rope and given it a glowing, 4.5-star rating overall.
42% off an 11-piece set of resistance bands
This 11-piece resistance band set has everything you need to get a great workout from the comfort of your own home. With five different resistance levels, these bands are super customizable, and even come with a door anchor, ankle straps, and a carrying case so you can take it with you. Over 300 reviewers have weighed in and given this set of exercise equipment a 4.7-star overall rating.
50% off the Exploding Kittens card game
This cult-favorite card game is easy to pick up and has more than 41,000 reviews and a 4.7-star overall rating on Amazon. Created by web comic artist The Oatmeal, Exploding Kittens is available for 50% off today, and reviewers write that it's "awesome" and a "must-have."
30% off a 3-pack of Neutrogena makeup remover wipes
These wildly popular facial cleaning wipes are 30% off today, so stock up while the deal is hot — and don't forget to click the 20% off coupon to save those extra couple of dollars. Not only have over 34,000 Amazon shoppers given them a five-star rating, but they're a staple in pro makeup artist's kits, too. This three-pack gets you over 75 wipes, so you'll be set for ages.
29% off these Schick precision razors
These cult-favorite precision razors have 4.6 stars and over 64,000 reviews. You can use them to sculpt brows, remove unwanted facial hair, and even exfoliate away dry skin, and since they're small and made with micro-guards, they're portable and protective.
28% off a blackhead extraction kit & storage case
This 4.5-star-rated extraction kit is a must for any aspiring at-home aesthetician. Each tool is made with stainless steel, and the set comes with a convenient leather storage case for traveling.
37% off this vitamin C face serum
This skin-brightening serum contains highly concentrated amounts of vitamins C and E, aloe vera, and hyaluronic acid for an effective way to achieve a clearer, brighter, more even-looking complexion. A whopping 45,000 customers have already reviewed this cruelty-free, fragrance-free serum, bestowing it an impressive 4.3-star rating overall. And you can save even more off the sale price right now with the additional $1 off coupon.
51% off this 2-pack of scalp massagers
With over 16,000 reviews and a 4.5-star rating on Amazon, these scalp-soothing shampoo brushes are a clear fan-favorite. You can use them on wet or dry hair (and with shampoo in the shower) to give yourself a head massage and a more thorough clean.
40% off this cold-pressed organic castor oil
According to its 30,000 reviews, 4.5 stars, and number-one best-selling status, this castor oil is considered one of the most versatile beauty staples you could have. It's USDA-certified and cold-pressed, so it's great for healing dry skin, encouraging hair growth, lengthening eyelashes, and promoting healthier nails.
52% off this Calvin Klein seamless bralette
When thousands (2,000, in this case) of people log on to say that a bra is comfortable and flattering, it's often expensive. Snap up this Calvin Klein bralette now because it's usually more than twice this price — and lots of users have been waiting for this silky, seamless, lightly-lined comfort bra to go on sale. It comes with a 4.5-star rating overall and comes in 15 colors so you can stock up.
55% off this best-selling pack of colorful felt-tip pens
Over 25,000 Amazon shoppers have taken the time to review these felt-tip pens with a 4.8-star overall rating, and at less than half price, today is the day to snap them up. Boasting precise flair tips, they come in vibrant colors that won't bleed through your notepaper.
50% off these foam & gel shoe inserts
Get 50% off these super comfortable shoe inserts, which are made from foam and gel to cushion your feet, absorb shock, and support your arches. If the deep discount isn't enough to sway you, the 13,000 reviews and an 4.2-star rating overall are hard to ignore. They come in five sizes and can also be trimmed.
86% off Yardley London bar soap with cocoa butter & vitamin E
This bar soap from Yardley London boasts an average 4.6-star-rating from more than 3,000 Amazon customers, and during Black Friday you can get it for a whopping 86% off. Reviewers rave that the cocoa butter-infused soap leaves their skin feeling clean and soft without any dryness.
53% off a variety pack of facial sheet masks
This set of face masks from Glam Up features 12 different recipes and flavors — including moisturizing avocado, refreshing peppermint, and firming pomegranate — allowing you to choose one based on your specific skin needs. With more than 5,200 reviews on Amazon and a solid 4.5-star rating overall, reviewers confirm that this pick is high in quality. And for under $10, it's going to sell out quickly, so grab it while it is available.
44% off a pack of mechanical pencils with lead & eraser refills
This mechanical pencil set is comfortable and easy to use. It comes complete with five neon-colored triangular pencils, 12 lead refills, and two eraser replacements for added convenience. The kit is certainly a fan favorite, boasting over 3,000 reviews and a 4.9-star overall rating on Amazon.
33% off a pack of 40 transparent pimple patches
Apply the coupon and you'll save 10% when you check out with these Avarelle pimple patches. They protect your blemish while also pulling out the impurities using hydrocolloid. According to the 29,000 reviews and 4.2-star rating, they seriously speed up a pimple's healing time.
29% off an eye liner pencil with over 18,000 reviews
This smudge-proof eyeliner from NYX has plenty of hype with more than 18,000 reviews and a 4.5-star rating overall. The retractable pencil simply twists up so you never have to worry about digging around for a sharpener when you need it most.
40% off this Nutri Ninja personal blender
With a 4.7-star overall rating and more than 7,000 reviews this Ninja personal blender features a 1000-watt motor that easily makes smoothies, shakes and more, and the jar doubles as a to-go cup for ultimate convenience. Today, you can get this powerful and compact blender for 40% off.
58% off a non-toxic cleaning spray for pet stains & odors
For quick and easy clean up of pet messes, this Pet Stain & Odor Miracle spray is your best bet — and Amazon reviewers agree, giving this pick a solid 4.4-star rating overall, among 6,100 and growing reviews. The spray is safe to use on nearly any surface in your home, and it is biodegradable, non-toxic, and scented with essential oils for a lovely scent. This pick is usually quite pricey, but you can snatch it up today for nearly 60% off.
29% off a reusable pet hair remover tool
If you have pets that shed, you need this roller hair remover from ChomChom in your life. The sturdy roller can be reused over and over again to remove pesky hair from couches, beds, comforters, blankets, and more. Everything that the roller picks up gets trapped in the dust receptacle, which can be dumped out when you're done cleaning.
39% off this wildly popular down winter coat
This duck down winter coat is so nearly perfect that it has a cult following on Amazon where over 12,000 people give it 4.5 stars. It's toasty, loaded with pockets and has a luscious soft lining in the hood. Don't miss this $97 savings (that's almost 40% off!) because it will go fast.
20% off a lightweight & insulated vest
This machine-washable vest is lightweight but insulated, and has built-in heating technology powered by a battery that works for up to 10 hours. Even better, there's a USB port that connects to the same battery, so you can charge your phone. This innovative design makes it perfect for winter wear, and you can get it for 20% off during Black Friday. Over 2,600 Amazon reviewers have left their feedback on this vest and given it a 4.6-star overall rating. One says, this vest is the "best cold weather clothing purchase ever!"
42% off the easy-to-use Roku Streaming Stick
The Roku stick is the most popular streaming service in the U.S. and 43,000 Amazon reviewers have invested in it for good reasons. It's easy to install — just plug it into your TV's HDMI port — and easy to use and it brings all the streaming services to your TV. This version comes with a voice-controlled remote you can use to control all your entertainment gear. This bit of genius is almost half off today. Snap this one up before it's gone.