The Alice in Borderland ending was spoiled in the show's first 10 minutes
The very first episode contains a hint to the Season 2 finale's wild twist ending.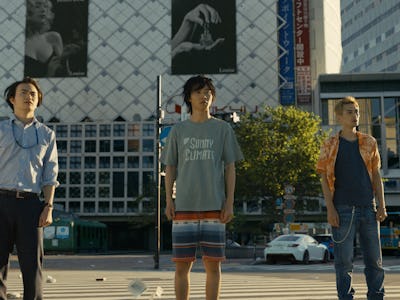 When it comes to TV series, faithful adaptations have the perk of knowing where a story is heading from the onset. For clever writers and directors, like Alice in Borderland's Shinsuke Sato, this can lead to the seeding of a story's epic conclusion into the show's opening scenes.
Now that we've seen all of Alice in Borderland Season 2, which adapts the second half of the Haro Aso-penned manga, we have answers about what Borderland is, why Arisu is there, and if he has any hope of returning to the real world. And we know that the major twists of that ending were spoiled in the show's opening minutes, for those who knew where to look…
Warning: Major spoilers for the ending of Alice in Borderland Season 2 ahead.
In the final episode of Alice in Borderland Season 2, we learn the truth of Borderland. It is a kind of purgatory between life and death, where people whose hearts have stopped go to fight for their lives. If you die in Borderland, you die in real life. If you are able to escape Borderland by clearing all of its games and choosing to leave, you will be revived in the "real" world. Most, if not all, of the people Arisu met in Borderland were victims of the same natural disaster. They were in or around the Shibuya City region of Tokyo when a meteorite hit, decimating the area.
In the final episode, we return to Shibuya Crossing, the densely packed intersection where Arisu and his friends Karube and Chota were hanging out just before they were mysteriously transported to Borderland. The scene is similar to the one we get in Episode 1, but, this time, we also get shots of other characters — including Usagi, Kuina, Tatta, Niragi, Ann, Aguni, Heiya and Hatter — hanging out in the general vicinity. Their hearts all stopped at Shibuya City, and only some of them would recover.
The series' explanation has prompted some fans to go back to Alice in Borderland's first episode to watch the series' initial depiction of Shibuya Crossing moments before the meteorite hit. In the process, at least one eagle-eyed Reddit user has spotted a major clue about the second season's ending: a blurry Usagi in the background of a Shibuya Crossing shot. At 6:41, you can see Usagi, standing out of focus in the background of a shot that foregrounds Arisu. Yep, she was there in the show's opening moments, which is a major clue about what Borderland represents.
Director Sato is known for live-action adaptations of manga and anime (he's currently attached to direct the live-action adaptation of uber-popular superhero manga and anime My Hero Academia for Netflix), so he's no stranger to the unique challenges and benefits that can come with an adaptation. According to a 2020 interview with Screen Anarchy, though the writer-director wasn't familiar with the Alice in Borderland manga before being approached by Netflix Japan to helm the adaptation, he quickly immersed himself in the source material.
"Of course, I read the material and I loved it and thought it was great," said Sato. "It's kind of difficult to explain my thinking at the beginning because it was a very difficult manga source material to capture in terms of what to dramatize when turned into a series or a show or a film, but I knew that I was going to be able to maybe do something that has never been seen before. So, that made it really, really exciting, that's what I remember. And once I decided, it became my Bible."
While Sato may not have found the manga organically, he is obviously passionate about the story, which comes through in his execution of the adaptation: "I read [the manga] inside and out, trying to find the essence of what would make this material really fun."
Alice in Borderland Season 2 is now streaming on Netflix.