Ahsoka Episode 6 Is the Show's Best for One Cinematic Reason
Finally, the show doesn't feel like an installment of Rebels.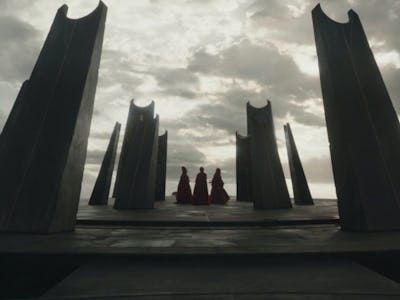 Lucasfilm
For most of its run, Ahsoka has looked like a live-action cartoon. That was somewhat inevitable: the Disney+ series is a quasi-sequel to Rebels that continues where the series left off while bringing many of its characters to live-action for the first time. From its slightly cartoonish sets to its bright, vibrant color palette, aspects of Ahsoka have further heightened its animated roots.
That's part of why Ahsoka Episode 6 stands out so much from the five installments that preceded it. Not only does "Far, Far Away" finally pay off the initial two promises of Ahsoka's space race premise, but it also looks and feels decidedly different from every other chapter. In short, it's the first episode of Ahsoka that doesn't look like a live-action cartoon.
The first scene of Episode 6, a conversation between Ahsoka (Rosario Dawson) and Huyang (David Tennant) as they travel inside the mouth of a giant space whale, doesn't necessarily set "Far, Far Away" up for success, as it's just as stilted as any of the show's other dialogue scenes. However, once Morgan Elsbeth (Diana Lee Inosanto) and the rest of her crew arrive at the mysterious, wasteland-like planet of Peridea, everything starts to look and feel a whole lot more cinematic.
Director Jennifer Getzinger highlights the planet's expansiveness with patient, swooping drone shots. A handful of simple camera pans throughout the episode similarly emphasize the drama of key beats, whether it be the moment when the Great Mothers unleash their magical devices on Sabine Wren (Natasha Liu Bordizzo) or the way the camera slowly revolves around Sabine to reveal Ezra Bridger (Eman Esfandi) standing behind her. Together, Getzinger and cinematographer Eric Steelberg make the most of every moment.
Meanwhile, Dave Filoni's script fills "Far, Far Away" with enough detail to ensure the episode has one unifying tone. The reveal of the space whale carcasses floating around Peridea visually reinforces the planet's reputation as a graveyard, and the overlapping sound design of the Great Mothers' witchy voices imbues their otherworldly home with a powerful sense of dark, forgotten history. Meanwhile, the chimera design on the underside of Thrawn's ship, combined with its numerous missing panels and pieces, only further emphasizes the kind of primal decay meant to separate Peridea from so many other Star Wars planets.
These moments fill Ahsoka Episode 6 with a more cohesive tone than any other episode. While it still struggled through some scenes where the use of CGI backdrops was painfully obvious, it was the most atmospheric and expansive episode of Ahsoka to date. It achieved that through a series of simple but effective visual decisions that combined to create a chapter of television that looks startingly different from anything seen in Ahsoka and, even more importantly, Rebels.
"Far, Far Away" marks the first time Ahsoka has truly graduated from the aesthetic of its Disney XD predecessor. Now cross your fingers and hope it will be able to resist the urge to return to its original style in its final two installments.
New episodes of Ahsoka premiere Tuesday nights on Disney+.