Nick Kroll and John Mulaney Bring "Oh, Hello," the Internet, to an IRL Stage
Gil Faizon and George St. Geegland are dumb characters. Their off-Broadway show is kind of brilliant.
by Hannah Margaret Allen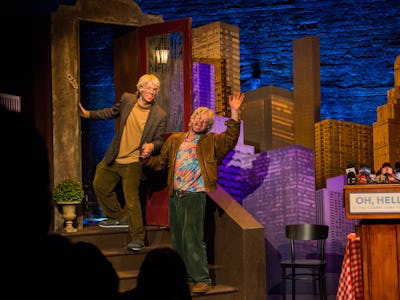 Fans of George St. Geegland and Gil Faizon were whispering catchphrases back and forth as we filed into the Cherry Lane Theatre. The churchiness of the place gave the event a holiday feel, like we were going to see a mall Santa bent on handing out unreasonable portions of tuna. I listened to one man try and fail to explain the premise — essentially that septuagenarian Upper West Side-dwellers portrayed by John Mulaney and Nick Kroll enjoy each others' company — to his date. The conversation rapidly devolved into him doing bits, because "Oh, Hello," the sketch-turned-Off-Broadway-production, isn't easily summarized. (Side note: his date ended up having to go to the bathroom within the first 15 minutes and had to watch the rest of the show standing in the back. He laughed the entire time.)
"Oh, Hello" is an internet thing, but it's a specific sort of internet thing. The Kroll Show bit was always popular but — with YouTube vids hovering around 355,000 views — never viral. People who liked "Too Much Tuna" really liked it. They quoted Gil and George being racist and creepy and loud and old, to each other and just around. They took on insane pronunciation, bonded with fellow "Tunaheads," and spread the mispronounced one-liners. There was a proselytizing element to this thing, people saying: "Trust me, just watch this." The PR took care of itself and the ludicrousness of the whole thing provided cover for failure.
From that, they gained enough traction to turn these two geezers, reveling in eccentricities and irreverence, into a sold out Off-Broadway production. The short paragraph on the website gave the audience little information about the program:
"Fresh off the success of their hit prank show 'Too Much Tuna,' these two Alan Alda-obsessed Upper West Side bachelors are returning to their roots in New York theatre. Having wowed audiences with past theatrical works like 'True Upper West' and the 'Annie Get Your Gun' inspired 'Bernie Goetz You Gun: A Non Musical Drama,' Faizon and St. Geegland are back for a total victory lap and to premiere their new play 'We're Us, You're You, Let's Talk.' Tickets are a lot of money. Join us, won't you? And say Oh Hello … all over again."
The storyline of the show was loose, filled with cocaine (pronounced "cuh-caine") references, and a bit beyond the point. There were new bits like a pseudo-press conference, a talking tuna sandwich puppet, and a Steely Dan joke that upcycled to hilarious after much repetition. Still, I had heard most of the jokes before, which was what the audience wanted anyway. Near the end, Richard Kind joined Gil and George on stage for an interview and, of course, a classic tuna prank. Kind felt well suited to the role of himself as a vaguely Jewish person who's in the biz they call show.
A part of me wonders if they were approached to do something "bigger," but instead, Kroll and Mulaney chose a 179-seat theater in Greenwich Village because it's more Gil and George's speed. Could they have pulled a Wayne's World or Superstar move and turned the story of these curmudgeons into a feature film or an Amazon Studios production or a Hulu pilot of a recurring Crackle short? Surely, but the Off-Broadway route stays true to the characters of George St. Geegland and Gil Faizon. The show isn't just a vessel for jokes; it's a joke itself.
The show is also a peak inside two friendships: Kroll and Mulaney's and Faizon and G St. G's. The two comedians just wanted to make each other laugh, and the old men they were playing just wanted to share some Upper West Side psychoses. Both relationships were charming AF and believable (to a point anyway). Had one been cut out of the production, it definitely would have been worse for it. Had Kroll remained in character consistently, the show would have simply been strange.
Instead, "Oh, Hello" IRL felt personal and almost intimate. Being in the audience felt like a tacit admission that I'd sat at home and giggled along to these dumb sketches by myself. Truth is, I had and I will again. But it was nice to share something — even if it was unclear exactly what that was. We were all "Tunaheads" that night, and we were the point of the production. The premise requires that Gil and George not be too funny or too talented; they are failed actors after all. The audience is supposed to do them a favor by believing in them and pushing them forward.
Many hands made light work.