"He might as well be Tom Cruise, Action Star." Why the Directors of 65 Made Adam Driver Fight a Dinosaur
The filmmaking duo behind A Quiet Place movie are embracing the B-movie label.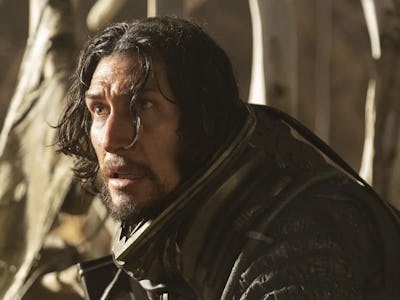 "Why aren't there as many dinosaur films as there are superhero movies?" Scott Beck asks Inverse. "It's such an incredible canvas."
It's a good question, the answer to which must be inseparable from the colossal impact of Jurassic Park. But Beck and his partner Bryan Woods, the original writers of A Quiet Place, are wading into the dinosaur market now. They're the writer-directors of 65, which stars Adam Driver as Mills, an astronaut who crash-lands on an extraterrestrial planet full of terrifying creatures. The reveal? This is Earth, 65 million years ago, and all the creatures are dinosaurs.
"We love the fun reveal of the pulpy B-movie premise."
While Mills fights for his life — he's attacked by some kind of prehistoric beast every few minutes — he discovers that everyone on board his spaceship is dead. Everyone, that is, except for one girl, called Koa (Ariana Greenblatt), who speaks a different language and whose parents died onboard. (Mills is dealing with death as well — this mission was supposed to earn him the money his terminally ill daughter needed for treatment.) Mills and Koa have to find and launch the escape pod at the top of a mountain 15 kilometers away before they are eaten by dinosaurs, swallowed by quicksand, or burned to death by a massive asteroid (part of the cluster that sent Mills' spaceship spiraling down in the first place).
Beck and Woods love mystery-box stories like 65 and Cloverfield (once upon a time, A Quiet Place was allegedly considered by Paramount as the fourth installment in the Cloverfield franchise) and embrace this B-movie label.
"We love the fun reveal of the pulpy B-movie premise," Woods says.
65 certainly falls under the B-movie label — it's been fondly referred to as the "Adam Driver fights dinosaurs" movie — but its simple title and enigmatic marketing might indicate otherwise. Beck and Woods like misdirecting the audience, even if the big reveal that 65 takes place on Earth was built into the trailers.
"This film for us is almost a hybrid of a Roland Emmerich disaster film with Terrence Malick or something," says Woods.
"He might as well be Tom Cruise, Action Star."
But 65's out-there premise wouldn't work without the commanding presence of star Adam Driver, who, alongside Greenblatt, is the only actor onscreen for the vast majority of the film. The Oscar-winning actor falls off trees, gets battered around, and is often soaking wet
"He's in almost every frame of this film," says Woods. "Adam does all of his own stunts, and as far as we're concerned, he might as well be Tom Cruise, Action Star. His work ethic and his ability to do stunts and emoting and telling the story through running across a forest. It's all next-level."
Famously, Driver trained as a Marine, and it shows in 65 given that 80 percent of the film sees him brandishing a gun and pumping raptors full of bullets. Beck believes this is the first film in which the actor has used weaponry in this way.
"In this case, it was as simple as designing the weapon and handing it over to Adam. "Immediately, it felt like all that training must have flooded back."
"If it rained, Adam's out there in the rain, doesn't want to go to the trailer, doesn't want to reschedule the filming."
But all that training didn't stop Driver from getting hurt during the grueling production.
"He was constantly picking up bumps and scrapes," says Woods. "Every day on set, he had a huge ice pack on his shoulder or he had someone mending his leg. He just went into the trenches for this movie. If it rained, Adam's out there in the rain, doesn't want to go to the trailer, doesn't want to reschedule the filming. He was very much about embracing the elements and all the injuries that came along with it."
All that rain wasn't a coincidence. Beck and Woods sought it out, sort of. Taking the advice of researchers on what the Earth would have looked like during the Cretaceous period, the duo filmed between Louisiana and Oregon and worked hard to find locations that had never been put to film before. For the scene when Mills' spaceship crashes into a swamp, the production team used a spaceship that they built themselves and put it in an actual swamp. The fact that the water could have been full of crocodiles and snakes only improved the movie, they say.
As Beck and Woods dove deeper into the past, the horror franchise they helped kickstart continues to move forward. There is now a spin-off film (A Quiet Place: Day One) and a third film (A Quiet Place Part III) in the works. Do Beck and Woods have any part in either?
The short answer is no. But for the longer answer, Woods says, "Basically, our feeling when A Quiet Place was embraced by an audience is we felt almost a staggering responsibility to attempt to make another bold-swing original idea."
When you look at the other big-budget films being released in March 2023, Woods points out that, generally, they're all sequels: Creed 3, Shazam 2, Scream 6. "There's something a little depressing about that," he says.
Beck and Woods are particularly keen on getting original ideas out there. The pair, who are both 38, came of age around the time of The Sixth Sense and Fight Club. Woods believes that the landscape has become more economically conservative in the decades since.
"So I guess what I'm trying to say is we're so grateful that people loved the Quiet Place movies, and we cheer them on from afar," he says. "But we're also attempting to, as best we can, service and protect and push non-IP-based movies into the system as well."
65 opens in theaters on March 10.