'John Wick 2' Filming Begins This Fall
Looks like Keanu is thinking he's back. Again.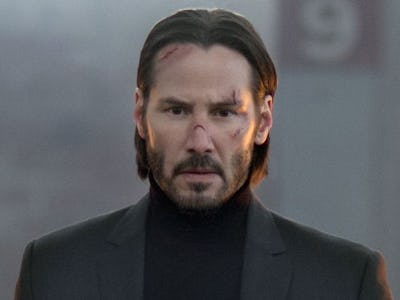 johnwickthemovie.com
Everyone who's ever owned a dog knows, without question, that every single corpse left in John Wick's vengeful wake deserved to die. They killed his beagle.
Over the course of 101 minutes (and 119 dead bodies), order is restored to the universe. Unfortunately for the world's strays, John Wick 2 will roll this Fall.
Collider reports the good news that the original's creative team Chad Stahelski and David Leitch will both be back, with Stahelski in the director's chair and Leitch serving as executive producer.
Nothing in the way of story has been released, but there's been talk of making John Wick the center of the ultimate expanded universe of Kiss Kiss, Bang Bang. The duo climbed the ranks in the stunt world for years before they got the chance to show what a couple of professional adrenaline junkies could do in charge of the camera, and so far they've given us no reason to doubt them.
All we can hope for is that they keep the formula as light, as dead dog + vengeful Keanu = highly entertaining rampage. As our own Corban Goble observes, "you don't even have to be following along with the relatively nuanced main story to enjoy John Wick just wrecking gangsters in a fucking bathhouse. It's a great movie."
It is a great movie. Here's to hoping part two is the worthy successor it deserves.