A visual guide to the familiar yet alien world of Strange Planet
"Star damage" is just the beginning...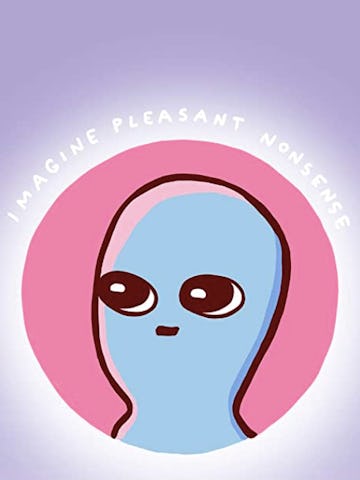 Harper Collins
On February 4, 2019, Nathan Pyle published the first of what would be many webcomics about a race of genderless blue aliens who behave eerily similar to humans but have a funny way of describing the world around them. In the galaxy of Strange Planet you don't eat a salad, you eat a "leaf bucket," and instead of socks, everyone wears "foot fabric tubes" to keep their feet warm (this also helped Pyle avoid drawing feet, which he admits is his greatest weakness as a cartoonist).
Ten months later, Strange Planet is a huge success, with over 4 million followers on Instagram and a hardcover book releasing Tuesday, November 19. Not only does the book compile all of Pyle's greatest hits from the comic that started it all to classics like "Star Damage," it also features a bunch of new material (we finally get to see the aliens' feet) and a handy visual glossary of terms useful for navigating this weirdly familiar world.
Ahead of the release, Inverse is offering an exclusive preview of Strange Planet's guide to some of the "commonly observed objects" in the comics.
Oh, and if you're wondering whether Nathan Pyle actually believes in aliens, here's what he told a packed convention hall of fans back at New York Comic Con in October.
Of course, obviously, look how large our universe is. But the idea that they are just about as smart as us is really funny to me.
Pyle's path the viral webcomic stardom wasn't as direct as you might think. He studied theology in college and picked up drawing as a side-hustle when he first moved to New York, submitting his designs to Threadless, an e-commerce website where artists could sell their work as T-shirt designs or posters.
"Back then I could submit something to Threadless and if it got printed I would get $2,000," Pyle said at Comic Con, adding that it took 103 submissions before he actually made any money.
Threadless also provided Pyle with access to a community of artists who provided feedback right when he was getting started.
"The artists there were incredibly thoughtful and helpful to me as I was just brand-new to digital art made for the internet," Pyle tells Inverse via email. "I've been incredibly fortunate to find a large group of people who look out for my art and try to credit me, so I cannot say thank you enough for this!"
Eventually, Pyle landed at BuzzFeed, thanks to a cartoon about living in NY that went viral on Reddit. Another one of his designs even showed up on the NBC show Community, and his "pigeon videos" where he ascribes human emotions and word bubbles to videos of pigeons in New York are almost as popular as Strange Planet.
Before landing on the alien creatures, Pyle also tried several other concepts, including a mystery-solving dolphin named Dolphlockbones. Clearly, that one didn't pan out, but, as he puts it, it doesn't matter how many times you miss as long as you know what to do when you finally find a winner.
"If you make a good comic go ahead and start building on that one," Pyle said at Comic Con.
The first Strange Planet comic was famously inspired by the real-life experience of putting away his toaster while tidying his apartment for a party he and his wife were throwing. One small moment of reflection on how weird this behavior was led to countless comics, millions of followers, and a book deal. But for Pyle, it will always come back to that toaster — or, as the aliens might call it, that "portable doughslice heatblaster."
"I like to say the toaster is special," Pyle says, "because we got it as a wedding present and it created Strange Planet."
Below see an exclusive preview of the Strange Planet book before it releases on Tuesday, November 19, 2019.